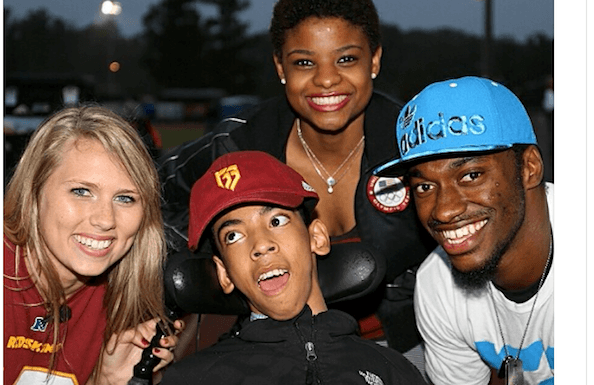 Say what you will about NFL player Robert Griffin III's field performance, but when it comes to being a good human, he downright wins at it. Case in point: when a Virginia high school student asked the Washington Redskins quarterback to assist in asking a classmate to the prom, he happily obliged.
Morgan Assel sought out RGIII to help execute the perfect "promposal" for fellow Centreville High School classmate Juwaan Espinal. Espinal, who has cerebral palsy, adores the NFL player, as he is his favorite football player. When it was time for her to ask the question, Assel went up to an unknowing Espinal with a sign that read, "I know I'm not as cool as RGIII but will you go to prom with me?" Moments later, the high profile football player stepped out from behind the sign, prompting an immediate grin on Espinal's face. His response? A resounding "YES!" even though he's usually non-verbal because of his disorder.
"You can tell he's filled with life," RGIII said. "We make time in our schedules for stuff like this because it's so worth it."
"I'm just really excited and really grateful that RGIII came to help Juwaan," Assel added, while crying tears of joy. "It just means a lot that people are willing to do this for him, because he's such a special person and he really deserves it."
In the video below, you can see Assel's grand gesture of a prom proposal – complete with being in cahoots with RGIII. It's a touching and sweet moment, especially when you see Juwaan's face light up as he reacts to seeing his favorite athlete!
Photo Source: Robert Griffin III Instagram