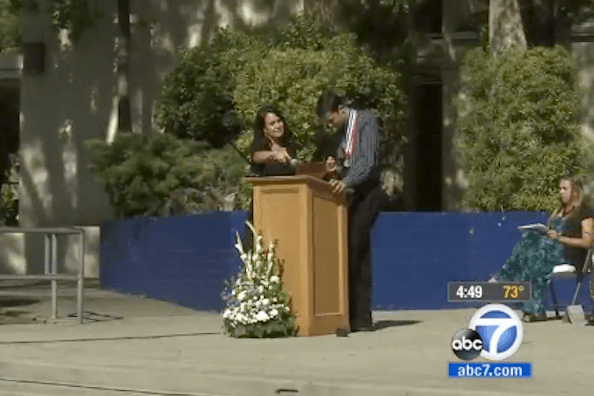 Imagine not being able to speak your thoughts for pretty much all of your life only to find yourself speaking in front of your entire graduating class at commencement – wild, isn't it?! That's exactly what happened to Dillan Barmache! At his Woodland Hills, California school, 14-year-old Barmache was able to find his voice, thanks to the help of a speech coach and his tablet computer. Not bad for a non-verbal teen with autism! This goes to show that even with a disability you can achieve your goals. There are plenty of opportunities for children with autism to receive a proper education, especially with the help of programs that have an Online Special Education Curriculum.
"Always look inside other people's experience in order to gain another perspective," Barmache said on stage. "I so believe that there is so much more each one of us can do for other people."
Barmache may now have the aid of his tablet to help him convey his thoughts, but it wasn't always that way. It wasn't until the young man started attending Woodland Hills' Hale Charter Academy that he began to feel that he truly had a voice.
 "Up until the age of 10, we were trying a lot of the interventions that are very common for an autistic child, but at 10 we realized that speech wasn't really coming in," his mother Tami Barmache said.
Thanks to his communication support aide Debbie Spengler – who attends class with him – it has become a lot easier for him to communicate his thoughts. Spengler has been able to give Barmache a voice by having him use an iPad as well as a letter board that he uses to spell out words. Next year, the junior high graduate will be attending a local high school where he will be taking general education classes. He's very interested in how people think and he thinks later on that he would want to study psychology.
Photo Source: ABC7