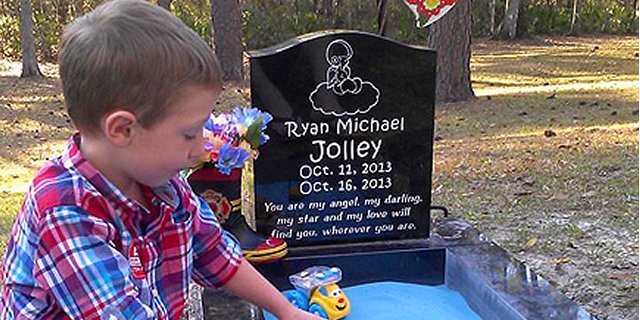 Young mother Ashlee Hammac had to do what no mother should have to do: she buried her five-day-old son Ryan this past October. Since then, the 24-year-old mom planned to decorate her infant son's gravesite with glass pebbles, but then had a better idea. Instead, Hammac decided to place a sandbox in addition to his grave so her older boy Tucker could have a place to mourn his deceased brother.
"The more I thought about it, the more I wanted something my other son Tucker could be incorporated in," Hammac told PEOPLE. "He always goes out there with me, and sits out there, and sings lullabies, and talks to him just like he was there. So I wanted it to be special for him too. His favorite thing right now is trucks."
Hammac has said that Tucker has been cherishing his shared moments with his dead sibling, often asking her if he could go to "baby Ryan's sandbox."
Ryan died just five days after his birth in October 2013 because of Hypoxic-Ischemic Encephlopathy (also known as HIE), a brain dysfunction that occurs when there is a lack of blood flow to the brain. When she was 34 weeks pregnant, Hammac started to lose her vision while shopping last September. She headed to the hospital and proceeded to have a severe migraine, which ultimately led to a premature labor. The doctors were able to stop her very premature labor, but she ended up going into labor four times that week. Finally, on October 10, she was green lit to have the baby – but took the turn for the worst when she woke up contractions and bleeding. She delivered Ryan but before she could even hear him crying, nurses took him away. Two hours later, doctors delivered bad news: Hammac's placenta burst during the birth and her son was deprived oxygen for several hours. He had a 1 in 8 chance of surviving.
The next four days were an emotional roller coaster for the family. Hammac was finally able to hold her son and spent much of the time reading to him in the NICU. But after days of reading and treatment, there was no brain activity showing in the infant. Hammac and Ryan's father had a heartbreaking and extremely difficult choice.  She introduced Ryan to his 3-year-old older brother Tucker, who sang his little brother his favorite lullabies.
In the following months after her son's passing, Hammac worked to keep his memory alive by actively working on her organization Pages to Memories,  a nonprofit that donates books and blankets to NICUs routinely so families can connect with their children much as the mother and her son did in their mere five days together. The organization also provides a place for families who've lost children, especially to HIE, to offer support to one another.
"I wanted to help. I wanted other people, because I know it wasn't just me, to have someone to talk to…to have a place they could depend on," Hammac explained. "And I wanted to feel like Ryan was helping still, because in those five days he changed our family so much."
While Hammac is still in mourning and will be for a while, she says that Ryan is still very much part of her family and will continue to live on. For right now, that means in the comfort of Tucker's sandbox.