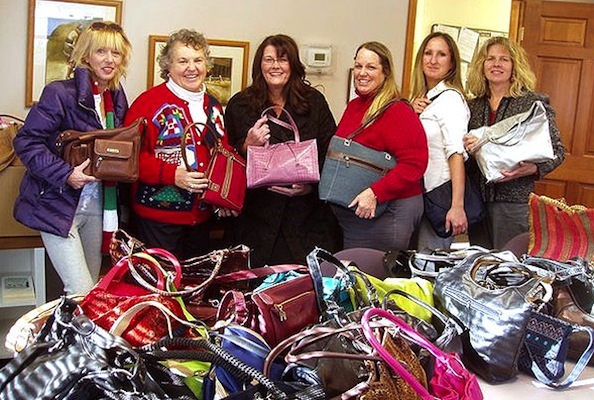 As a young girl growing up in Detroit, Jackie Bobcean watched as her alcoholic, police officer father unleash his fury on her mother and younger brother almost daily. "More than a dozen times, I recall hiding my brother in the closet and trying to stop my dad from choking my mom," says the now-50-year-old former teacher's aide. "I was the only one in the family who stood up to him."
After her brother Billy committed suicide on Christmas Eve in 2003 due in part to decades of their father's abuse, Bobcean decided that was the final straw – she needed to take action "to help stop the cycle of domestic violence."
In 2006, the mother of two launched HandBags of Hope, running out of her Michigan home. The nonprofit organization collects gently used handbags and purses for women who have escaped and run away from an abusive relationship, often with only the clothes on their backs as well as their children in tow.
Depending completely on donations, Bobcean and the organization's volunteers fill the handbags with daily necessities including makeup, hair brushes, manicure sets, pens, calendars, pocket tissues, and, arguably the best part: handwritten messages of support.
"It's our small way of letting a woman know she did the right thing by standing up for herself," explains Bobcean, who reveals the organization has so far given away 17,000 handbags and counting. (For the record: no one in the organization, including founder Bobcean, gets paid.)
"For many survivors who arrive at our shelter, these handbags help give them everything they need to face another day," explains Jan Mancinelli, executive director of the Women's Resource Center of Northern Michigan.
"A woman once told me she kept one of our notes in her purse as a reminder that there was a little bit of love inside," Bobcean adds. "And that was all she needed to keep going."
Image Source: Handbags of Hope