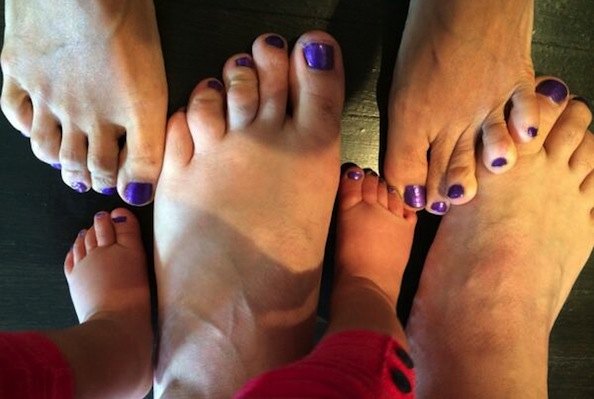 Finding out that you or someone you love has cancer is never easy, but it definitely helps to have a strong support group of friends and family around you to get through it all. Valerie, an incredible 53-year-old woman, knows that situation all too well. In August 2013, she was diagnosed with Stage 4 Non-Small Cell Lung Cancer (NSCLC), turning her world upside down. The woman enjoyed life and had recently married the love of her life Ralph, her partner of 25 years. Valerie was never a smoker and had always lived a healthy lifestyle, so the diagnosis shocked her and those around her, including her husband, family, friends, and even her medical team.
Shortly after her diagnosis, she connected with the Lung Cancer Foundation, who hooked her up with Dr. David Gandara at U.C. Davis and began treatment for cancer there last October. As she was getting a pedicure one day, Ralph ended up coming up with the a simple, yet creative idea to keep his love Valerie's spirits up: the man painted his toenails purple! He invited others to do the same, and soon their good friends followed suit, as well as total strangers: from women, men, and kids to entire families to even pets, like dogs, cats and horses!
Now, the Lung Cancer Foundation is spreading the word to even more people and want everyone with a "Valerie" in their life to put on nail polish brand OPI's Purple With a Purpose polish on the toes of anyone and everyone who cares about beating lung cancer – guys, girls, and everyone else! Visit the Lung Cancer Foundation website for more information on how you can take part in the wonderful campaign.
Photo Source: Lung Cancer Foundation Twitter