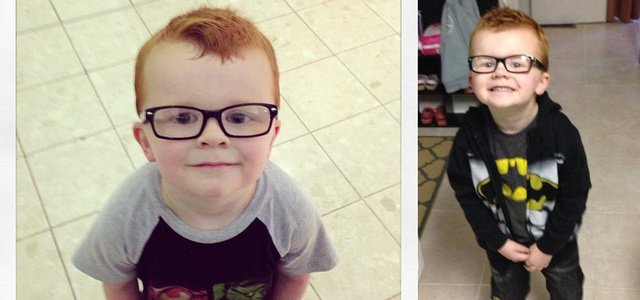 It's a sad reality that many instances of bullying today take place on the Internet, so it's refreshing to hear that that's not always the case. Recently, the Internet showed off a softer and kinder side, helping a young boy overcome his fear of being bullied. In December 2013, Lindsey Fisher's four-year-old son Noah unexpectedly burst into tears after she told him to put on his brand new eyeglasses – and it wasn't because he necessarily didn't like them.
"It just broke my heart," Lindsey recalled. "And I finally got him to tell me why he was crying and he said because everyone was going to laugh at him."
But there wasn't too much they could do about it since Noah really needed the glasses to see. Determined to help her son, Lindsey devised a plan and reached out to family members in hopes that they could show her four-year-old that glasses are cool. She launched a Facebook support page called "Glasses for Noah," and had no idea just how massive it could possibly get. Through the influence of their family, news of the page spread through family's friends to friends' acquaintances and even passed on to total strangers. Much to Lindsey's surprise, nearly 40,000 people were in support of little Noah, not only sending him encouraging words but also sending photos of themselves sporting their best frames in solidarity.
Lindsey has now started a tradition with Noah, sitting down with the four-year-old every night to show him the newest additions to his framed-faced support crew.
"I don't know how many more likes or pictures we'll get, but as long as I'm getting pictures, I'll keep showing them to him every night," Lindsey has said.
His grandfather Bannister Eads adds, "He saw all these people wearing glasses and I think he thought, 'Well it's not so bad after all.' It helped him."
Thanks to the support of his family, friends, and a big chunk of support from the mere kindness of strangers, Noah is now a proud member of the glasses-wearing population.
Image via Facebook