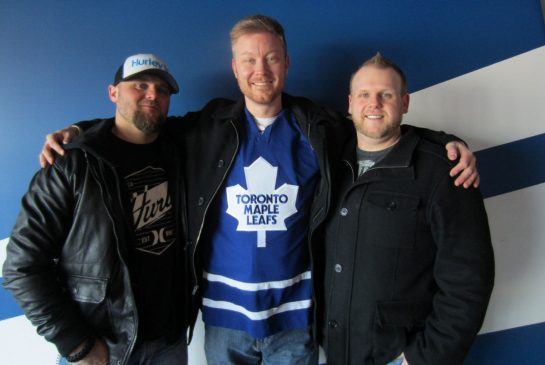 Thanks to the kind-hearted ways of three strangers, one Toronto homeless man was treated to a day of random acts of kindness, undoubtedly changing his life if for one single day.  Andrew Mason along with his two friends John Pitman and Andrew Gronoss first spotted Jeff quietly sitting on the sidewalk reading a book with an upside down hat only meant for change from kind passersby. It was then that they knew they wanted to help the poor guy out.
"He wasn't being aggressive in his panhandling. We just saw him politely say 'Good morning' and 'Hi' to people, letting them decide if they wanted to help," Mason said.
The three men approached Jeff and treated him to a new wardrobe, a full meal and took the man to the barber.  They went shopping at Double Take, where they bought Jeff new socks, two heavy sweaters, sweatpants, jeans, a belt and a toque. The men then took him to a full meal and initially they offered him a steak dinner, but Jeff insisted on Burger King, where he had his favorite meal: a chicken sandwich. Lastly, they took the man to Terminal Barbershop where he was able to get in a haircut and shave. During this time they also found out that the soft-spoken 40-year-old ended up on the streets after his parents' death in 2000, which left him depressed and struggling with drug abuse.
"At the end of the day, when we took him back to what he referred to as his home — and what most people would see as sleeping bags — that really broke my heart," said  Mason. "He was bawling his eyes out."
"We were all a little teary-eyed," added Pitman. "The entire time he was with us, he never asked for one thing."
"Other than a good deed coming back to us," said Gronross.
Mason, Pitman and Gronoss filmed their day with Jeff to participate in the recent phenomenon of RAKnominations (RAK meaning "random acts of kindness"), in which people tape themselves doing an act of kindness. It comes as a better alternate to the previous "neknomination," which encourage the various possibly fatal ways people chug alcohol.
"I got the idea after viewing those neknominations online about how kids are getting hurt through the foolish things they're doing," explained Gronoss.
"We wanted to do the opposite and actually spread cheer and good fortune," quipped Pitman.
It's been a month since the guys dropped Jeff off at the Victoria Street steam grate he called home. People who viewed the men's video have said that he doesn't live there anymore, and they want to believe he moved to another shelter or was able to make his way into government housing.
Besides wanting to wish Jeff the best and a great life, this experience has opened up the three's eyes and they realized that it's easy to help out others.
"Take up the challenge," said Pitman, "just like the neknominations, where everyone is trying to outdo each other. If everyone tried to outdo us, the world would be a better place."