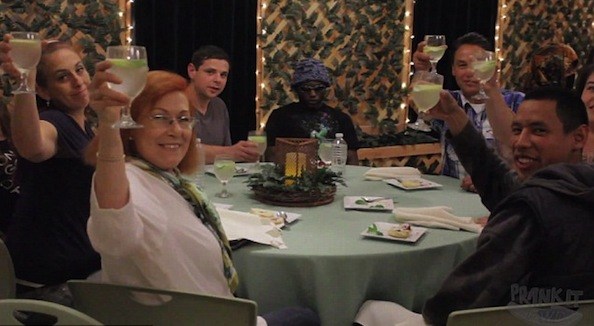 Prankster comedian Greg Benson of Mediocre Films has completely outdone himself this time! The pranking joker has really done a number for an unsuspecting, deserving group of people. Along with Break.com's "Prank It Fwd" campaign, the two turned the Ascencia homeless shelter in Glendale, California into a classy, five-star restaurant for a few unsuspecting homeless guests.
The "Prank it Fwd" campaign's goal is to perform positive pranks for a change – and when you see the 50+ faces in the Ascencia shelter/restaurant, it is apparent that the goal was definitely achieved by their reactions.
Benson and his team turned a random room in the Ascencia shelter into a beautiful, high-end-looking restaurant where participants got to enjoy a rather classy dining experience. The patrons were surprised to find live classical music, a custom-made menu and waiters dressed in black tie serving filet mignon and desserts, as well as being handed a goody bag filled with goodies.
Less prank, more heartwarming deed, the reactions of the homeless people being treated were just adorable. After their filet mignon dinner, many of them expressed that they rarely if ever have steak, much less filet mignon, and that this is the fanciest event they've ever experienced. (Warning: some of their reactions just might make you shed a tear!) Aside from the heartwarming prank, the video also shows at the end the donation of $5,000 being made out to the shelter.
Image via YouTube