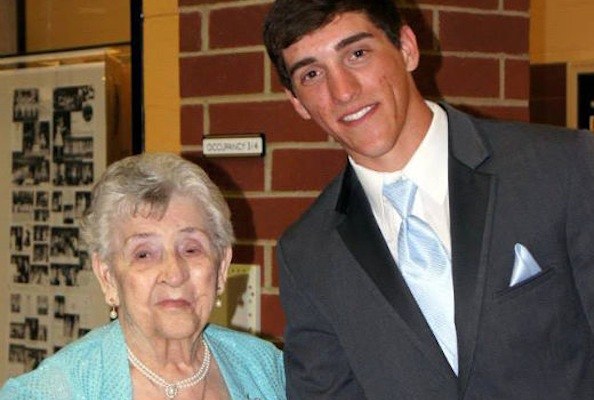 Many girls dream about attending their senior prom the moment they reach high school and end up looking back fondly at the memories for years and years to come.  So when Austin Dennison found out his great-grandmother Delores Dennison never went to her prom, he did what a lot of high school boys would never dream of doing: he asked her to be his date to prom at Parkway High School! 
Dolores, whom Austin refers to as "Granny DD," explained: "He was so sweet and adamant about it. I asked him, 'But are you sure that you wouldn't like to take one of the young ladies who could get out there and do everything with you?' He said no. 'I want you.' I couldn't disappoint him – if I had to go on my hands and knees."
The 19-year-old high school senior drew inspiration from his economics teacher. The teacher's older brother had taken his grandmother to prom. Austin remembered that his Granny DD had never been – so he picked up the phone and made the call.
"At first she was a bit resistant," Austin said. "I assured her I was serious and she finally said yes. It was my privilege to take her."
On the big night, his father chauffeured them to dinner at Delores' favorite eatery Bob Evans before the two headed off to Austin's Rockford, Ohio high school. Upon their arrival, they were introduced to a standing ovation by all of the students in attendance. Delores even managed to get a few laughs as she hit the balloons with her cane.
"It was wonderful and I just loved all the girls in their fancy gowns and the gentlemen in their tuxedos. It was quite a night," she said. "Everyone there just could not have been more polite. Everyone got an A+."
One of Austin's friends even tried to make a move on his adorable Granny DD.
"He tried to cut in," he said with a  laugh. "He asked for a dance, but she didn't have the energy."
The sweet great-grandson had one more surprise for his great-grandmother: as he escorted her to the dance floor, a special song started to play, bringing Delores back in time. Since her husband Ed used to sing Frank Sinatra's song "Dolores" to Austin's granny, he requested the song to make the night even more memorable. Suffice to say, mission accomplished.
And that's the story of the night Delores Dennison attended her first senior prom.
Photo Source: Austin Dennison Facebook