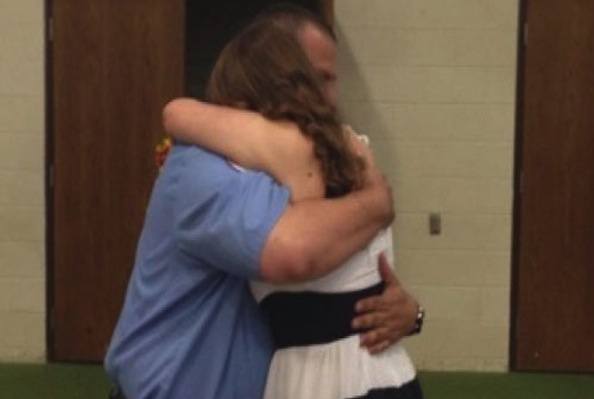 A Gibson County man who saved an abandoned baby's life 18 years ago gave her the surprise of her life. In 1995 then-newborn Skyler James was was saved by a firefighter named Charlie Heflin. Skyler just recently graduated from a high school in Charleston, Illinois and following the ceremony was a surprising and emotional reunion.
On a very cold morning in November 1995 in Champagne, Illinois, Skyler's birth mother abandoned her, leaving the baby in a cemetery. That night, there was a call put out to the dispatchers when an anonymous woman called 911 in the early hours of that morning, telling dispatchers that a child had been abandoned underneath a pine tree at Mt. Hope Cemetery. Police and fire officials were dispatched there, but nothing turned up – which is when local firefighter Charlie Heflin, who was listening to the scanner traffic, decided to help.
Based on a hunch, Charlie went to a different cemetery that was closely to search for the infant. When he didn't find anything, he started walking to his truck – but something in him told him to check again.
"I heard a little whimper when I got close to the tree,' recalls Charlie. "I dug down inside this real huge pine tree and found her."
Charlie says he scooped up the baby girl who was covered in blood and leaves with her umbilical cord still attached, and was clinging to life in the sub-zero temperatures. He explains, "I handed her off to the paramedics and I didn't see her since."
Five days later, the high schoolwas adopted by Bonnie and Greg James. And when Skyler turned five, Bonnie started looking for Charlie.
"We had his name from the newspaper," said Bonnie. "Social media wasn't what it is today back then."
Just three weeks before Skyler's graduation, Bonnie found Charlie on Facebook,  called the Patoka Fire Station and finally got a hold of him.
"The call was, 'Are you Charlie Heflin? Do you remember rescuing a baby back in 1995,'" said Charlie. "My heart just sank."
Keeping it a secret from Skyler, Bonnie invited Charlie to the graduation ceremony and party.
"I was talking to someone at my party and my parents came up and said, 'We need you for a second,'" said Skyler. "They took me over to Charlie and he introduced himself to me and told me the whole story again. I was totally shocked. It's something that I've dreamed of since I was a little kid, and it's amazing."
Skyler plans to attend Concordia University in Chicago and major in communications.
Photo Source: 14News.com