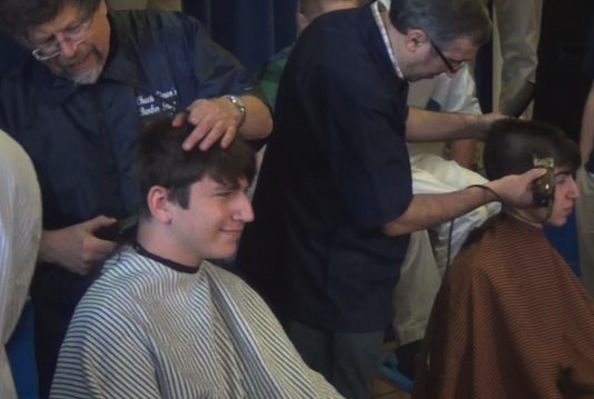 Cancer is a scary word – not only for those who hear it, but for their loved ones as well. Getting diagnosed isn't the easiest information to swallow or stomach, but it definitely helps to know you have a lot of support coming from the ones that mean most to you. Dana Burchfield can surely vouch for that.
Burchfield is either one incredible woman or works at a school with some of the most amazing students and staff members – and all signs point to both! The Director of Student Services at Yeshiva Atlanta High School in Atlanta, GA was diagnosed with breast cancer last fall. After having surgery in January, the brave woman prepared for her upcoming chemotherapy by shaving her head. She told the school's Rabbi Travis what she had done and the rabbi came up with quite the idea.
A few weeks ago, the students and staff gathered on campus at the school's lunchroom and rallied to show their support for the beloved Director of Student Services's fight and recovery against cancer. For over an hour, two barbers snipped away at Yeshiva Atlanta, shearing the hair of more than 30 male teachers as well as students. According to the school's Facebook page, two female students were also able to get their head shaved to support.
Burchfield, who is undoubtedly grateful and touched by her school's love and support, is currently out on medical leave and is expected to make a full recovery.
Image via 11Alive