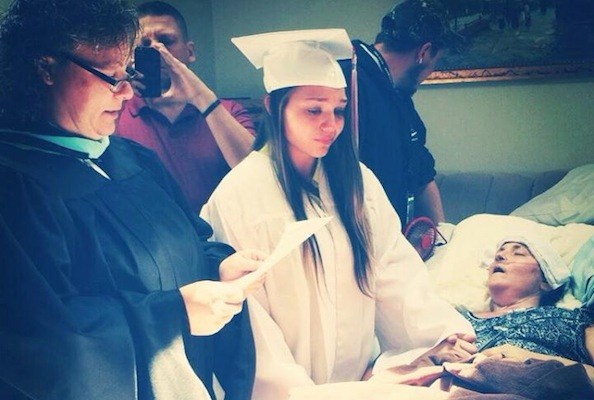 With May in full swing, it's about the time when high school seniors are taking their exams at the end of the month and preparing to graduate in June. Megan Sugg, a high school senior, was able to graduate from her Maryland high school about a month early. The GleBurnie High School student had a bittersweet occasion to celebrate; while the event occurred with the usual pomp and circumstance, including robes, speeches, and flowers, the early graduation ceremony  (usually a happy occasion) had to take place at the bedside of her dying mother, Darlene Sugg.
Darlene had been on a four-year battle with cancer and was in hospice, living out her last days with her family after her condition took a turn for the worse. Her condition got so bad that Megan wanted to fulfill her dying mother's last wish: seeing her daughter graduate from high school. The bedside graduation included the whole nine: faculty members attended in full robes, the school's principal read a speech that was written specifically about Megan and her mom – there wasn't a dry eye in the house.
Darlene's husband Steve Sugg said, "My wife was glowing to see Megan graduate."
Megan, was very excited to be able to graduate in front of her mom, added, "I was glad mom got to see me graduate, but I was sad to know that was the last moment I'm going to have with her."
The day after Megan's graduation at her mom's bedside, Darlene was able to see her high school graduate put on a fancy gown and head off to her senior prom. The next afternoon, Darlene passed away. She spent the last night of her life holding her husband's hand.
Photo Source: Megan Sugg's Facebook