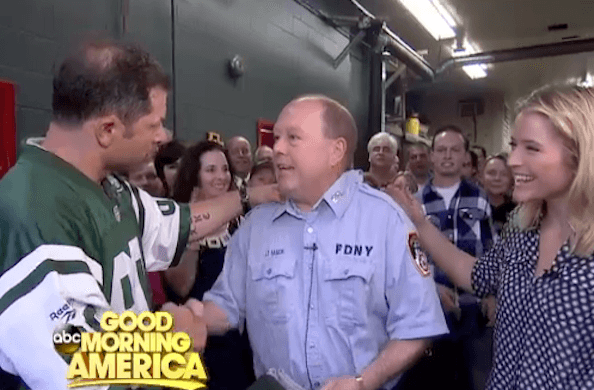 This year's Father's Day may have already passed just a mere couple of days ago, but one lucky football-loving dad was given quite the surprise of a lifetime a few days before… and rightfully so! After his best friend died during the tragic events of September 11, Lieutenant Larry Mack, a New York City firefighter, took on the role as a surrogate dad to his fallen friend's children, aside from tending to his own kids. His actions did not go unnoticed, and because of his kindness and selflessness, Mack was given several surprises on national television!
First up, both his surrogate and biological children spoke on-camera about their beloved father, causing the strong man to reduce himself to tears (can you blame him?!).  Secondly, Mack was then taken to a massive tailgate, where his biological and surrogate kids were, that featured the New York Jets cheerleaders – his favorite team – and former Jets wide receiver Wayne Chrebet. Thirdly, the Jets will host Mack, his family and the Halloran kids in a private, luxury suite for the New York Jets game against the Chicago Bears on Monday, September 22.
Both his biological and surrogate children have great, fond memories of their dad Mack.
"After my father passed away, he was someone who really stepped in," a now-24 year old Kieran Halloran said. "He drove over, picked up a priest along the way to comfort my mom."
"I'm just blown away," Mack said. "I love those kids like my own."
Photo Source: ABC News