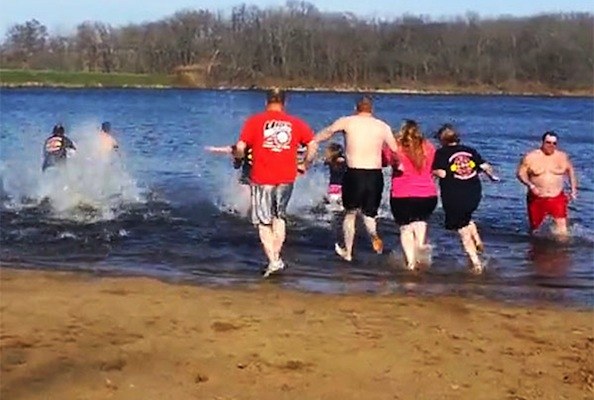 At just four months old last February, baby Landon Shaw couldn't stop vomiting and losing weight, eventually getting diagnosed with a rare malignant cancer that affects the kidneys, liver, lungs and brain. "I held our son so tight asking God why?" Landon's mom, Alyssa, wrote on Facebook. In their small Missouri town of Tarkio (population: 1,500), friends and family of the Shaws began asking them what they could do. The answer: a wet, splashy campaign of love and support that has gone coast-to-coast and to several countries.
"The idea is you plunge into cold water and challenge at least three people," Joshua Wright explains on Facebook page Plunge for Landon. "You then say you will donate X amount of dollars for each who jumps within 24 HOURS!" According to Lydia Chapin Hurst, the dare was dreamed up by "a bunch of Christian dads out being silly" – including Lydia's husband Brooks, who was actually one of the first! Since launching online March 30, they've raised more than $60,000, with 31,000-plus members on the site.
"God took over and it just exploded," Hurst told PEOPLE. "There's just no other way to describe it."
As for Landon's family,  aside from the heartache and pain for the cancer-stricken infant, the sweet dunks have given them good reason to smile.
"At first, as a family, it was hard to look at it," Landon's grandmother, Rhonda Wiley, has said. "You'd want to look at it, but when you did, it would make you cry. The love was just pouring out. And then it went from that to where people were just plunging and doing such funny stuff, you would laugh and cry. And that's where we are today."
"The plunges have given us laughter whenever we've needed it, and most of all, prayers," she adds.
Contributions may be sent to Landon Shaw c/o The Flower Mill, 606 Main St., Tarkio Mo., 64491 or through Paypal via [email protected].
Image via Plunge for Landon