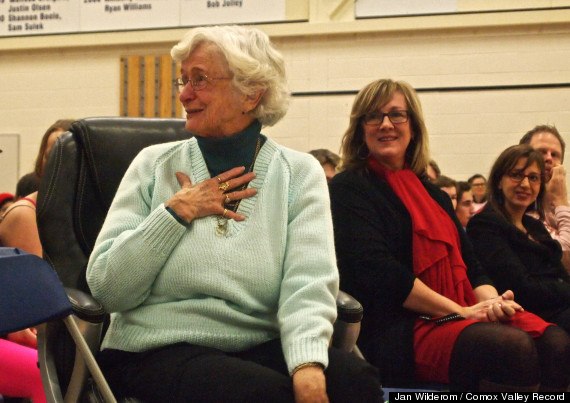 Sometimes it helps to have someone that can instantly make your day with just a simple gesture, like a smile and a wave. For a special group of high school students, that person is Tinney Davidson. The 84-year-old woman and her late husband moved into her current home of residence in 2007 and since then, the two have been waving to students on their way to and from Highland Secondary School in Comox, British Columbia from their living room window. A few years ago Tinney's husband passed away, but the adorable older woman decided to continue their tradition of waving, and the students would always wave back in return.
"I love it," Tinney said. "And they seem to love it also. So, you know, it's been a fun few years."
The high school students wanted to do something nice for her, so they conducted a Valentine's Day surprise she would never forget. They invited her to an assembly at Highland in her honor for always keeping them smiling. The students had made their 84-year-old friend a special video and showered her with Valentine's Day cards as well as offered up their thanks with a lot of hugs. According to The Comox Valley Record, they also thanked her for raising money for St. Joseph's General Hospital. She has sold hats she knitted and brought in more than $600 for the hospital. The high school kids' actions brought Tinney to tears, which in turn brought US to shed a few tears too!
Enjoy the video!