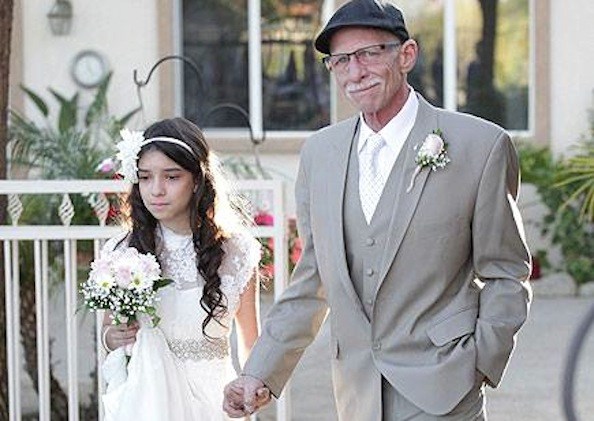 Josie Zetz is your average 11-year-old girl, but harbors a sad reality. Her father, Jim, has stage IV pancreatic cancer, which means that he probably won't live long enough for her next birthday, never mind her wedding day.
Local photographer Lindsey Villatoro first met the Zetzes when she shot them for a family portrait. Upon hearing Josie's concerns that her 62-year-old dying father will most probably never get to see his little girl grow up and get married, she then came up with an idea – after all, Villatoro had an 11-year-old at home herself. She decided to give them the next best thing – a memory that will live on with them forever, even after Jim passes. Along with the support of family and friends, Villatoro orchestrated a very special "father-daughter" ceremony for the two, complete with a wedding cake, a bridal dress for Josie and presents. Talk about speeding it up!
During the ceremony, Jim was able to do things that he will most likely not get the chance to later on, including walking his daughter down a makeshift aisle and putting a ring on her finger.
According to the Press-Enterprise, pastor Gary Gilbraith told Josie, "Your dad may not get to see you get married, but he is here to walk you down the aisle today. The daddy-daughter relationship is one of the most special relationships in life."
When the ceremony ended, Josie and Jim ducked out of the backyard to steal some private conversation and alone time.
Crying, the sweet father told the Press-Enterprise: "Down the road, this will mean a lot to her. She will always remember it."
Image via Facebook