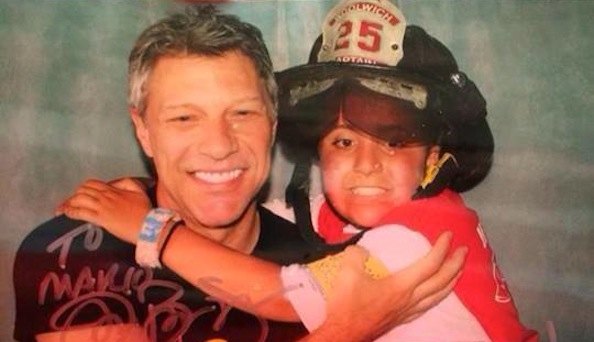 With summer coming around in full swing, kids all over the nation are putting up lemonade stands for some extra cash. One kid who is doing just that thing is having a successful season, even having his favorite celebrity visit for a special cause. New Jersey native Mario Carpino got the surprise of a lifetime when his favorite rocker Jon Bon Jovi stopped by his lemonade stand!
Every year, 10-year-old Carpino, who was diagnosed at the age of four with inoperable brain cancer, runs his lemonade stand to help raise funds for children's cancer research. In 2010, the Carpino family teamed up with the nonprofit organization Alex's Lemonade Stand; there, kids battling cancer, along with their family, friends and supporters, could set up lemonade stands – both real and virtual – to raise money for research.
It's his dedication to the cause as well as a Facebook page called "Mario's Fight to Get Bon Jovi to his Lemonade Stand in June" that helped bring the Bon Jovi lead singer to visit Carpino's stand on Saturday. The rocker had found out about Carpino and his stand through one of his sons and made a secret arrangement to visit, flying straight from a concert in Florida to get to the lemonade stand in New Jersey. He also kept the visit a secret from the Carpino family, so as to make it a complete surprise!
"Little did we know that he would just show up and surprise me," Mario's mom, Anna Carpino said. "As much as I wanted it to be him, I thought it couldn't happen. I just started breaking down, crying, and shaking. I was a hot mess!"
If that's what his mom felt, one can't imagine the excitement Mario experienced! He and his rocker idol drank lemonade, talked, and even got matching airbrush tattoos during their visit together.
"He was so genuine," Anna gushed. "He wanted to be there for Mario."
Carpino's lemonade stand was held at the Woolwich Fire Department in Swedesboro, New Jersey, where the 10-year-old aspiring firefighter is an honorary chief. Aside from lemonade, vendors also donated goodies like hot dogs and ice cream. Mario's mom also was able to get businesses to donate raffle prizes, such as sports memorabilia. So far the Carpinos have brought in $60,000 from this year's stand – which brings their overall total to $200,000, all in the name of cancer research.
Photo Source: Mario's Fight to Get Bon Jovi to his Lemonade Stand in June Facebook Page