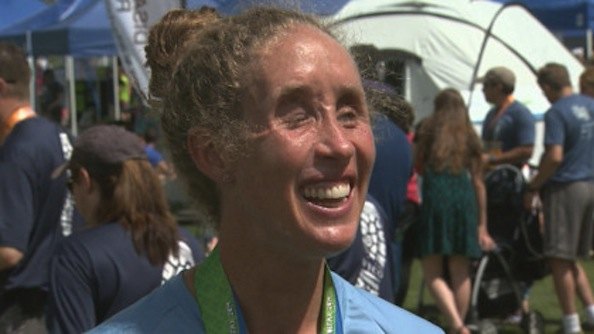 Let's face it: most of us in our lifetime will probably never run a marathon. Even with the most able-bodied, only a small percentage of people participate in trekking a whopping 26.2 miles by foot, much less running most of it. Amelia Dickerson is one of those in the small percentile; she has already run not one, but two marathons – the New York City marathon and the Colfax marathon in Colorado. Not only is she accomplished, but the odds-defying lady has a condition that would hinder most people: she is blind.
At the age of 14, Dickerson was involved in a severe car crash that left her blind.  Since then, she doesn't let her lack of sight deter her from accomplishing her dreams. Instead, she defies the odds by running like the wind – literally! She also runs in support of Lending Sight and Achilles International Colorado, which are two groups that supports impaired athletes in their endeavors.
"I'm pretty tenacious. It doesn't feel good to give up," she said in an interview prior to the New York City marathon.
Indeed, the superstar runner doesn't let anything bring her down when it comes to achieving her goals. For the New York City marathon, Dickerson had a number of guides assisting her while running because of her eyesight – or lack thereof. One of her guides, Jonathan Stenger, chronicled his time with the blind runner at the marathon for the website, Slate. While it was pretty trying and at times extremely difficult, Stenger spoke very highly of Dickerson.
"There are points out there especially at the end where you're like, 'How badly do I want it? How deep am I going to dig?' " said Dickerson. "It feels good, a very good tired."
Photo Source: CBS