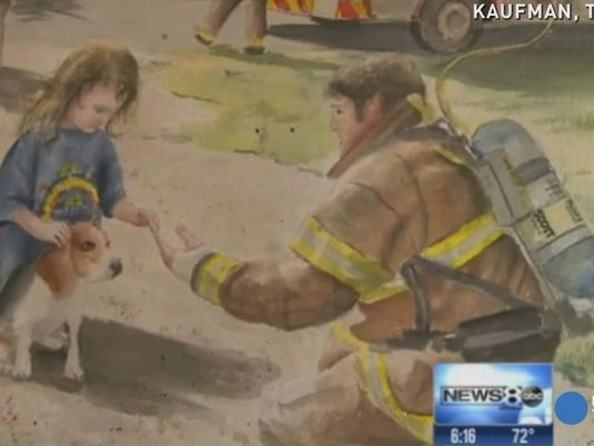 Twenty years ago, artist Greg Doster had died on a Texas highway – that is, until a firefighter was able to restart his heart! After a young driver crossed the center-divider, he hit Doster and his wife head-on and died. A volunteer firefighter saved Doster's life and now, after 20 years, he's finally able to say "thank you."
"They had to put the paddles to me on the side of the road," Doster said from his Art Studio.
The artist has presented 15 of his own paintings to fire departments across the state. Most recently, he shared a painting called "Fireman's Touch" to Kaufman, depicting a fireman comforting a young girl during a fire. 
"Once he got to talking about the accident and where it occurred and everything, then I knew and put two and two together," said Kaufman Assistant Fire Chief Ronnie Davis.
During his  presentation speech, Davis realized he had been among the first to respond to the call two decades ago. Firefighters in Kaufman were so touched by the gesture, they wanted to pay it forward. In one hour they got the cash together to reproduce the painting, and Tuesday they will present it to the West Volunteer Fire Department.
"I just want to make sure that they know that they are not alone and that people are always there and that nobody will ever forget," explained Assistant Chief Davis.
Image via WFAA-TV