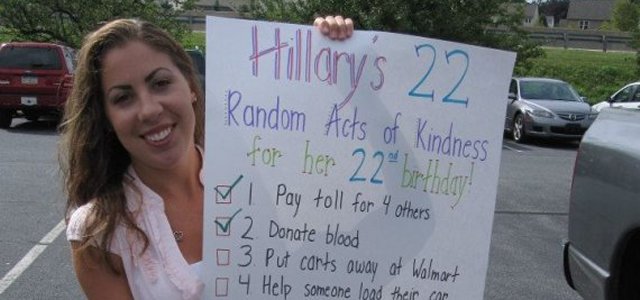 When most people plan their upcoming birthdays, it usually involves preparing for a party or writing a list of gifts they want. Hillary Sadlon did just the opposite to celebrate her 22nd birthday – she spent six months planning to carry out 22 random acts of kindness for strangers on the big day!
On her birthday on July 23, the Seton Hall nursing student from Belvidere, NJ rounded up her friend Meghan Cox and boyfriend Evan Reed to help her pull off the tasks. The completion of the list took about 10 hours, going through five cities in New Jersey and Pennsylvania.
"I wanted to do something big to show that helping others has a contagious rewarding feeling that comes with it," Sadlon has said. "I wanted to make a difference, even if for one day."
She added her thanks to everyone sharing her story because, she explains, she wanted to inspire others in a positive light.
So what exactly was on the 22-itemed list? The list including everything from simple tasks such as paying someone's toll and baking brownies for neighbors to donating her blood and passing out old water to gas station attendants. Suffice to say that both big and small missions were completed.
"When we were done, we were in the best mood you could ever imagine. And that's what I wanted for my birthday," Sadlon selflessly gushed. "Your birthday is supposed to be a happy day. That's what I was. Making someone else smile makes you want to smile."
Birthdays are often thought of as a day to celebrate the person whose birthday it is, but Sadlon changed the game, making it about assisting others and making the world a slightly better place, one kind act at a time. With a such a loving and productive birthday, we can't help but wonder what great things 23 will bring for her!