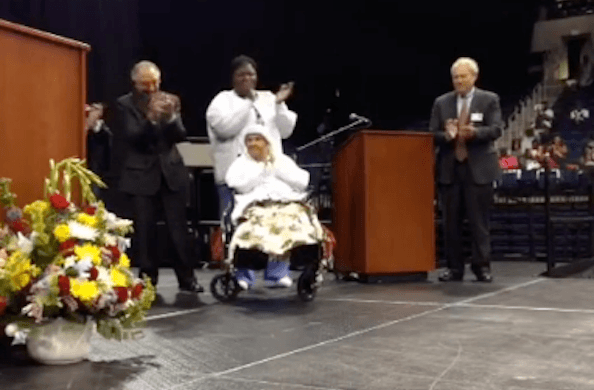 At the ripe age of 111 years old, Lela Babb Burden sure has a lot to say when it comes to history – after all, the woman has a lifetime of experience! In her room at the Lake Taylor Transitional Care Hospital, she is often heard recounting stories of when Jack Johnson became the first African American boxing heavyweight champ in 1908, Martin Luther King Jr. doing wonderful things as well as the racial injustices of the '60s and '70s. While the longtime Virginia resident may sound like a retired teacher, Babb Burden actually never got the chance to earn her high school diploma… until now. On June 17, the Norfolk Public Schools Superintendent Samuel T. King presented Babb Burden with an honorary diploma.
Born in 1903, she moved to Norfolk when she was four years old. When an influenza pandemic forced schools to temporarily close in Norfolk in 1918, Babb Burden ended up getting a job cleaning houses for 50 cents a day and serving at a restaurant for three dollars a week – and back in those days, three dollars went a long way. Because of the money she was making, she never did get to make it back to school, and instead she ended up getting married at the age of 22 and had a family. At 111, she's survived her whole immediate family, including her parents, all eight of her siblings, her husband, and even her kids.
Getting an honorary diploma was a total surprise for Babb Burden, who was accompanied by family members to the Booker T. Washington High School graduation ceremony last Tuesday. An fun fact about Booker T. Washington High: it was the school she would have attended to complete her education!
"Mrs. Burden has contributed to this community for 111 years," Samuel T. King, the Superintendent of Schools, said. "She made sacrifices, but she never relinquished her commitment to lifelong learning. We are privileged to provide her with an honorary high school diploma, symbolizing the vital importance of a free and appropriate public education for all."
"I just thank God that he let me live," Babb Burden said. "I hope I'll be here a long time."
Photo Source: WVEC