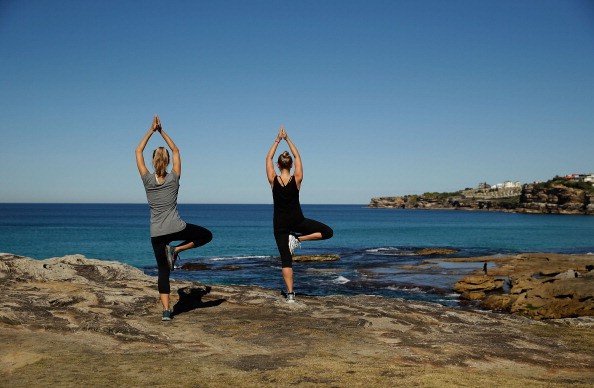 Yoga is one of the most powerful forms of exercise in the world. Not only does it use your body to help build muscle and improve your overall health, it also helps to teach you discipline, patience and it relieves stress. While there are few things in life that are more effective at lowering stress levels and making you feel more positive and healthy, yoga can actually be improved so that it can provide you with even more health benefits. Read on to find out how you can connect with nature and improve your yoga experience by practicing outdoor yoga.
Added Vitamin D
When you practice yoga outdoors, you provide yourself with additional health benefits through added Vitamin D. Direct exposure to the sunlight helps to increase your Vitamin D levels, which can help you to give you a little extra boost in muscle strength. This helps your muscles become even stronger and more flexible, which is a great addition to your overall health.
Added Stress Relief
Practicing yoga outdoors is a stellar way to add some additional stress relief to your daily exercise regimen. The sun is known for promoting the increased flow of happy endorphins that help to create additional stress relieving functions. When you exercise, your body also produces hormones that relieve stress. So practicing yoga outside relieves twice the amount of stress as practicing indoors, which is great for those who feel they have some added stress to burn.
Added Exercise
One of the best parts about practicing yoga outside is being able to get some added exercise into your routine. The best place to practice yoga outside depends entirely on you. Perhaps you are a yoga by the water person who wants to practice on the beach or by the lake. You can even practice by the pool. If you live in the mountains, the fresh mountain air makes for a wonderful addition to your daily yoga routine. You can do it in the park, in the mountains, by the lake, by the ocean or in a field of flowers; it doesn't matter. However, you can also add a nice walk through nature or along the beach once you are finished with your yoga and that's added exercise.
Side Benefits
Any type of outdoor exercise is going to add a bit to any workout. However, you can really connect with nature through outdoor yoga. How? Because yoga is something that requires clearing your mind and concentrating as you practice your poses. Being outside is going to connect you to nature because you're really going to hear the birds chirping, the sound of the leaves in the wind, the crashing of the ocean, she soft croaking of frogs in the pond…there is so much connection with nature when you practice yoga outdoors.
(Photo by Mark Metcalfe/Getty Images)