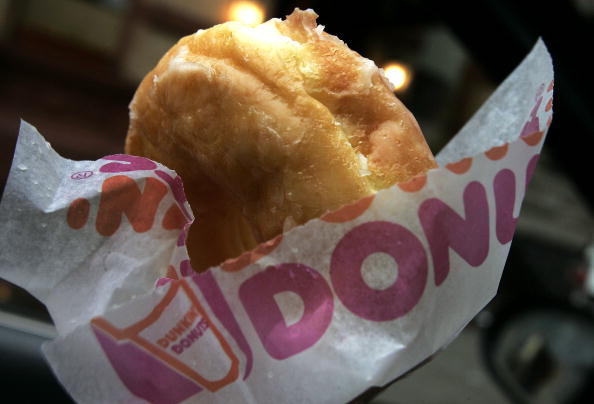 Everyone on the East Coast knows about Dunkin' Donuts and the doughnut and coffee chain's delicious sweet treats. With stores recently opening in California as part of their expansion, the West Coast is finally getting a taste of what we've been missing out on in terms of the chain's sweets and coffee. While it's a given that these delicious morsels aren't exactly the healthiest foods to consume, it's pretty eye opening once you really see most of the items' nutrition facts! Sure, a donut is a donut, but not all calories are created equal.
If you're watching your waistline, steer clear of the Large Mocha Coolatta with Cream – it's a whopping 990 calories, with 47 grams of fat, 125 grams of sugar and 141 grams of carbs. It's one drink that will consume nearly half a day's worth of calories – yikes! Even a Large Caramel Mocha Coffee with Cream is 340 calories, with 12 grams of fat and 48 grams of sugar. While you may be looking for something sweet, this one's sure to give you a big sugar-crash in the not-so-distant future. Sadly, not even a non-caffeinated beverage is safe: the Large Hot Chocolate is 820 calories, 430 mg of sodium, and 144 grams of sugar – and that's without food!
Of course, Dunkin' Donuts is best known for their breakfast foods and donuts, but those are just as intense as the drinks! A Sausage, Egg and Cheese on a biscuit is 650 calories, 46 grams of fat and 1610 mg of sodium, while one Chocolate Coconut Cake Donut is 550 calories, 39 grams of fat and 22 grams of sugar. You can see the entire menu of Dunkin' Donuts nutrition facts.
Thankfully, Dunkin' also offers a menu that has less than 400 calories – majority of them are drinks – as well as a DD Smart (read: healthier options) section that isn't as calorie-laden and as unhealthy as it all can be.
(Photo Illustration by Chris Hondros/Getty Images)