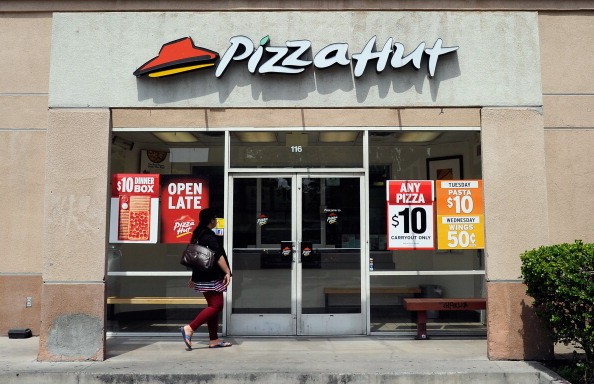 When you think of Pizza Hut, the first thing that comes to mind is often a slice of thick, greasy, gooey-cheesed pizza pie. After all, their main specialty is a word in their name and is known to pretty much everyone for that specific item. It's no secret that most of Pizza Hut's cuisine consists of carb-heavy, cheese and sauce laden items that have high calorie counts. From additional stuffed crusts filled with cheese to family-size portions of pastas and butter covered breadsticks, it's no wonder that it's easy to pack on the pounds when consuming their food products. While you don't go in to a Pizza Hut thinking you'll be getting the healthiest meal of your life, there are some very shocking things that most people don't know.
Here are five Pizza Hut nutrition facts that may surprise you:
1. Their "homestyle" Tuscani pastas are large enough to feed everyone in your household, although they are really targeted for one person. The Chicken Alfredo pasta is a hefty 520 calories and 930 mg of sodium per serving – and each order is about 2 servings. If you eat the whole thing, it's a whopping 1040 calorie and 1860 mg of sodium meal.
2. Choosing a Thin 'N Crispy or Fit 'N Delicious crust will save you 40 calories and 4 grams of fat per slice.
3. Their Meat Lover's pizzas are hands down the highest in calories as well as in fat content. A six-inch personal pan Meat Lover's pizza clocks in at 850 calories, 48 grams of fat and 2140 mg of sodium.
4. The best pizza option is a single slice of a 12-inch medium Thin 'N Crispy Pizza. Their Cheese, Pepperoni and Mushroom, Quartered Ham & Pineapple, and Veggie Lover's pizza toppings are all under 200 calories per slice.
5. You'll want to avoid eating most of Pizza Hut's appetizers, as they add quite a bit more to the table –  in more ways than one! Their Bone-Out Garlic Parmesan chicken wing is 260 calories, 19 grams of fat and 710 mg of sodium per serving. For the most part, all of their chicken wings range from 200-300 calories a pop and their sodium levels range from the 500 to over 1000 mg of sodium per serving.
(Photo by Kevork Djansezian/Getty Images)