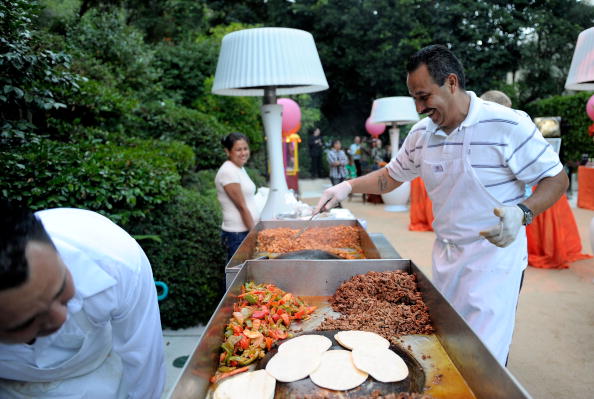 Summer is just around the corner and you know what that means: BBQs galore! Nothing quite says summer better than low-and-slow cooked meats and the United States is filled with the best of the best from coast to coast.  This week TripAdvisor, the world's largest travel site, announced the highest-rated restaurants and top U.S. states for barbecue scored according to TripAdvisor's community of millions of travelers. You just can't go wrong with knowing the best BBQ spots in America!
"Nothing says American summer like barbecue, and with styles that vary by region, aficionados get fired up over which states serve up the best," said Brooke Ferencsik, director of communications for TripAdvisor. "Offering a smorgasbord of the country's finest barbecue styles, Georgia is a traveler favorite and features more than 500 smokin' spots on TripAdvisor."
The top 10 states for BBQ? Head to Georgia, North Carolina, Texas, Missouri, Tennessee, South Carolina, Florida, Illinois, California and Kansas to taste the best this country has to offer. 
If you're planning to take a cross-country road trip or just looking to find a great BBQ place near you, here are the top 10 BBQ places in the country:
1. Franklin Barbecue, Austin, Texas
What to get: The Texas trinity of barbecue – brisket, ribs and sausage.
TripAdvisor tip: "The bottom line is this is actually a place that lives up to the hype. Run, don't walk, to line up for Franklin!"
2. Oklahoma Joe's BBQ & Catering, Kansas City, Kansas
What to get: Fan favorites include burnt ends and the "Z-Man" sandwich, a unique stacking of brisket, provolone cheese and onion rings served atop a Kaiser roll.
TripAdvisor tip: "BBQ so good it gave me chills!"
3. Bogart's Smokehouse, Saint Louis, Missouri
What to get: Melt-in-your-mouth meats as well as four homemade sauces including "Mad Maddie's," a vinegar-based concoction, and "Pineapple Express," a tangy and sweet sauce with a burst of tropical fruit.
TripAdvisor tip: "The people are great, the service is fast, and the food is some of the best stuff I have ever put in my mouth."
4. Wiley's Championship BBQ, Savannah, Georgia
What to get: Low-and-slow cooked meats including savory St. Louis cut ribs.
TripAdvisor tip: "Falling-off-the-bone tender. Succulent. Delicious. Charred on the outside. Perfection."
5. Hickory Pit Bar-B-Que, Chattanooga, Tennessee
What to get: Dry-rubbed meats smoked over hickory wood that can be served on a plate, as a sandwich, or even stuffed inside a "killer" baked potato.
TripAdvisor tip: "Excellent food, great service, friendly people and good prices. Feels like home."
6. Jim's Smokin' Que, Blairsville, Georgia
What to get: Succulent meats, including ribs, brisket, pulled pork, chicken and turkey as well as satisfying sides, from Brunswick stew to banana pudding.
TripAdvisor tip:  "The only problem is choosing what to order since it's all so good."
7. Joe's BBQ, Blue Ridge, Georgia
What to get: Tender and moist meats complemented by a selection of sauces including "Alabama white," a mayonnaise-based mixture that has found fame in several Southeastern states.
TripAdvisor tip: "The ribs were juicy and flavorful, every side we ordered was great and it was all delivered in a super friendly and clean atmosphere."
8. Captain's BBQ, Palm Coast, Florida
What to get: Moist and juicy meats as well as more unique creations including pulled pork burritos slathered in Baja sauce.
TripAdvisor tip:  "This is the taste of perfect southern barbecue, with the backdrop of old Florida."
9. Poppa's BBQ, Clearwater, Florida
What to get:  Slow-smoked pulled pork, juicy chicken and Memphis-style ribs that are generously rubbed with a special spice blend and served with a tomato and vinegar sauce on the side.
TripAdvisor tip: "This place is absolutely amazing! Great service and out of this world food."
10. Madd Jacks Grillin Shack, Cape Canaveral, Florida
What to get: Sliced tri-tips that are dry-rubbed and cooked over white oak for a slightly smoky kick.
TripAdvisor tip: "I have eaten at some of the best in the country from Texas, Memphis, St. Louis and some other places. This place beats them all, hands down."
Photo by Sean Gallup/Getty Images