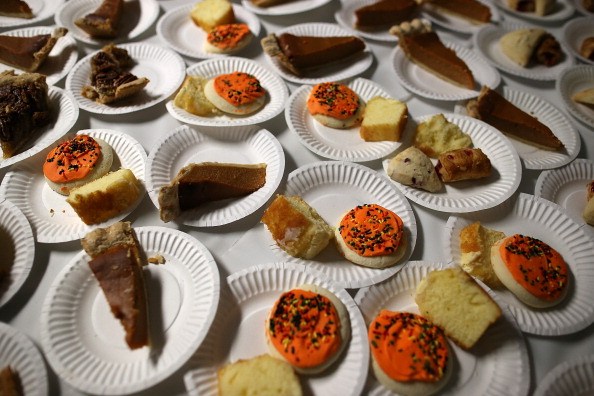 When it comes to the subject of Thanksgiving desserts, the first thing that comes to most peoples' minds is pie. After all, pies of all kinds (especially pumpkin, pecan and apple) tend to take over the dessert table on Turkey Day – but it doesn't always have to be that way! There are so many decadent and delicious desserts that don't have to do with actually being a pie to nosh on on the big holiday. Here are three Thanksgiving desserts that are easier than pie:  Let's start off with a Pumpkin Smoothie!
I adore the Pioneer Woman and this recipe of hers is an instant hit. You get the taste of pumpkin pie, but in liquid form. With all the rich and tasty treats you'll be eating for Thanksgiving, a pumpkin smoothie is a refreshing sweet treat that won't feel too heavy on you. For this recipe, you'll need a 15 oz. can of pumpkin pie filling, 1/2 cup to a cup of vanilla yogurt,  3 cups of milk, cinnamon, and cinnamon graham crackers. Before you begin, you'll want to freeze the pumpkin pie filling in a freezer-safe container until it is frozen solid. Then, crush the graham crackers and set aside. In a blender, put in the milk, yogurt and frozen pumpkin filling until it is completely blended together into a smooth consistency. Pour into glasses and top each glass with crushed graham crackers and a sprinkle of cinnamon.
Spiced Apple Cider Sorbet
While much of the country is freezing, there are certain places where it is just way too warm for hot apple cider for Thanksgiving. There's nothing better than a frozen treat when the weather is warm – and what better way to celebrate the holiday than with a seasonal apple cider frozen treat! You'll need 1 1/2 cups of fresh apple cider, 2/3 cup sugar, 1 teaspoon whole cloves, 5 cinnamon sticks, 1 1/2 cups unsweetened applesauce, 3/4 cups cranberry juice cocktail, juice of one lemon, and 2 tablespoons of dark rum (or desired alcohol). Stir the apple cider, sugar, cloves and cinnamon in a saucepan and bring to a boil, simmering for 15 minutes. Remove from heat and remove the cloves and cinnamon sticks, discarding them. Whisk in applesauce, cranberry juice, lemon juice and rum. Cover and refrigerate overnight, then freeze as directed for your specific ice cream maker. Use ice cream maker to make into a sorbet. Before serving, put the finished product in the freezer to allow it to harden for about four hours.
Pumpkin Cheesecake with Caramel Sauce
This no-bake cheesecake is as easy as pie! For this you'll need 16 Biscoff cookies (finely crushed), 2 tablespoons butter (melted), 1 2/3 cup heavy cream, 8 ounces of cream cheese, 2 tablespoons caramel sauce, 6 tablespoons of light brown sugar, 1/2 teaspoon of vanilla extract, 1/2 teaspoon of ground cinnamon, 1/4 teaspoon of ground nutmeg, 1/4 teaspoon of ground gingerm 1 pinch of ground cloves and a cup of canned pumpkin puree (chilled). Either in a mixing bowl or food processor, mix the butter and crushed cookies. Divide them into 6 glasses evenly, pressing into an even layer. In a mixing bowl, whip a cup of heavy cream until they form stiff peaks. In a separate bowl, whip cream cheese and caramel sauce until it becomes smooth, then blend in vanilla, brown sugar, cloves, ginger, cinnamon and nutmeg until it becomes fluffy. Fold pumpkin puree, then the whipped heavy cream. Either by spooning or piping, add in the pumpkin cheesecake mix over the cookie crumble layer. Then whip the remaining 2/3 cup heavy cream until it forms peaks. Place the whipped cream on top of pumpkin cheesecake mix. Lastly, drizzle caramel sauce all over the top.
(Photo by Justin Sullivan/Getty Images)