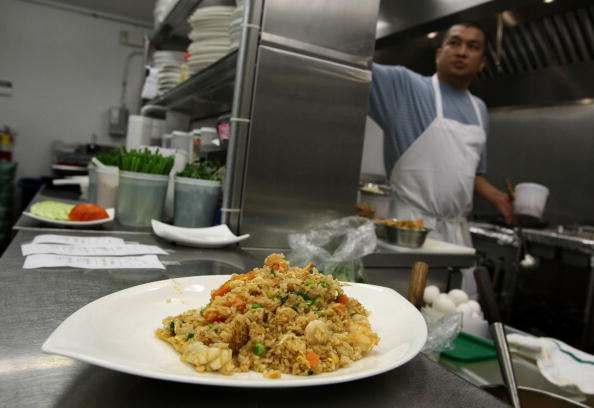 When we think of breakfast, we automatically think of two things: cold cereal and savory egg dishes. When going to breakfast or brunch at a restaurant, it's common and "normal" to order pancakes and waffles or an omelet and Eggs Benedict. Ever think of having some fried rice first thing in the morning for a change? While it may sound a tad crazy, it's pretty normal actually – especially in Asian countries. As someone of Asian descent, it was quite common for me growing up to start the day off with fried rice for breakfast. After all, it is filling and can incorporate your veggies, favorite breakfast meat, and white rice carbs all in one dish! All you do is start off with your favorite veggies (peas, carrots, onions and scallions go well in this dish), your favorite breakfast protein (eggs, bacon, ham and even sausage are great candidates) and then toss in rice and you're good to go!
Here's how to make a delicious breakfast fried rice:
Ingredients:
4 cups cooked white rice (cooked the day before is ideal)
6 slices of bacon (diced)
1 large white onion
6 eggs (beaten)
1/2 bunch chopped green onions
Salt
Pepper
A splash of soy sauce
Directions:
Fry bacon in a large, dry saucepan using medium heat.
When the bacon is almost done cooking, add chopped onions and cook until they are soft.
Remove onion and bacon and set aside.
Add cooked white rice to the pan and fry until it's hot.
Stir in cooked bacon and onions back into the pan with the rice.
Push the rice, bacon and onion to the sides of the pan, leaving an empty space in the middle.
Pour beaten eggs into the pan and push the eggs into the center until they are all cooked.
Once the egg is beaten, stir into the rice and then stir in tyne chopped green onion.
Add soy sauce and stir in salt and pepper as well.
ENJOY!
Here's a helpful video on how to make breakfast fried rice:
(Photo by Justin Sullivan/Getty Images)