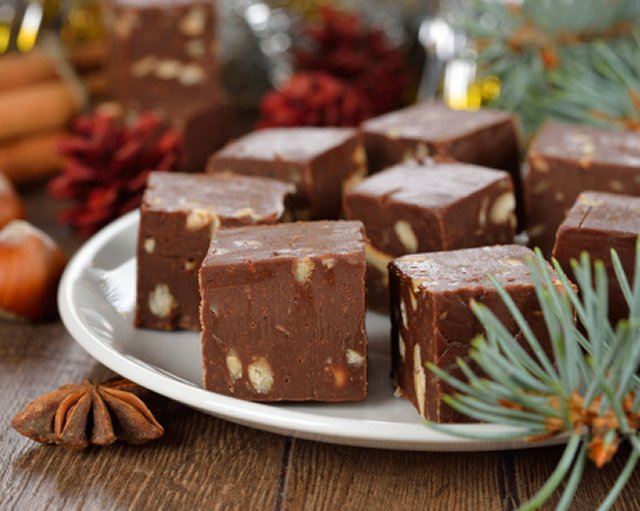 What's a great meal without an even greater, delicious dessert?! It's hard to resist a good piece of pie or chocolate anything to satisfy a sweet tooth and round out a meal. While most of the time dessert options tend to be an afterthought, that shouldn't be the case – and with these delightful and super-easy dessert recipes, now dessert time is something everyone can partake in!
Check out these easy, delicious and fun dessert recipes: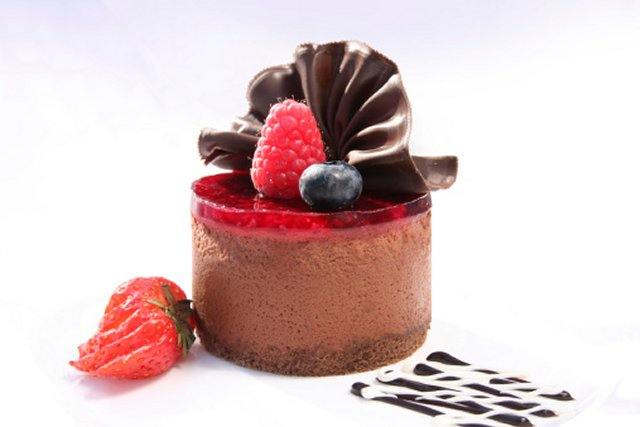 Cake from a Souffle Jelly and Chocolate
Ingredients
1 box Betty Crocker® SuperMoist® devil's food cake mix
Water, vegetable oil and eggs called for on cake mix box
1 cup semisweet chocolate chips (6 oz)
1 1/2 cups whipping cream
1/3 cup powdered sugar
2 tablespoons seedless raspberry jam
1 container (6 oz) fresh raspberries
White chocolate truffle candies. if desired
Unsweetened baking cocoa, if desired
Directions
Heat oven to 350°F (325°F for dark or nonstick pans). Grease two 9- or 8-inch round cake pans, or spray with baking spray with flour.
Make and bake cake as directed on box for 8- or 9-inch round cake pans. Cool in pans 10 minutes. Remove from pans to cooling racks. Cool completely, about 30 minutes.
Meanwhile, in medium microwavable bowl, microwave chocolate chips and 1/2 cup of the whipping cream uncovered on High 45 to 60 seconds; stir until smooth and melted. Refrigerate 15 to 30 minutes or until cool.
In large bowl, beat remaining 1 cup whipping cream and the powdered sugar with electric mixer on high speed until mixture starts to thicken. Add melted chocolate. Beat until stiff peaks form (do not overbeat or mixture will begin to look curdled).
On serving plate, place 1 cake layer, rounded side down. Spread raspberry jam over cake layer. Spread 1/2-inch-thick layer of chocolate mixture over jam. Cut 1/2 cup of the raspberries in half; press into chocolate mixture. Top with other cake layer, rounded side up; press lightly. Frost side and top of cake with remaining chocolate mixture. Refrigerate about 1 hour or until firm. Let stand at room temperature about 10 minutes before serving. Garnish with remaining raspberries and candies. Sprinkle with cocoa. Store loosely covered in refrigerator.
Cake with Chocolate and Raspberry
Ingredients – Raspberry Cheesecake with Chocolate Cookie Crust
1/2 cup Unsalted butter, melted
32 each Chocolate sandwich cookies with vanilla filling
16 oz Cream cheese
14 oz Sweetened condensed milk
1 tablespoon Fresh lemon juice
3 each Egg
81/4 oz Hannaford Inspirations Raspberry Fruit Syrup
Directions:
Prepare a 10-inch springform pan by putting a piece of parchment paper over the base. Lock in side piece, making sure parchment paper doesn't bunch up too much in pan. Use a little of the melted butter to grease pan.
Crush cookies into small crumbs and place in a large mixing bowl. (To crush cookies, you can use a food processor or blender, or put cookies in a plastic bag and crush with the back side of a skillet or a rolling pin.) Add remaining melted butter to crushed cookies and toss mixture until evenly coated.
Put cookie mixture into prepared springform pan. With clean and dry hands, work mixture around side of pan, forming thin walls that go up about half the height of the pan. After you create the walls, there should be plenty of cookie mixture covering the bottom of the pan. Lightly press mixture down with the back of a tablespoon and redistribute to patch any holes. Set aside.
Preheat oven to 300 F.
In a large mixing bowl, use an electric mixer to beat cream cheese until creamy. Beat in sweetened condensed milk, lemon juice, and eggs.
Pour out 2 Tbsp. of the Red Raspberry Fruit Syrup; set aside. Add rest of bottle to cream cheese mixture and beat well for at least 3 minutes, until smooth. Do not over-beat.
Pour mixture into prepared crust. Using 1 reserved Tbsp. Raspberry Syrup, put 5 or 6 drops on top, at a distance from each other. With a sharp knife, gently swirl syrup drops around top of cheesecake.
Bake cheesecake at 300 F for 1 hour. Do not open oven door at any point to check on it. After 1 hour, turn off oven but keep oven door closed. Leave cheesecake in oven for another 35 minutes, then open door a crack and leave cheesecake in for another 25 minutes. Remove cheesecake from oven and chill at least 4 hours. When cold, slide a small knife around edges of cheesecake to loosen it and remove sides of springform pan; transfer to a serving plate.
To serve, drizzle reserved 1 Tbsp. raspberry syrup over top of cheesecake and top with a dollop of whipped cream and a sprinkling of raspberries, if desired. Use a sharp knife to cut slices. Wipe knife with a damp paper towel after every slice.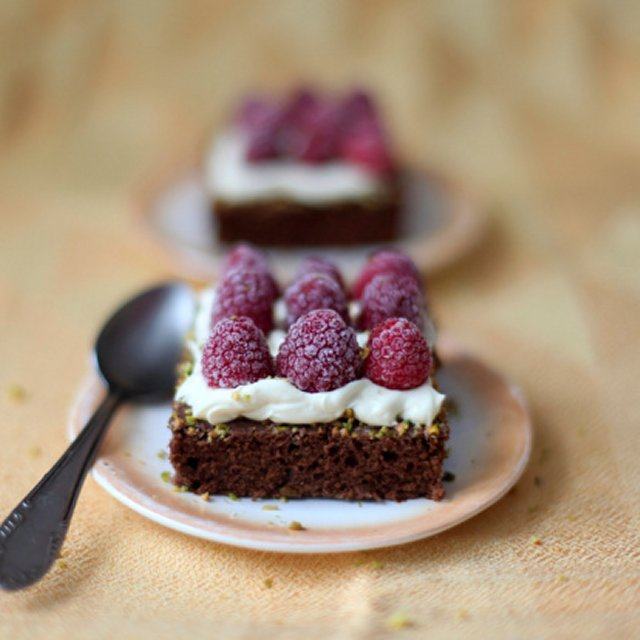 Chocolate Cake with Raspberries
Ingredients
4 oz. (1/2 cup) unsalted butter, cut into 6 pieces; more for the ramekins
7 oz. bittersweet chocolate (60% to 65% cacao), chopped (about 13/4 cups)
1/2 cup granulated sugar
1/4 tsp. table salt
3 large eggs, at room temperature
3 Tbs. tawny port
1/2 tsp. pure vanilla extract
1 Tbs. unbleached all-purpose flour
Confectioners' sugar for dusting
Raspberries for garnish
Directions
Position a rack in the center of the oven and heat the oven to 425°F. Generously butter six 4-oz. ramekins. Put the ramekins in a baking pan with sides that are at least 2 inches high. Bring a kettle of water to boil and keep at a simmer until needed
Heat the chocolate and butter in a heavy-duty 3-quart saucepan over low heat, stirring frequently, until completely melted, 2 to 3 minutes. Remove from the heat.
Whisk in the sugar and salt until dissolved, about 30 seconds. Whisk in the eggs until smooth, about 1 minute. Whisk in the port and vanilla until combined, 15 to 20 seconds. Sprinkle the flour over the top and whisk until incorporated, about 30 seconds
Divide the batter evenly among the ramekins, filling each about two-thirds full. Carefully pour the boiling water in the pan so that it reaches at least halfway up the sides of the ramekins. Bake until the tops are just set and dry, 14 to 16 minutes. Remove the cakes from the oven and water bath, and let cool for 2 minutes. Dust with confectioners' sugar, top with a few raspberries, and serve warm.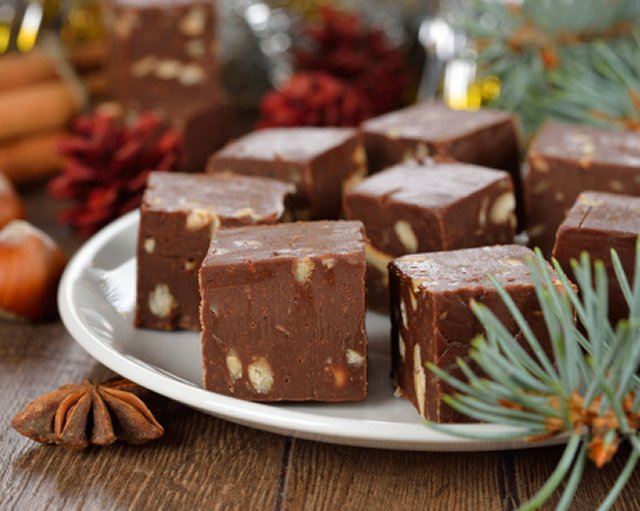 Chocolate Fudge
Ingredients
3 cups semi-sweet chocolate chips
1 (14 ounce) can EAGLE BRAND® Sweetened Condensed Milk
Dash salt
Directions
In heavy saucepan, over low heat, melt chocolate chips with sweetened condensed milk and salt. Remove from heat; stir in nuts (optional) and vanilla.
Spread evenly into wax-paper-lined 8- or 9-inch square pan. Chill 2 hours or until firm.
Life fudge out of pan and place onto cutting board; peel off paper and cut into squares. Store covered in refrigerator.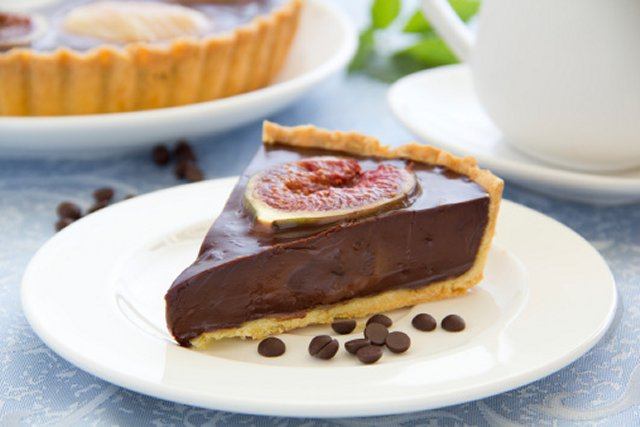 Chocolate Tart with Figs
Ingredients
for the base:
125g butter, room temperature
1½ cups almond meal
1 cup cocoa powder (depending on how string the powder is… I used a pretty crappy brand)
250g plain chocolate biscuits
for the filling:
1 cup ricotta
500g marscarpone cheese
400g 70-80% cocoa dark chocolate
⅔ cup of port
for the topping:
10 figs
juice of ½ a lemon
2 tbsp honey
1 tsbp cinnamon
Instructions
The base
Blitz the biscuits, almond meal and cocoa in a food processor until the mixture resembles fine breadcrumbs.
Add the butter and blitz it through until it's combined. The mixture should stick together if you press it together, but not be runny at all.
Press the mixture into a greased tart, flan or cake pan. The pan I used has a diameter of 26cm, but a you've got some room to move, a little narrower or wider will still work. You need to press the mixture down hard onto the base and around the sides of the tin, so it's compact. To avoid having really thick corners, really press in at the edges (where the sides meet the base) it can be a little lower than the rest of the base.
Cover the tin and put it in the fridge to set for about 30 minutes to an hour (see note for details of how you could pre-prepare this dish)
While this is happening you need to make your filling.
The filling
Blitz your ricotta and marscarpone together in a food processor or in a mixer. Set aside while you prepare the chocolate mixture.
Put about 4-5cm of water in a sauce pan.
Put a pyrex or metal bowl on top of the pot, the water should NOT be touching the base of the bowl. Bring the water to the boil then lower to a simmer (low, steady bubbling).
Put your chocolate and port into the bowl on top. Mixing all the time, melt the chocolate into the port. This is a technique called DOUBLE-BOILING. It's good for chocolate because it ensure you don't burn it by having it too close to the flame.
Remove the molten chocolate/port mixture from the heat and blitz (in the food processor or using a hand mixer) into the ricotta/marscarpone straight away.
Refrigerate until the base is done with its refrigeration time. You will need to get the filling into the base at least an hour before serving to allow it time to set.
About an hour before serving (or several if that suits you better!), spoon your ricotta mixture into the tart base, then spread it out evenly and gently. Re-cover the tart, being careful not to have the cover resting on the ricotta mix (otherwise it'll stick). Leave to refrigerate for 1 to 6 hours, whatever best suits you.
Fig Topping
About half an hour before serving, prepare your figs.
Slice them up, into something that looks aesthetic, then prepare their simple marinade.
Heat the honey for about 10 seconds in the microwave, so that it's thin and runny, then mix through the lemon juice and cinnamon.
Drizzle this over your figs, cover and refrigerate for about an hour.
Just before serving top your tart with the figs. This will stop the figs from getting a bit too squishy and collapse into the tart, ruining the aesthetics of it.
You can arrange your figs however you like; I like to splay them out from the centre, overlapping one another (as pictured above)
Very carefully remove the sides of the tin from your tart. This may take some careful manoeuvring. I usually place the base of the tin on a large glass or a couple of food tins to do this, it means I can pull the tin sides down without fiddling too much. If one of the sides comes off, it's not great catastrophe, just squash it on and refrigerate for about 20 minutes (without the cake tin sides) to get it reattached.
Slice it carefully with a sharp knife and use a cake slice to get it off the tin (be careful, the base needs a little gentleness, remember it's just butter holding those crumbs together!)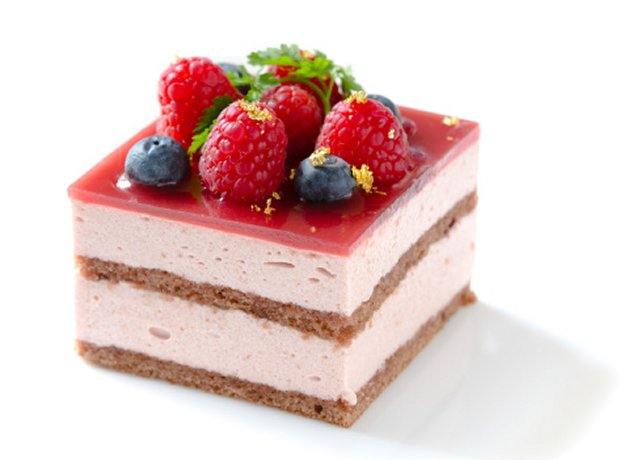 Fancy Raspberry Mousse Cake Dessert
Ingredients
Chocolate genoise cake:
3/4 cup cake flour
1/4 cup cocoa powder
1 tablespoon cornstarch
Pinch of baking soda
6 eggs
1 cup sugar
2 tablespoons butter, melted
Chocolate ganache:
1 cup heavy cream
12 ounces bittersweet chocolate, chopped
To assemble:
2 cups seedless raspberry jam
1 cup heavy cream, whipped
Garnish: Raspberries, mint sprigs, powdered sugar
Directions
Genoise: Preheat oven to 350 degrees F. Butter and flour an 8-inch cake pan.
Into a small bowl sift together flour, cocoa powder, cornstarch and baking soda. In a large metal bowl set over barely simmering water, whisk eggs and sugar with a hand-held electric beater until thick, foamy and doubled in volume. Mixture should form a ribbon when beaters are lifted. Make sure that mixture does not get too hot and curdle eggs. Remove from heat and gently fold in flour mixture until just combined. Fold in melted butter and pour into cake pan. Bake 20 minutes until cake is springy to touch. Cool in pan 10 minutes on a cake rack, turn out and cool completely.
Ganache: In a small saucepan bring cream to a boil over high heat. Remove from heat and whisk in chocolate. Let cool, stirring occasionally, until thickened, but still pourable.
Assembly: Halve cake crosswise. On a cake rack set over a baking sheet, cover bottom cake layer with raspberry jam and replace top layer. Over center of cake pour ganache and smooth over top and sides with a palette knife until evenly coated. Let icing set, about 1 hour. To decorate, pipe whipped cream as desired, arrange raspberries and mint and dust with powdered sugar.
Poached Pear with Chocolate and Vanilla Ice Cream
Ingredients
Vanilla Poached Pears:
6 cups water
3 cups sugar
2 cinnamon sticks
1 lemon, zested
1 vanilla bean
6 firm pears such as Bosc or Bartlett
Chocolate Sauce:
1 1/2 cups heavy cream
12 ounces bittersweet chocolate, roughly chopped
1 1/2 tablespoons unsalted butter
1 quart store-bought vanilla-bean ice cream
Wafer cookies, for serving
Directions
Combine the water, sugar, cinnamon sticks, and lemon zest in a medium saucepan. Split vanilla bean lengthwise, scrape out the seeds and add both the seeds and the pod to the pan. Bring the mixture to a boil over medium heat, stirring occasionally, until the sugar is completely dissolved, about 5 minutes.
Peel the pears. Reduce the poaching liquid to a simmer and add the pears. Cook until just tender (the tip of a paring knife will go through the flesh of a pear with just a little resistance), about 15 minutes. Remove the pan from the heat and cool the pears in the poaching liquid, until completely cooled, about 45 minutes.
Heat the cream in a small saucepan over low heat. Put the chocolate and butter into a medium-size bowl. Pour the cream over the chocolate and stir until smooth and glossy.
Serve the pears with a scoop of ice cream, a little pear-poaching syrup and warm chocolate sauce drizzled over the top. Garnish with a wafer cookie and serve.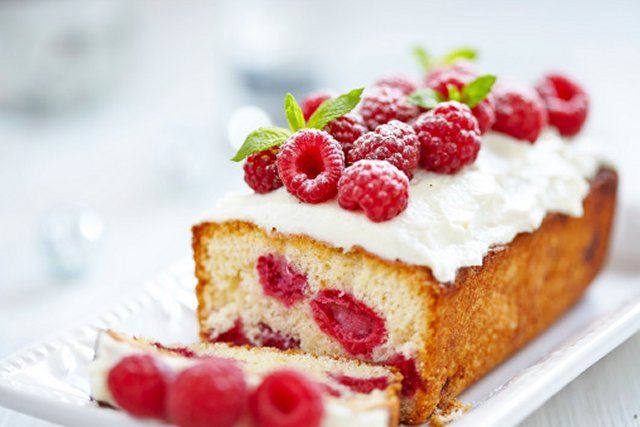 Raspberry Cake for Holidays
Ingredients
1 box Betty Crocker® SuperMoist® white cake mix
Water, vegetable oil and egg whites called for on cake mix box
1 box (4-serving size) raspberry-flavored gelatin
1 cup boiling water
1/2 cup cold water
1 container (8 oz) frozen whipped topping, thawed (3 cups)
Fresh raspberries, if desired
Directions
Heat oven to 350°F (325°F for dark or nonstick pan).
Make and bake cake as directed on box for 13×9-inch pan. Cool completely in pan, about 1 hour.
Pierce cooled cake all over with fork. In small bowl, stir gelatin and boiling water until smooth; stir in cold water. Pour over cake. Run knife around sides of pan to loosen cake. Refrigerate 2 hours. Frost with whipped topping; garnish with raspberries. Store covered in refrigerator.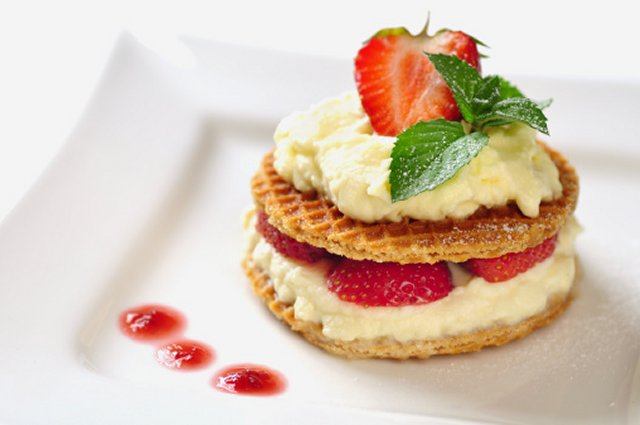 Sweet Dessert Wafers with Vanilla Creme and Strawberries
Ingredients
4  Reduced Fat NILLA Wafers (or other dessert wafers)
2 Tbsp.  thawed COOL WHIP LITE Whipped Topping
2  fresh strawberries, halved
Directions
PLACE wafers on small dessert plate.
TOP with COOL WHIP and berries.
SERVE immediately.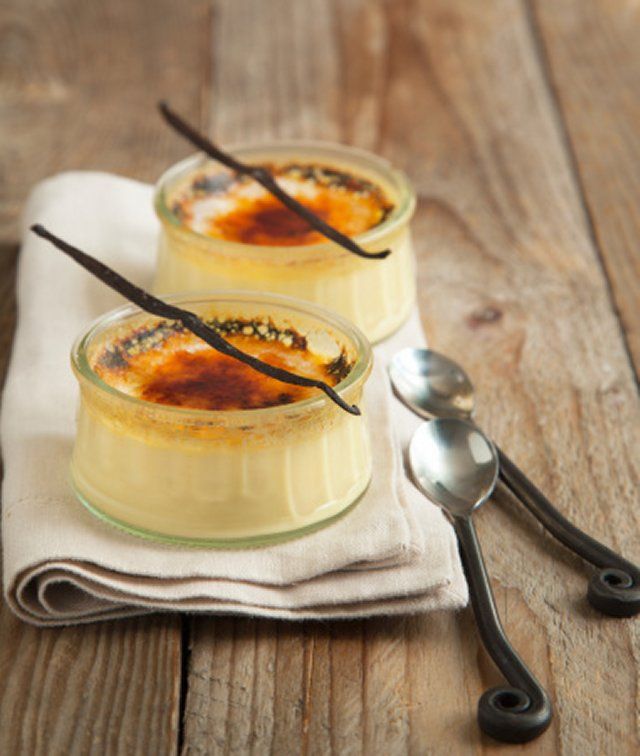 Vanilla Bean Creme Brûlée
Ingredients
For Custard:
4 cups heavy cream
3/4 cups sugar
1 vanilla bean, split lengthwise
7 large egg yolks
1/4 teaspoon coarse salt
For Topping:
3/4 cup sugar
Directions
Prepare oven and baking dishes: Heat oven to 300 degrees. Bring a kettle or pot of water to a boil. Place eight 5-ounce baking dishes in a large roasting pan.
Gently heat cream: In a medium saucepan, combine cream and half the sugar (1/4 cup plus 2 tablespoons). Scrape vanilla bean seeds into pan, then add pod. Heat over medium just until mixture starts to bubble around the edge of the pan, 7 to 8 minutes (do not let boil).
Meanwhile, whisk egg yolks: In a large mixing bowl, whisk the egg yolks with remaining sugar and the salt.
Temper eggs: Use ladle to pour a small amount of the hot cream mixture into the egg mixture, then whisk to combine. (This is called tempering and prevents the eggs from curdling.) Add two more ladles of cream mixture, one at a time, whisking to combine after each addition. Gradually whisk in remaining cream mixture. Strain through a fine sieve into a large liquid measuring cup (to remove the vanilla pod and any cooked bits of egg).
Bake: Divide custard evenly among baking dishes. Place pan in oven. Add enough boiling water to come halfway up the sides of the dishes. Bake until custards are just set (they should tremble slightly in center when shaken), 30 to 40 minutes.
Chill: Remove pan from oven. Use tongs to carefully remove dishes from hot-water bath and place on a wire rack for 30 minutes. Then, cover with plastic wrap and chill for at least 2 hours (or up to 3 days) before serving. The custard will finish setting in the refrigerator. If you like, transfer the custards to the freezer 15 minutes before serving to ensure they stay cold after being bruleed (this is especially important if using the broiler).
Caramelize tops and serve: Sprinkle about 1 1/2 tablespoons granulated sugar over each custard. Working with one at a time, pass the flame of the torch in a circular motion 1 to 2 inches above the surface of each custard until the sugar bubbles, turns amber, and forms a smooth surface. Serve immediately.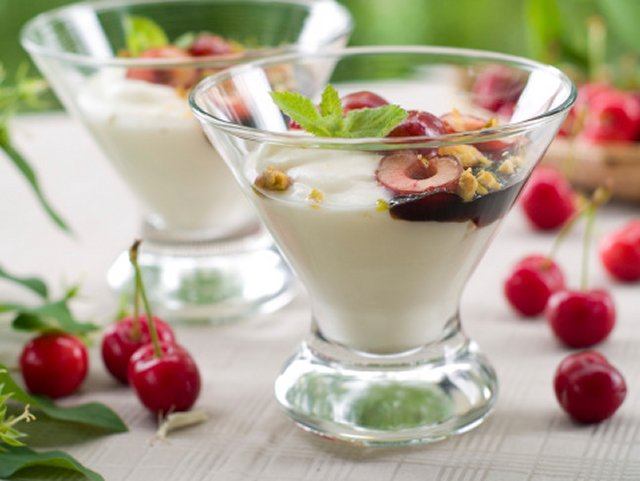 Yogurt Dessert
Ingredients:
2 and 1/2 cups homemade plain yogurt
1/2 tsp. pure vanilla extract
1 and 1/2 cup cherries, pitted and halved
1 tablespoon raw sugar (I used sucanat but you can use turbinado), optional
2/3 cup balsamic vinegar (I used cherry infused balsamic vinegar from Cherry Republic)
1/3 cup honey
1/3 cup shelled pistachios, crumbled
Directions:
Strain yogurt: Line a fine mesh sieve or colander with cheese cloth. Spoon yogurt into it and let sit for 1 hour to drain. The consistency will be thicker and creamier. If the yogurt is too thin for your liking, you may strain longer until the consistency is what you like.
In a medium bowl, stir together the yogurt and the vanilla extract. In another bowl sprinkle cherries with sugar (optional).
In a small saucepan over medium-low heat, combine the balsamic vinegar and honey. Simmer, stirring constantly, until the liquid is reduced by half. Pour the liquid into a small bowl and allow it to cool.
Spoon yogurt into individual serving bowls, swirl in a spoonful of sauce, and top with cherries and crumbled pistachios.
All Images via Thinkstock