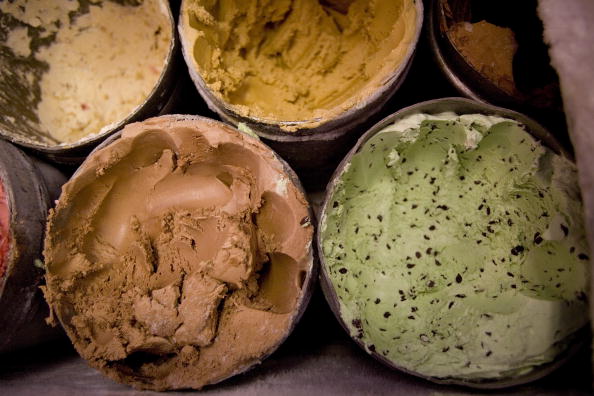 With temperatures soaring high now that summer is in full swing, that means one thing: time to beat the heat! While many people flock to the movies for some air conditioned action, others opt for getting cold, delicious sweet treats, like ice cream. What better time to nosh on the many flavors of that creamy, sweet and frozen treat than now?! If you can't make your way to the grocery or ice cream shop, you can still enjoy the great taste of frozen goodness by making it yourself at home – you don't even need an ice cream machine to do so!
Here's how to make homemade ice cream:
– In a big mixing bowl, fill with ice (but make sure you can fit a medium glass quart bowl on top with ice surrounding it) and add ice cream salt on top of it. The salt will make the ice even colder and will help the ice cream freeze more.
– Put the medium quart glass bowl on top of the ice in the mixing bowl and fill the glass bowl with your ice cream mixture. You can use this recipe for plain vanilla. Using a hand mixer, mix the ice cream mixture for 10 minutes.
– Place both bowls into the freezer as they are now and  be sure to cover with a towel. Leave the mixture in the freezer for 45 minutes.
– Take the bowls out and scrape the ice cream mixture – it should have the consistency of loose pudding. Whip the mixture again for another 5 minutes using the hand mixer. It should then have the consistency of soft serve ice cream.
– Take the smaller glass bowl out of the ice-filled mixing bowl. Cover the glass bowl with saran wrap and place it into the freezer for another few hours before you take out and enjoy!
Additionally, here's a helpful video on making homemade ice cream:
Photo by David Paul Morris/Getty Images