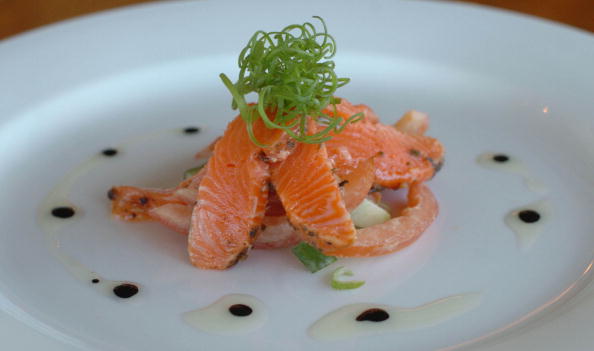 Salmon is one beautifully colored fish that tastes just as good as it looks. You can have your salmon in many ways: smoked on top of a cream cheese-slathered bagel, sliced raw on top of sushi rice, as well as eating it in the most popular of ways, cooked. You can bake it, broil it or grill it – salmon is just one majorly delicious fish! Even kids who are picky eaters can enjoy the light fish flavor of salmon. The only thing about salmon that people find to be difficult is cooking it to perfection. Unfortunately, it's very easy to overcook a salmon, oftentimes drying out quickly. I personally struggled with eating cooked salmon – I would only eat it raw at sushi bars – before I finally cracked the code on how to keep it moist in the cooking process.
Here's how to cook salmon like the pros do:
– Use fresh fish. When you use frozen fish, you lose moisture already.
– Season your salmon to your liking. Salt and pepper are the usual suspects, but you can also add on olive oil, lemon juice, parsley, and scallions.
– Place the salmon in aluminum foil and close the foil, making it into a pocket to lock in the juices. Place the foil with the salmon in an oven safe container and put it into a 350 degree pre-heated oven.
– Cook for about 7-8 minutes and then open up the foil and cook for another 5-10 minutes, depending on how cooked you want it. You'll know when it's done when a wooden pressed on the top gives a little bit of a resistance but not too much. There will be a little whiteness at the sides from the fat and then the fish should be nice and perfectly cooked.
– Enjoy with your favorite side dishes!
Here's a helpful video on how to cook salmon like the pro that you are:
Photo by Phil Walter/Getty Images