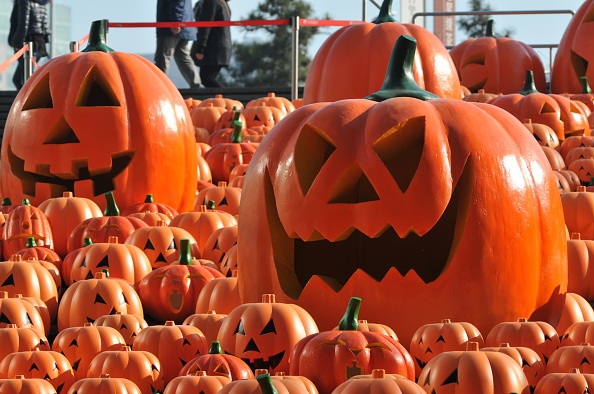 Halloween is one of the most fun holidays of the year. Anyone that is on the "Halloween is for the devil," train does not exist to me. Halloween is all about creativity, fun and Snickers bars – and no one can tell me that a day all about being creative, hanging with your kids and stealing helping them eat their Snickers is a bad day. It just is not a bad day. The moment that October 1st arrives, the people in my household know that Halloween has arrived. They know that the decorations are coming out, the creativity level is getting high and the fun is only just beginning. We love Halloween, and we make no excuses.
With our 11th annual Halloween costume bash only three days away, our house is a flurry of activity. I always want to come up with bigger, better ways to decorate and make things fun and exciting at the party so that both parents and children will have a blast. After 11 years of doing this, I've become quite good at last minute DIY projects that allow me to make new decorations out of things we already have in the house or things I can quickly pick up for next to nothing and transform into something spooky and awesome. For you, friends, I thought I might share my Pinterest-inspired Halloween decorations so that you, too, can really do it up in the coming week.
Spooky Eyes
At night, we like to have spooky eyes for the Halloween party we throw. What this means is we like to make it appear as if there are monsters peering at us from the woods, the trees and the landscaping. For the month of October, I save all our used up toilet paper rolls, cut fun eye shapes into them and then crack open a bag of glow sticks. I put the glow sticks in the toilet paper tubes (3 per tube so they are actually visible) and then I hide them in the bushes. It looks awesome, and it takes about a half a minute.
Boo Bottles
What you need for this is white chalkboard paint, a black marker and a couple of bottles. I like milk bottles and I really like wine bottles. Paint them white and then draw on ghost faces. It's so easy that the kids can do it, and you can save them to use again next year.
Pumpkin Bottles
Do you love fall foliage? Well, why not use the above mentioned bottle painting method? This time, do it with orange paint and then draw on pumpkin faces, place some pretty fall flowers in the bottles and use them to decorate the table.
Bloody Candles
I did this a few years ago, and it has become the most amazing decoration in the eyes of my guests. What I did was head straight to the store, purchase some plain white pillar candles (Dollar Store = $1) and a couple of red taper candles. I brought them home and put them on a newspaper covered countertop. I lit the red tapers and allowed the wax to drip from those down the sides of my white candles to make them appear as if they are dripping blood. There is no rhyme or reason to this; you merely want the candles to look bloody. I've had mine for years now and people adore them.
Spooky Bottle Candle Holders
When we set up for the annual Halloween party, we use several banquet tables around the back deck, the enclosed patio and inside the house for spooky food and treats and drinks. Y favorite way to decorate these is with a few wine bottles (and I assure you that stocking up on these and emptying them is the most fun part of Halloween) clustered together. I drink the wine, remove the labels, save the bottles and then when I have all that I need, I use a white taper candle to drip white wax down the sides of the bottles. I then stick new white taper candles into the tops of each bottle in various heights and use them for spooky and ambient table décor and lighting.
Balloon Spiders
My kids love this decoration, and it really could not be simpler. All you need are a few black balloons and some black streamer – and tape. We stick inflated black balloons (no helium!) up on the walls and in the corners and we then add eight little legs to them out of tissue paper. It looks as if we have big spiders in the house, but they're so big and so silly looking that none of the kids are afraid, and everyone loves the creativity that we have to offer.
Vampire Napkins
A little red food coloring, some inexpensive white cloth napkins and some vampire teeth is all you need to create the most fun table setting. You're going to splash some red food coloring on your napkins with plenty of time for the color to dry. Then you are going to slide some vampire teeth down to the center of each napkin to keep them together like a napkin ring, and then line the table with these very cool items. Simple, sweet and totally Halloween chic.
Door Mummy
We all want our homes to look just a little spooky and fun, and that means we have to get creative. Our favorite way to do this is with white streamer and some tape – and a couple of big eye balls. Wrap your front door in white streamer that's uneven and not perfectly lined up, much the way that a mummy looks. Secure the streamer and then add to very large googly eyes (made with black construction paper is just fine) and voila; your own mummy door with about a dollars investment and minimal effort.
Scary Flowers
A vase of flowers is always lovely, but not very scary. What we like to do is go to the craft store and purchase a couple dozen fake white roses and then come home and spray paint them black. We let them dry and then add a little bit of clear glue to the top of each one, dip them in purple glitter to make them a little bit spooky, and then we fill the vases around our house with our Halloween appropriate roses.
S'mores Fun
It's not technically a decoration, but it's a Halloween party favorite. We always have a fire in the fire pit the night of our Halloween party, and that means we have kids dying to make s'mores (naturally). To make this just a little more fun, we like to download some instant printables from Etsy shops (they're everywhere) in fun Halloween designs and wrap Hershey bars with these so that they're more in the Halloween spirit. Get it? Spirit?
Photo by Getty Images