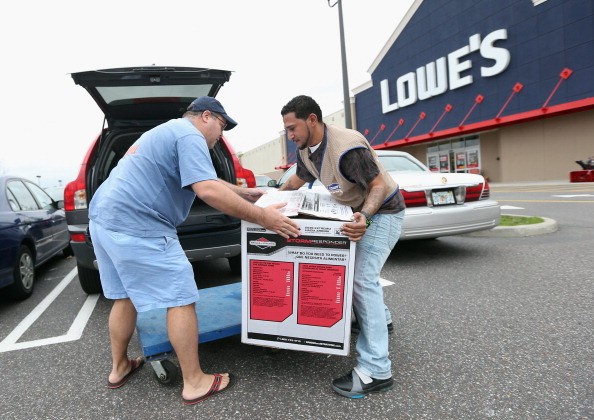 Some people are embarrassed to use coupons and others feel they're a waste of time unless you're into extreme couponing. However, when it comes to saving money, there is nothing to be ashamed of and there is no amount too small, especially when it comes to saving money at Lowes. Lowes is a famous home improvement store, which means that purchase made here are often some of the more expensive purchases you can make. If you have coupons you can use at Lowes, allow us to encourage you to do just that. Whether you're looking to fix something, replace something or remodel something, saving anything at Lowes is worth it.
Doesn't seem like that 10% coupon for your next purchase at Lowes is really worth it when all you need is a set of faux wood blinds for your new living room? Think again; if your windows are like mine and they're 72 inches wide and 72 inches tall, you're looking at $100 a set – and that really adds up when you have to buy six sets. But guess what? The savings also really add up when you use coupons or discount codes that the store emails to you or sends you in the mail. I was very appreciative to have that 10% off coupon the day I went in there to spend $600 on blinds and buy a new fridge as well (thank you, Lowes, for mailing that coupon to me!).
If you're in the middle of a great new home improvement project, moving to a new home, updating your old one or just getting things you like better, you will want to know where you can save and where you can find coupons at Lowes. Lucky you; we have some great resources.
Internet Search Coupons
Go to Google or whatever search engine you prefer and enter the term "Lowes Coupons" and you'll be shocked just how many you find. Some might be expired and some might not be what you want, but you'll find so many that it might take a few minutes to sift through and find what you're looking for. You're very likely to find something, however. Sites such as RetailMeNot, CouponCabin and even the Lowes website often have great coupons you can either find codes for or print at home – some even have mobile coupons you can download onto your phone and use at the register.
You can even use Home Depot coupons, which is something you didn't know, did you? That's right; Lowes accepts coupons from Home Depot. Why? Because Lowes considers the Home Depot their biggest competitor, and if their competitor is offering a sale, they want to be able to offer the same deal to their own customers for fear of losing them to another, more appealing sale at another store.
Join the Garden Club
Did you even know Lowes had a garden club? It doesn't matter if you did, because you now know and you can start taking advantage of all it has to offer. The membership is free, and you'll receive a weekly mailing filled with coupons that offer things like Buy One Get One plants, discounts and other savings at the store. It's a great way to get a little bit of financial relief when it comes to gardening. This is particularly helpful to have when you're starting a garden, landscaping your home or moving into a new home that needs some curb appeal. Plants are expensive, and these coupons will make it possible for you to afford ones you might not have been able to afford otherwise.
Support Your Military
So this is really only a benefit if you are a military member. You can be retired, disabled, a vet or active duty. If you can show your military ID to the people of Lowes when you check out, they will give you 10% off your order every single time. In fact, you might even be lucky enough to have a family member in the military that is willing to accompany you to the store so that you can use their military ID to get a good discount, such as your child, parent or spouse. Some people might not consider that very honest, but we figure that with the price of things where they are today, using someone else's ID to save a little isn't that big of a deal.
Damaged Goods
It's not considered a coupon by any means, but Lowes does offer to sell their broken and damaged items at a discounted price. You can save significantly if you buy floor model appliances that aren't quite perfect. For example, are you willing to use a brand new washing machine that's never been used but has a dent in the side? Chances are, you are happy to have that washing machine if it means getting a few hundred dollars of the price. A dent is no big deal when it comes to an appliance that's not out in the open for everyone to see. In fact, you might not even care if that brand new floor model fridge has a small ding at the bottom. If you have kids, it's probably going to get one anyone. Buy the floor model at the discounted price, accept the ding and feel much better when your kids damage it at home since you did get it at a great discount.
Shopping at Lowes means spending a lot of money in most instances. However, it doesn't mean you can't also save a lot of money. From coupons to promo codes to discounts and special pricing, shopping at Lowes does have some rewards in terms of savings. Many Lowes locations also offer price matching options that can save you a bit of money if you can prove that a competitor has the same item at a lower price in one of their locations. You never know what Lowes is willing to do to make their customers happy, but it never hurts to find out for certain.
Photo by Bruce Bennett/Getty Images