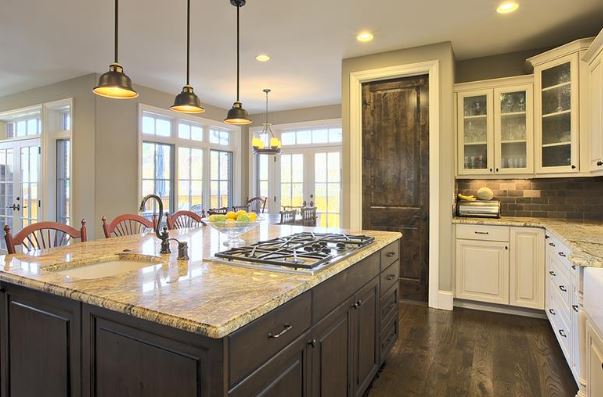 It's not a big real estate secret that realtors want you to stage your home before you list it. There are certain truths that come with selling a home that we all know to be true; a staged home is a far more appealing home. Would you rather go into a home that's filled with someone's personal photos, their clutter, their knick-knacks and their everyday mess of toys and paperwork and mess, or would you rather go into an expertly staged home in which everything is designed and laid out to maximize space and style?
The better your home looks, the more your buyers might see themselves in your home. That is exactly what you want; you want them to walk into your staged foyer and think that this is the home they can see themselves raising their own children. You don't want them to walk in and think that you need some organization or that you have terrible style. That's not how you can get your buyers to see themselves in your home. If they cannot see past your belongings, it's usually a done deal even if your home is otherwise perfect.
The issue is that many sellers assume that staging is expensive. We see the El Moussa's do it week after week on "Flip or Flop," and we know that they usually spend around $3,600 on their home staging. You don't have to do that. You could pay for a professional staging company to come in and do it for you, or you could take our advice and do it yourself on the cheap. It doesn't have to be a pricey project; you can do it yourself without actually taking a big bite out of your budget, which is what we recommend. However, preparing your home for sale may require you to do some unexpected repairs. For instance, if you discover damages on your metal roof, you may need to hire a residential roofing company that can work on a Metal Roof Restoration System. Consult them about a possible roof replacement.
Start by packing
You're selling, so you clearly hope to move in the near future. Why not take a piece of our advice and begin the packing process now? Start by removing your odds and ends, your additional items you don't use all the time and the things you don't need to live with to continue to live comfortably. Not only does this give you a nice head start on what can only be described as the most tedious job in the world, it also allows you to minimize your clutter and begin making big changes in your staging.
Goodbye family photos
We know you love your family; and you should. The good news for you is that you get to stare at them right in the face every single day, so you don't have to keep those photos up and around the house. It's a common piece of knowledge that potential buyers do not want to walk into a home and see other people staring at them.
Instead, you'll want to use impersonal items as décor. For instance, take the wedding photo off of your nightstand and replace it with a lamp, a book and maybe a small stemless wine glass with a few roses in it. It's still gorgeous, but it's impersonal and easy for potential buyers to see themselves in your home.
Forget your personal style
We know that you want to arrange your living room in a way that makes it most comfortable and convenient for you, but you can't think about yourself anymore. We know it's your house and you should be comfortable living in it, but it's simply not all about you anymore. At this point, it's all about the buyers potentially coming into and out of your home. You have to rearrange your furniture so that it maximizes space in your rooms. You might not love to have your living room set up like that, but it doesn't matter if it's the best possible flow and arrangement. You'll just have to walk the long way around the furniture for a while.
Add color in a simple manner
We love color, and so do other people. However, they don't usually love too much color that requires a lot of work on their end. For instance, yes, paint is easy to fix. You might think that your house is perfect with its many different colors in each room, but other people might see it as colors that they don't care for so much and a lot of work for them to repaint everything. Even if they're not going to do the painting themselves, it's another added expense on top of buying a home. Paint the walls neutral and use your color in pops such as pillows, throws and décor.
Provide a mood
You can make your house look like everything you want it to look like. When someone is sitting down in front of the fireplace, they want to see logs in there. They want to see flowers in the center of the table, candles by the big Jacuzzi tub and place a few wine glasses and a nice bottle of red on the bar so that your guests feel as if they are coming home after a long day. The more welcome that they feel, the more likely they are to see themselves living in your home.
Photo by Getty Images