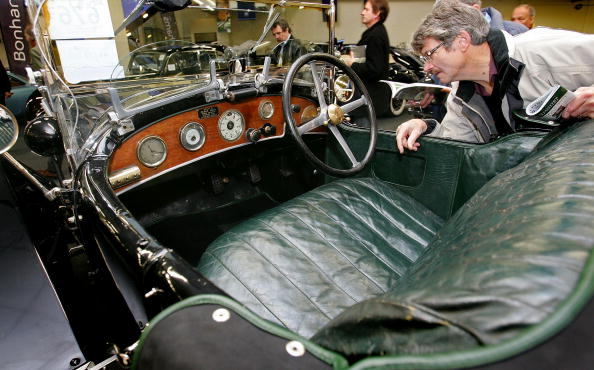 Insurance Auto Auction Salvage
If you've never heard of Insurance Auto Auction, it's not that surprising. Many people have not heard of this company because the general public typically does not do much business with IAA. However, that does not devalue what it is this company does for the public by any means. The purpose of this Insurance Auto Auctions is to acquire lightly damaged cars that are easily repairable and provide them at auction to others. This is how the company sells vehicles and makes money. But that's not all Insurance Auto Auctions does. The biggest factor in the success of Insurance Auto Auction is the fact that they are one of the biggest assets to charities in the world. Most of you already know that charities are happy to take a donated vehicle off your hands, even if it does not work. You might wonder how this benefits the charity in the least, and we will tell you how.
Insurance Auto Auction will step up when a vehicle is not working or not useful to a charity, and they will buy the vehicle. They will then sell the vehicle as they see fit, perhaps to someone who is going to fix it and drive it on their own or to a small buy here pay here type location that might repair the light damage and stick it on their lot for someone else to buy who can't qualify for vehicle financing.  If you're looking to donate a used car you have at home, you might consider doing so. Now that you know where your donation will go and how it will be used to benefit the charity to which you choose to donate, you are capable of making some decisions that will help you not only get rid of a car you no longer want or need, but also provide you with a nice tax deduction when it's time to file.
Insurance Auto Auction Locations
Abilene (TX)
7700 US 277, Hawley, TX 79601
Phone: 325-675-0699
Fax: 325-675-5073
Manager: James Leonard
Akron-Canton (OH)
2932 State Route 259 SE, New Philadelphia, OH 44663
Phone: 330-339-1995
Fax: 330-339-5773
Manager: Michelle Ford
Albany (NY)
1210 Kings Road, Schenectady, NY 12303
Phone: 518-347-3810
Fax: 518-346-0351
Manager: Ralph Denison
Albuquerque (NM)
4400 Broadway S.E., Albuquerque, NM 87105-0612
Phone: 505-873-2081
Fax: 505-873-3029
Manager: Kelli Brooks
Altoona (PA)
15369 Dunnings Hwy, East Freedom, PA 16637
Phone: 814-695-4776
Fax: 814-695-3116
Manager: Patricia Krier
Amarillo (TX)
11150 S.FM 1541, Amarillo, TX 79118
Phone: 806-622-1322
Fax: 806-622-2678
Manager: Shawn Norris
Anaheim (CA)
2961 East La Jolla Street Suite 100, Anaheim, CA 92806-1308
Phone: 714-630-5602
Fax: 714-630-8277
Manager: Jerry Valverde
Anchorage (AK)
1446 W Mystery Ave., Wasilla, AK 99654
Phone: 907-376-5364
Fax: 907-376-3749
Manager: Mike Boadway
Appleton (WI)
2591 S Casaloma Drive, Appleton, WI 54914-9156
Phone: 920-734-1446
Fax: 920-734-3603
Manager: Kevin Palmbach
Asheville (NC)
4900 Hendersonville Rd., Fletcher, NC 28732
Phone: 828-684-1564
Fax: 828-684-3246
Manager: Jefferson Parker
Ashland (KY)
123 Four Wheel Drive, Ashland, KY 41102
Phone: 606-928-1234
Fax: 606-928-0276
Manager: James Isham Jr
Atlanta (GA)
125 Old Highway 138, Loganville, GA 30052-4814
Phone: 770-784-5767
Fax: 770-787-4168
Manager: Shawn Porter
Atlanta East (GA)
1045 Atlanta Hwy SE, Winder, GA 30680
Phone: 877-868-4544
Fax: 770-868-5663
Manager: Josh Gardner
Atlanta North (GA)
6242 BlackAcre Trail, Acworth, GA 30101
Phone: 770-975-1107
Fax: 770-975-1250
Manager: David Burns
Atlanta South (GA)
1930 Rex Road, Lake City, GA 30260
Phone: 404-366-2298
Fax: 404-366-1011
Manager: Steve Cummins
Austin (TX)
2191 Highway 21 West, Dale, TX 78616
Phone: 512-321-8075
Fax: 512-321-8303
Manager: Geoffrey Rabb
New Jersey (NJ)
87 Randolph Ave, Avenel, NJ 07001
Phone: 732-499-6802
Fax: 732-499-6807
Manager: Joseph Rossi
Baltimore (MD)
3131 Hawkins Point Road, Baltimore, MD 21226
Phone: 410-354-3344
Fax: 410-354-1340
Manager: Joshua Layne
Baton Rouge (LA)
29000 S Frost Rd, Livingston, LA 70754-2619
Phone: 800-371-0213
Fax: 225-686-8197
Manager: Coy Berthelot
Billings (MT)
75 Cerise Road, Billings, MT 59101
Phone: 406-259-2377
Fax: 406-259-2302
Manager: Michael gon
Birmingham (AL)
1600 Highway 150 P.O.Box 691, Bessemer, AL 35022-4042
Phone: 205-426-2300
Fax: 205-428-5332
Manager: Brian Travis
Boise (ID)
1881 W Marcon Ln, Meridian, ID 83642
Phone: 208-887-3783
Fax: 208-887-5987
Manager: Pamela Hester
Boston – Shirley (MA)
2 Going Rd, Shirley, MA 01464
Phone: 978-425-0990
Fax: 978-425-6109
Manager: Daniel OLeary
Bowling Green (KY)
710 Woodford Avenue, Bowling Green, KY 42101
Phone: 270-843-3555
Fax: 270-843-4897
Manager: Robert Hoyt
Bridgeport (PA)
396 E. Schuylkill River Road, Bridgeport, PA 19405
Phone: 610-279-7123
Fax: 610-279-3346
Manager: Doug Berr
Buckhannon (WV)
200 Auction Lane, Buckhannon, WV 26201
Phone: 304-472-3900
Fax: 304-472-0871
Manager: Angela Hollen
Buffalo (NY)
366 Vulcan Street, Buffalo, NY 14207-1324
Phone: 716-874-9890
Fax: 716-874-9605
Manager: Patrick Walters
Burlington (VT)
304 Colchester Road P.O. Box 8368, Essex, VT 05451
Phone: 802-872-7838
Fax: 802-878-8353
Manager: Tom Young
Central New Jersey (NJ)
426 Texas Road, Morganville, NJ 07751-4122
Phone: 732-591-8173
Fax: 732-591-8393
Manager: Paul Smela
Charleston (SC)
430 Tannenbaum Rd, Ravenel, SC 29470
Phone: 843-556-7620
Fax: 843-571-3006
Manager: Tammie Moss
Charlotte (NC)
1710 Starita Road, Charlotte, NC 28206-1286
Phone: 704-596-5854
Fax: 704-596-7492
Manager: William Huntley
Chattanooga (TN)
2801 Asbury Park St, Chattanooga, TN 37404
Phone: 423-624-2102
Fax: 423-698-0087
Manager: Cherie Hollister
Chicago-North (IL)
605 Healy Road, East Dundee, IL 60118
Phone: 847-426-5913
Fax: 847-426-8595
Manager: James Smith
Chicago-South (IL)
16425 S. Crawford Avenue, Markham, IL 60428-5311
Phone: 708-333-5700
Fax: 708-333-5756
Manager: Wally Hoyhtya
Chicago-West (IL)
280 E. Sullivan Road, Aurora, IL 60505
Phone: 630-896-5300
Fax: 630-896-5699
Manager: Kevin Mitchell
Cincinnati (OH)
10100 Windisch Road, West Chester, OH 45069
Phone: 513-779-0075
Fax: 513-779-4267
Manager: Doug Koesters
Cincinnati-South (OH)
1736 Lindale Mount Holly Rd, Amelia, OH 45102
Phone: 888-543-4288
Fax: 513-797-7035
Manager: Doug Koesters
Clearwater (FL)
5152 126th Ave N 5153 126th Avenue North-Yard, Clearwater, FL 33760
Phone: 727-572-4050
Fax: 727-572-4065
Manager: Gary Pollard
Cleveland (OH)
7437 Deer Trail Lane, Lorain, OH 44053
Phone: 440-960-1050
Fax: 440-960-1093
Manager: Traci George
Colton (CA)
2800 South Trade Avenue, Colton, CA 92324-6506
Phone: 909-355-9400
Fax: 909-822-9311
Manager: Sean Brandes
Columbia (SC)
1416 Atlas Rd, Columbia, SC 29209
Phone: 803-217-0109
Fax: 803-217-0111
Manager: Teresa Britt
Columbus (OH)
1601 Thrailkill Road, Grove City, OH 43123
Phone: 614-875-7484
Fax: 614-875-7277
Manager: James Kendall Merrill
Concord (NC)
5100 Merle Rd, Concord, NC 28025
Phone: 704-788-4421
Fax: 704-784-2414
Manager: Joseph Huntley
Corpus Christi (TX)
4701 Agnes Street, Corpus Christi, TX 78405-3601
Phone: 361-881-9555
Fax: 361-887-8880
Manager: Patricia Kohlstrand
Culpeper (VA)
15201 Review Road, Culpeper, VA 22701
Phone: 540-825-2229
Fax: 540-825-2258
Manager: Barry Coble
Dallas (TX)
204 Mars Road, Wilmer, TX 75172
Phone: 972-525-6401
Fax: 972-525-6403
Manager: Henry Valenzuela
Ft. Worth (TX)
4226 East Main Street, Grand Prairie, TX 75050-4606
Phone: 972-522-5000
Fax: 972-522-5090
Manager: Jennifer Wesner
Davenport (IA)
5403 Rockingham Rd., Davenport, IA 52802
Phone: 563-322-8562
Fax: 563-322-8896
Manager: Clifton Smith
Dayton (OH)
400 Cherokee Drive, Dayton, OH 45417
Phone: 937-268-6666
Fax: 937-268-0852
Manager: Michael Hoar
Denver (CO)
409 W. 66th Avenue, Denver, CO 80221
Phone: 303-428-3024
Fax: 303-428-3502
Manager: Gregory Hines
Denver East (CO)
8510 Brighton Rd., Commerce City, CO 80022
Phone: 303-287-9737
Fax: 303-287-1214
Manager: Stephen Bower
Des Moines (IA)
3277 Ute Avenue, Waukee, IA 50263
Phone: 515-987-1700
Fax: 515-978-6160
Manager: Paul Abshier
Detroit (MI)
8251 Rawsonville Rd, Belleville, MI 48111
Phone: 734-461-9441
Fax: 734-461-9419
Manager: Bobby Nicholson
Dothan (AL)
15994 Us Highway 431 N, Headland, AL 36345-8203
Phone: 334-693-4910
Fax: 334-693-4920
Manager: Ricky Cobb
Dundalk (MD)
8143 Beachwood Road, Dundalk, MD 21222
Phone: 410-919-9763
Fax: 410-477-8960
Manager: Joshua Roberts
East Bay (CA)
2780 Willow Pass Road P O Box 5187, Bay Point, CA 94565
Phone: 925-458-7610
Fax: 925-458-7615
Manager: John Rubins
El Paso (TX)
14651 Gateway Blvd W, El Paso, TX 79927
Phone: 915-852-2489
Fax: 915-852-2235
Manager: Jorge Resendez
Erie (PA)
261 Hamilton Road, Garland, PA 16416
Phone: 814-563-3113
Fax: 814-563-4921
Manager: Lauri McCanna
Eugene (OR)
1000 Bethel Drive, Eugene, OR 97402-2002
Phone: 541-689-4000
Fax: 541-689-0083
Manager: Loni Nielsen
Fargo (ND)
4401 37th St. N, Fargo, ND 58102
Phone: 701-552-9731
Fax: 701-552-9736
Manager: Casey Fevig
Fayetteville (AR)
2801 E Pridemore Dr., Lincoln, AR 72744
Phone: 479-824-6200
Fax: 479-824-6202
Manager: Christy Jordan
Fontana (CA)
13901 San Bernardino Avenue, Fontana, CA 92335-5241
Phone: 909-355-9400
Fax: 909-822-9311
Manager: Paul Barcarse
Fort Myers (FL)
850 Pondella Rd, North Fort Myers, FL 33903
Phone: 239-997-8673
Fax: 239-652-0869
Manager: Scott Grew
Fort Pierce (FL)
400 N Rock Rd, Fort Pierce, FL 34945
Phone: 772-489-7851
Fax: 772-489-9480
Manager: Brian Valish
Fredericksburg-South (VA)
99 Industrial Drive, Fredericksburg, VA 22408
Phone: 540-710-0207
Fax: 602-305-5360
Manager: Danielle Mannone
Fremont (CA)
6700 Stevenson Blvd., Fremont, CA 94538
Phone: 510-668-1665
Fax: 510-668-0106
Manager: Richard Villalpando
Fresno (CA)
1805 N. Lafayette Ave, Fresno, CA 93705
Phone: 559-264-5033
Fax: 559-264-4251
Manager: Kelly Jennings
Grand Rapids (MI)
700 100th Street SW, Byron Center, MI 49315
Phone: 616-877-1000
Fax: 616-877-0300
Manager: Richard Bouwman
Great Lakes (MI)
573 South Tuscola Rd, Bay City, MI 48708
Phone: 989-891-9570
Fax: 989-891-9575
Manager: Zachary Jones
Greensboro (NC)
171 Carden Road, Graham, NC 27253-9468
Phone: 336-226-4224
Fax: 336-226-4254
Manager: Adam Lupinski
Greenville (SC)
422 Scuffletown Rd, Simpsonville, SC 29681
Phone: 864-242-3093
Fax: 864-271-6510
Manager: Michael Opat
Grenada (MS)
101 Hwy 404, Grenada, MS 38901
Phone: 662-237-0455
Fax: 662-237-0429
Manager: Charlotte Jackson
Gulf Coast (MS)
8209 Old Stage Rd, Moss Point, MS 39562
Phone: 228-474-5559
Fax: 228-474-5551
Manager: John Gibson
Hartford (CT)
47 Newberry Rd., East Windsor, CT 06088
Phone: 860-623-9760
Fax: 860-623-3873
Manager: Gerald Condon
Hartford-South (CT)
1462 Saybrook Rd, Middletown, CT 06457
Phone: 860-854-6761
Fax: 860-347-6236
Manager: Terri Sampson
High Desert (CA)
11399 Santa Fe Ave E Suite B, Hesperia, CA 92345
Phone: 760-949-8404
Fax: 760-949-0400
Manager: Fernando Estrada
Honolulu (HI)
91-445A Komohana Street, Kapolei, HI 96707-1715
Phone: 808-682-2858
Fax: 808-682-3988
Manager: John Coffelt
Houston (TX)
2535 West Mt. Houston Road, Houston, TX 77038-3532
Phone: 281-847-4700
Fax: 281-847-4799
Manager: Alvin Banks
Houston-North (TX)
16602 E Hardy Rd, Houston, TX 77032
Phone: 281-443-1300
Fax: 281-443-4433
Manager: Christina Nieves
Huntsville (AL)
16326 Ennis Road, Athens, AL 35613-6751
Phone: 256-233-5899
Fax: 256-233-2366
Manager: Angela Moran
Indianapolis (IN)
3302 South Harding St., Indianapolis, IN 46217
Phone: 317-787-3202
Fax: 317-783-0586
Manager: Rusty Wilson
Jackson (MS)
100 Beasley Road, Jackson, MS 39206-2919
Phone: 601-956-2787
Fax: 601-957-8814
Manager: Robert Harrell
Jacksonville (FL)
14492 New Kings Road, Jacksonville, FL 32219-1229
Phone: 904-768-6500
Fax: 904-768-6499
Manager: Harold Terry
Kansas City (KS)
2663 S. 88th Street, Kansas City, KS 66111-2334
Phone: 913-422-9303
Fax: 913-422-7421
Manager: John Williams
Knoxville (TN)
3634 E. Governor John Sevier Hwy, Knoxville, TN 37914-0836
Phone: 865-525-7349
Fax: 865-522-8813
Manager: Wayne Borovy
Lafayette (LA)
301 Malapart Road, Lafayette, LA 70507
Phone: 337-896-3829
Fax: 337-896-8349
Manager: Jack Panczyk
Las Vegas (NV)
1239 N. Boulder Hwy. Suite 900, Henderson, NV 89011
Phone: 702-565-8795
Fax: 702-564-6553
Manager: Eric Paton
Laurel (MD)
7131 Virginia Manor Court, Laurel, MD 20707-6506
Phone: 301-419-2865
Fax: 301-470-7079
Manager: Katherine Fitzgerald
Lincoln (IL)
301 Madigan Drive, Lincoln, IL 62656
Phone: 217-732-8555
Fax: 217-732-7555
Manager: Terry Charron
Little Rock (AR)
4900 S Kerr Rd, Scott, AR 72142-9081
Phone: 501-961-2886
Fax: 501-961-1805
Manager: Joel Baker
Long Island (NY)
66 Peconic Avenue, Medford, NY 11763-3274
Phone: 631-207-3477
Fax: 631-207-3386
Manager: Robert Schwartz
Longview (TX)
5577 US Highway 80 East, Longview, TX 75605-6771
Phone: 903-553-9248
Fax: 903-553-0210
Manager: David Hooper
Los Angeles (CA)
18300 South Vermont Avenue, Gardena, CA 90248-4056
Phone: 310-965-0499
Manager: Alberto Maldonado
Louisville (KY)
1825 South Preston Highway, Shepherdsville, KY 40165
Phone: 502-543-0831
Fax: 502-543-1289
Manager: Matt McCarthy
Louisville North (KY)
891 Ballardsville Road, Eminence, KY 40019
Phone: 502-215-4804
Manager: Matt McCarthy
Lubbock (TX)
5311 N. CR 2000, Lubbock, TX 79415
Phone: 806-747-5458
Fax: 806-747-5472
Manager: Lori Davee
Macon (GA)
2200 Trade Drive, Macon, GA 31217
Phone: 478-314-0031
Fax: 478-314-0040
Manager: Ashley Vickers
Manchester (NH)
75 Lowell Rd, Salem, NH 03079
Phone: 603-893-2300
Fax: 603-898-3870
Manager: Chester Bourdeau
McAllen (TX)
900 N Hutto Road, Donna, TX 78537
Phone: 956-464-8393
Fax: 956-464-8510
Manager: Ydalia Sandoval
Memphis (TN)
5400 Getwell Road, Memphis, TN 38118
Phone: 901-794-9901
Fax: 901-794-9914
Manager: Rebecca Donaldson
Metro DC (MD)
14149 Brandywine Road, Brandywine, MD 20613-3003
Phone: 301-372-8876
Fax: 301-372-8285
Manager: Josh Wiles
Miami (FL)
12700 NW 42nd Ave, Opa Locka, FL 33054
Phone: 305-685-6363
Fax: 305-685-9215
Manager: Robert Knapp
Miami-North (FL)
20499 Stirling Road, Pembroke Pines, FL 33332
Phone: 954-680-4370
Fax: 954-680-4372
Manager: Larry Esquijarosa
Milwaukee (WI)
N70W25277 Indian Grass Lane, Sussex, WI 53089-2578
Phone: 262-246-8822
Fax: 262-246-4411
Manager: Brian Leair
Minneapolis/St. Paul (MN)
1280 Jackson Street, St. Paul, MN 55117-4613
Phone: 651-488-0581
Fax: 651-488-3644
Manager: Doug Ramler
Missoula (MT)
10131 Garrymore Lane, Missoula, MT 59808
Phone: 406-542-3442
Fax: 406-549-8933
Manager: Sean Beaulieu
Nashville (TN)
3896 Stewarts Lane, Nashville, TN 37218
Phone: 615-742-0006
Fax: 615-742-1716
Manager: Mike Vaughn
New Castle (DE)
417 Old Airport Road, New Castle, DE 19720
Phone: 302-322-1808
Fax: 302-322-5165
Manager: Jon Ritts
New Orleans and Louisiana Flood (LA)
15315 Hwy 190, Covington, LA 70433
Phone: 985-892-8086
Fax: 985-892-1039
Manager: Mary Harris
New Orleans East (LA)
6600 Almonaster Ave, New Orleans, LA 70126
Phone: 504-240-2298
Fax: 504-244-0883
Manager: Ron Melancon
Newburgh (NY)
39 Stone Castle Road, Rock Tavern, NY 12575-0067
Phone: 845-567-6360
Fax: 845-567-6366
Manager: Charles McQuiston
North Hollywood (CA)
7245 Laurel Canyon Blvd., Los Angeles, CA 91605-3709
Phone: 818-487-2222
Fax: 818-487-2402
Manager: Tim Glynn
Northern New Jersey (NJ)
700 Federal Blvd., Carteret, NJ 07008-1008
Phone: 732-634-5601
Fax: 732-602-0259
Manager: Joseph Rossi
Northern Virginia (VA)
15 Le-Way Drive, Fredericksburg, VA 22406-1030
Phone: 540-373-7800
Fax: 540-371-4123
Manager: Anthony Colaciello
Oklahoma City (OK)
7300 N I35 Service RD., Oklahoma City, OK 73121
Phone: 405-475-0230
Fax: 405-475-1701
Manager: Brian Hudson
Omaha (NE)
14749 Meredythe Plz, Springfield, NE 68059
Phone: 402-733-2424
Fax: 402-733-0483
Manager: Justin Jarzynka
Orlando (FL)
151 West Taft Vineland Road, Orlando, FL 32824-6507
Phone: 407-438-7191
Fax: 407-816-4294
Manager: Jeffrey Paul Zupec
Orlando-North (FL)
2500 Adesa Drive, Sanford, FL 32773
Phone: 407-323-4090
Fax: 407-323-9650
Manager: Russell Harris
Paducah (KY)
1701 Lane Rd, Paducah, KY 42003-9046
Phone: 270-443-8565
Fax: 270-443-8549
Manager: Jeanette Moore
Pensacola (FL)
11221 Highway 90 East, Milton, FL 32583
Phone: 850-623-2993
Fax: 850-626-7973
Manager: Lynn Ronnlof
Permian Basin (TX)
701 W 81st St, Odessa, TX 79764
Phone: 432-550-7277
Fax: 432-366-8725
Manager: Barbara Hallmark
Philadelphia (PA)
100 Industrial Way, Conshohocken, PA 19428-1058
Phone: 610-277-0894
Fax: 610-277-9276
Manager: Ralph Rippo
Phoenix (AZ)
2299 West Broadway Road, Phoenix, AZ 85041-9981
Phone: 800-742-2886
Fax: 602-268-5242
Manager: Heath Gridley
Pittsburgh (PA)
57 Woodlawn Road, Aliquippa, PA 15001
Phone: 724-375-6130
Fax: 724-375-6975
Manager: Mark Henning
Pittsburgh-North (PA)
49 Bairdford Road, Gibsonia, PA 15044
Phone: 724-443-7881
Fax: 724-443-7888
Manager: Keith Heffley
Portage (WI)
W10321 State Road 16 P.O. Box 192, Portage, WI 53901
Phone: 608-742-1515
Fax: 608-742-6090
Manager: Julie Bybee
Portland (OR)
4415 NE 158th Avenue, Portland, OR 97230-4933
Phone: 503-253-1500
Manager: Jason Balfour
Portland – Gorham (ME)
9 Moody Dr, Gorham, ME 04038
Phone: 207-839-2045
Fax: 207-839-2701
Manager: Thomas Larrivee
Portland West (OR)
10498 Vancouver Way, Portland, OR 97217
Phone: 503-289-0345
Fax: 503-289-3857
Manager: Carrie Preisinger
Providence (RI)
160 Amaral St, East Providence, RI 02915
Phone: 401-438-5254
Fax: 401-438-3523
Manager: David Vickey
Pulaski (VA)
1250 East Main Street, Pulaski, VA 24301
Phone: 540-994-6490
Fax: 540-994-6495
Manager: Tyler Furrow
Raleigh (NC)
60 Sadisco Road, Clayton, NC 27520
Phone: 919-553-6148
Fax: 919-553-2857
Manager: Dale Gilbert
Reno (NV)
4086 Peru Drive, Mccarran, NV 89434
Phone: 775-636-8829
Fax: 775-636-7280
Manager: Randy Antonelli
Richmond (VA)
10390 Sadisco Drive, Ashland, VA 23005-8021
Phone: 804-798-6091
Fax: 804-798-9327
Manager: Joel Kuntz
Rochester (NY)
7149 Apple Tree Avenue, Bergen, NY 14416
Phone: 585-494-2185
Manager: Mark Kielbasa
Rosedale (MD)
925 Todds Lane, Rosedale, MD 21237
Phone: 410-354-3344
Manager: Paul Weekes
Sacramento (CA)
11499 Douglas Rd., Rancho Cordova, CA 95742-7313
Phone: 916-851-8201
Fax: 916-635-1637
Manager: Randy Antonelli
Salt Lake City (UT)
1800 South 1100 West, Ogden, UT 84401-0258
Phone: 801-399-2818
Fax: 801-393-2325
Manager: Jordan Faria
San Antonio (TX)
10475 Somerset Road, San Antonio, TX 78211-4802
Phone: 210-628-6770
Fax: 210-628-6778
Manager: Brian Sell
San Antonio-South (TX)
11275 South Zarzamora, San Antonio, TX 78224
Phone: 210-628-6770
Fax: 210-628-6778
Manager: Brian Sell
San Diego (CA)
2380 Britannia Blvd, San Diego, CA 92154
Phone: 619-710-2866
Fax: 619-710-2878
Manager: Ana Sencion
Savannah (GA)
348 Commerce Dr, Rincon, GA 31326
Phone: 912-826-1219
Fax: 912-826-1387
Manager: Jeffrey Byrd
Scranton (PA)
103 Thompson St, Pittston, PA 18640
Phone: 570-654-1709
Fax: 570-654-5010
Manager: Robert Conlon
Seattle (WA)
8801 E Marginal Way S, Tukwila, WA 98108
Phone: 206-658-6900
Fax: 206-658-6990
Manager: Robert Graham
Seattle South (WA)
3301 West Valley Highway East., Sumner, WA 98390
Phone: 206-658-6900
Fax: 206-658-6990
Manager: Robert Graham
Shady Spring (WV)
4163 Pluto Rd, Shady Spring, WV 25918
Phone: 304-253-4970
Manager: Sean Gibson
Shreveport (LA)
4836 McGee Rd., Greenwood, LA 71033
Phone: 318-938-5108
Fax: 318-938-5838
Manager: Quachelle Lee
Sioux Falls (SD)
1700 E 34TH ST N, Sioux Falls, SD 57104
Phone: 605-271-8855
Fax: 605-271-4662
Manager: Wade Persson
South Bend (IN)
25631 State Road 2, South Bend, IN 46619
Phone: 574-287-6212
Fax: 574-232-6311
Manager: Timothy Nasco
Southern New Jersey (NJ)
250 Blackwood-Barnsboro Road, Turnersville, NJ 08012
Phone: 856-227-8760
Fax: 856-227-8943
Manager: Elizabeth Halota
Specialty Division (IL)
2040 E. Algonquin Rd. Suite 501, Schaumburg, IL 60173
Phone: 800-323-0698
Fax: 847-221-0891
Manager: Joe Pagoria
Spokane (WA)
3520 N Tschirley Rd, Spokane Valley, WA 99216
Phone: 509-891-2388
Fax: 509-458-4112
Manager: Tim Bush
Springfield (MO)
1155 N Eldon Ave Building B, Springfield, MO 65803-5637
Phone: 417-863-8976
Fax: 417-865-5466
Manager: Jordan Roman
St. Louis (IL)
4460 Highway 162, Granite City, IL 62040-6466
Phone: 618-797-0200
Fax: 618-797-0001
Manager: Greg Amsler
Suffolk (VA)
1389 Portsmouth Blvd., Suffolk, VA 23434
Phone: 757-539-0571
Fax: 757-539-0573
Manager: Phillip Lombardo
Syracuse (NY)
8459 Brewerton Road, Cicero, NY 13039
Phone: 315-699-2622
Fax: 315-699-5481
Manager: Colleen Sherbourne
Tampa (FL)
1208 17th Street East, Palmetto, FL 34221-2847
Phone: 941-729-9393
Fax: 941-723-3934
Manager: Dan OBrien
Taunton (MA)
580 Myricks Street, East Taunton, MA 02718
Phone: 508-823-7440
Fax: 508-822-7938
Manager: David Vickey
Tidewater (VA)
211 Production Drive, Yorktown, VA 23693-4027
Phone: 757-595-8493
Fax: 757-595-8691
Manager: Christian Allen
Tifton (GA)
368 Oak Ridge Church Rd, Tifton, GA 31794
Phone: 229-386-2640
Fax: 229-386-2650
Manager: Ashley Vickers
Tucson (AZ)
4650 E. Irvington Road, Tucson, AZ 85714
Phone: 866-639-6199
Fax: 520-514-9491
Manager: Miguel Rodriguez
Tulsa (OK)
5311 W 46th Street S, Tulsa, OK 74107
Phone: 918-445-4691
Fax: 918-445-4905
Manager: Nathan Smith
Western Colorado (CO)
1280 Highway 50, Delta, CO 81416
Phone: 970-874-7326
Fax: 970-874-6921
Manager: Gregory Hines
Wichita (KS)
270 West 53rd Street North, Wichita, KS 67204-2233
Phone: 316-832-1101
Fax: 316-832-1226
Manager: Bill Vogt
Wilmington (NC)
415 Madeline Trask Drive, Castle Hayne, NC 28429-5841
Phone: 910-675-2311
Fax: 910-675-1619
Manager: Gary Kuzoian
York Springs (PA)
10 Auction Drive, York Springs, PA 17372
Phone: 717-528-4336
Fax: 717-528-4346
Manager: Jesse Maust
Photo by Cate Gillon/Getty Images