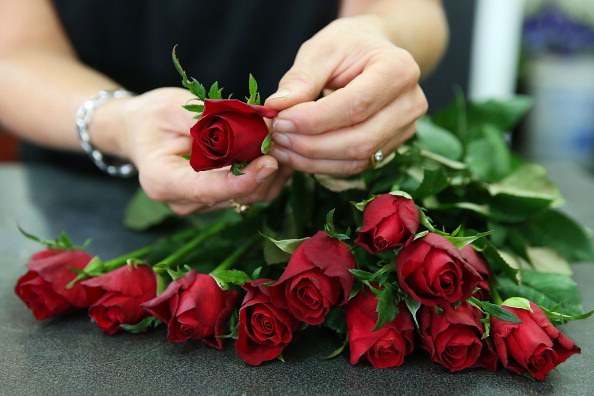 I am a sucker for fresh flowers. I have to have them in my home all the time. I love tulips, peonies and white roses (they look so creamy and perfect with the décor in our home). As I type, I have a bouquet of white roses on my desk, another on the table in my home office, one on the fireplace in my living room, peonies on our bedside tables and a bouquet of roses on the island in my kitchen. Like I said; I'm obsessed. However, I find that the most gorgeous flowers I ever have are from the floral section of my supermarket. My roses are $14.99 and they are far prettier than anything I get from any florist.
That's why I don't love when my husband sends me flowers on Valentine's Day. He spends over $100 on a bouquet of roses I'd buy myself at Publix for $14.99. Mine live longer, look nicer and are far prettier. However, he won't stop. He also won't stop himself from sending my flowers throughout the year when he's thinking of me, but that's all right. I still like my affordable flowers better. To get back on point, though; I thought I'd share with you a few ways to save money big time this time of year. February is expensive with all the flowers and the chocolates and the gifts. Don't go broke for a holiday that's not even that special; save money.
Arrange your own flowers
I like opening the door and seeing the florist there with a huge bouquet of flowers. However, I like opening the door and finding a huge bouquet of flowers from the supermarket (that were 1% of the price) and my handsome husband holding them, greeting me with a kiss. That makes me happier. Do that; it's a little more special than the alternative – and a lot more affordable.
Make your own chocolate
I love chocolate when I'm in the mood, and nothing is worse than a box of chocolate with the different flavors I don't even like. It's like I eat 3 pieces and everything else goes to waste. Instead of spending money on that, I prefer to go buy fresh strawberries and chocolate, melt the chocolate and dip the strawberries. It handles my occasional sweet tooth, and it's a romantic way to spend some time in the kitchen on Valentine's Day.
Stay in
We do go out and celebrate Valentine's Day, but never the day of. Menus most places are limited, the staff wants you in and out as quickly as possible for a bigger turnover and it's a bit of a mess. We actually go on a trip the weekend after Valentine's every single year – and it works out much better for us.
Photo Credit – Getty Images