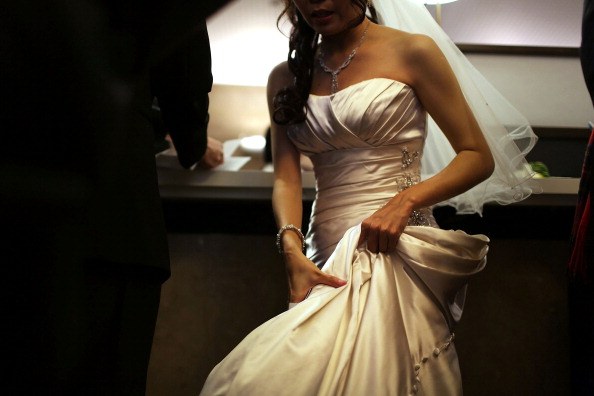 Your image of what you'll look like on your wedding day is one of grandeur and beauty. You're going to be more beautiful than Kate Middleton was on her own wedding day. You'll be draped in a designer gown fitted just for you and designer jewels so expensive and beautiful that you might as well pick up an insurance policy on yourself – or at least a few body guards for safekeeping. Unfortunately, sometimes the idea of expensive jewels is not all it's cracked up to be. In fact, we're big fans of cheap wedding jewelry (expect your wedding rings; those should be good quality). But as far as your wedding jewelry goes, cheap is not as bad as it sounds, and we have three great reasons why.
You're Only Wearing it Once
You only wear your wedding jewelry once. It's big, a little loud and a little more "out there" than the jewelry you'll wear on a daily basis, and there's no sense in spending a great deal of money on something you're never going to wear again. After all, how often do you attend events that call for shoulder-length tear drop diamond earrings that weigh 25-carats? Spend that cash on your ring; it's something you'll wear forever.
You Can Reallocate Those Funds
You can spend thousands on wedding jewelry with a designer tag, or you can go on a killer honeymoon somewhere amazing. Hmmm….enjoy wearing expensive diamonds for one night so you can remember them in photos for years to come or you can go spend a week somewhere exotic and amazing with the man you just married. Take your pick, but we think a week of making memories with the love of your life is way better than splurging on real jewels.
You can also splurge on a band instead of a DJ, a more expensive dress or even nicer gifts for your bridal party. Wouldn't you rather have a memorable and delicious dinner than real jewels? There are so many other things that would make a much better use of your funds.
Most People Don't Notice
Not to burst your bridal bubble, but most people notice a few things at weddings; and they're not your fashion jewelry. In no particular order, most people notice the dress, the shoes, the rings, the cake and the décor. They also notice the bar and whether or not it's cash or open; and that's also important. They don't notice whether or not your sapphire and diamond necklace is authentic. Sorry, but it's true. If they're looking at your jewelry, it's the ring your new husband just put on your finger. Not the necklace you're wearing.
Photo by Spencer Platt/Getty Images