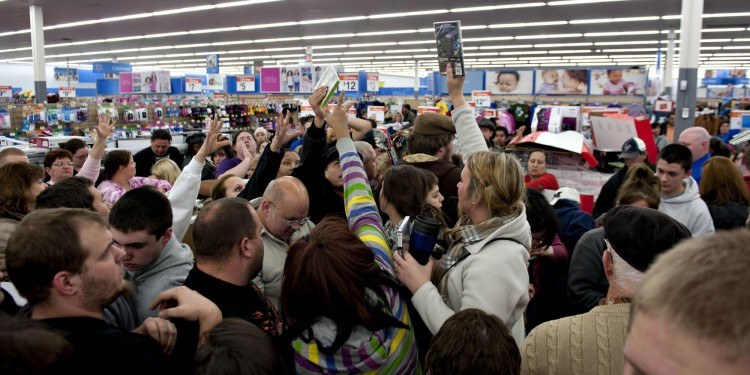 Black Friday has been touted as the biggest shopping day of the year, but does this mean that it is the biggest savings day as well? Are things really less expensive on Black Friday than on any other day of the year? We don't really believe that this is the case at all. While there are many items which will be offered at discounts, there are other days of the year that offer products way cheaper than Black Friday. Retailers know in advance that shoppers expect to find bargains so often, they will place a few items at tremendous discounts to lure shoppers into their establishments. But the sales are really not as great as the hype that drives the multitudes in to look for them. We know of five other days in the U.S. that offer sales that are much better than the ones that you'll find on Black Friday and here they are.
1. Cyber Monday
Cyber Monday is always scheduled for the Monday after Thanksgiving. There have been some pretty sweet deals for online shoppers on this day since it began. Since there are so many retailers offering specials on this day it's quickly becoming a tradition to do much of the shopping for the holiday season on this Monday. It allows people to shop from the comfort of their own home without battling the hordes of other shoppers. The major online sellers now know that people are beginning to catch on to the ultra convenience that online shopping has to offer and they are meeting them halfway offering some pretty spectacular savings. The vendors realize that it will be easier for shoppers to make quick online price comparisons so they try to outdo one another by offering the best possible prices for popular items. This is truly the day that online shoppers can find some of the best deals of the year.
2. December 26
The day after Christmas is when you really find the deals on Christmas stock that wasn't sold during the mad rush for holiday shopping. Retailers naturally build their inventories high with popular items that they believe will be in demand for the holiday season. When the shopping for that big day is over, many of them are left with warehouses filled with items that did not sell for Christmas gift giving. They are then marked down tremendously in order to make room for the new season that will be upcoming.
This is actually one of the best days to shop because the deals are unbelievable reaching between fifty to ninety percent off of the retail price. If you start monitoring the sales, you'll see that some retailers will begin on Dec 26th offering thirty or forty percent off an each week that passes will bring even higher discounts until all of the merchandise has been cleared. There are many savvy shoppers who purchase Christmas wrap, accessories and decorations for the next year during these clearance sales.
3. Amazon Prime Day
Not everyone is aware of this great shopping day that occurs on July 15th or close to it some years. People who have Amazon Prime accounts certainly do. Amazon is one of the leading online retailers in the United States and it offers shoppers a free trial of their hallmark prime account. Yes, there is an annual subscription fee, but after the trial period for Prime, many users enjoy the benefits and continue on to become full annual subscribers because of their savings on Amazon Prime Day.
It offers subscribers discounts on shopping and on many of their other services, including free 2 day shipping on most items. This in itself can lead to substantial discounts. Recent statistics showed that Amazon Prime Day caused Amazon sales to soar by ninety three percent. This is one of the best times to save substantially on popular electronics with savings from twenty eight percent and beyond.
4. Singles Day
Singles Day happens on November 11th. It was created by Alibaba, which is a Chinese company. This large discounted shopping day is used by people world wide including in the U.S. It was officially launched in 2009. It met with such success that the twenty seven merchants who participated in the first year has grown into more than two hundred from twenty different countries. It has become a global sensation and a great way for people to go online and shop with participating merchants to get discounts on a wide range of popular items.
5. Super Saturday
This is a tremendous shopping day that happens the Saturday right before Christmas. Retailers are realizing that their time to lower inventory of Christmas related gift items is running out. They often slash prices tremendously in order to get them moving off of the shelves and out of the doors. While not all retailers participate in the discounts, there are many that do in the U. S. The best way to find out who is offering Super Saturday deals is to consult with online, newspaper and in-store advertisements a few days in advance. While many popular items will already be gone, there are plenty of other great gift ideas to find. Not everyone is shopping for Christmas gifts at this time. Many shoppers take advantage of this sale to make purchases for housewares and other personal items.
Final thoughts
Black Friday is not necessarily the best shopping day for finding good deals and discounts. In fact, it is a time when some retailers have actually marked up merchandise prior and then lowed them to make it seem as though shoppers are getting a good deal. Yes, there are some amazing deals out there on Black Friday, but there are several other days of the year that offer much better savings. Years of watching the trends in consumer and retailer behaviors show a trend that often results in the retailers anticipating a crowd who will be competing for popular items and offering sales, but not really the best sales that they could manage. This is one of the oldest tricks in the book. It pays to be a wise consumer and to become familiar with pricing trends in order to get the maximum savings.