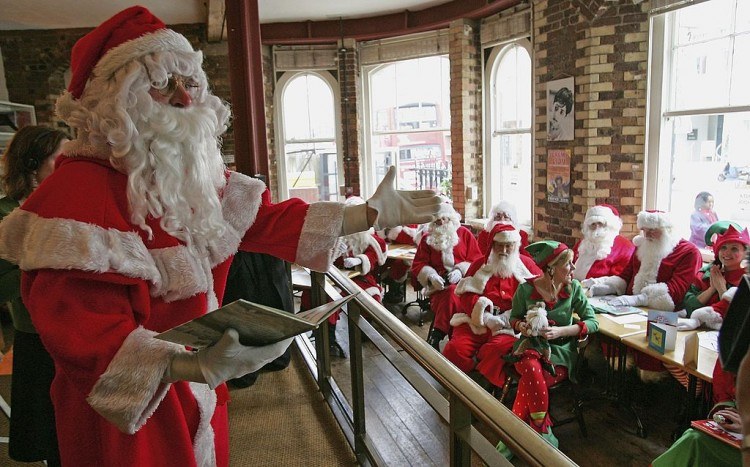 Holiday season is just around the corner, and kids across the country cannot wait. The holidays mean presents and lots of good food, of course, but it also means time off from school and lots of days to sleep in, hang out, and do whatever they want. But before schools close their doors for Christmas, Hanukkah, New Year's, Kwanzaa, and other winter celebrations, many parents are wondering what to give their children's teachers for a holiday present.
While holiday gifts for teachers certainly aren't a requirement, many parents want to show the educational leaders in their kids' lives just how much they are appreciated for all they do. After all, it's not easy being in a classroom full of kids all day, being responsible for their learning, needing to differentiate lessons, and trying to accommodate a wide variety of learning styles. Even a small holiday present can go a long way in making a teacher feel like all the hard work is worth it.
The question of what, exactly, would make a good teacher gift always comes up. It's especially challenging when money is tight, as it often is around the holiday season. What would show your child's teacher that you're grateful without breaking the bank? Here are ten unique and budget friendly holiday gifts for teachers.
1. Make or bake something delicious.
Making food for someone is always a gesture of love and appreciation, and during the holidays, sweet treats are the name of the game. Even if you're not a top notch baker, a plate of home baked chocolate chip cookies shows your child's teacher that you care and that you're thankful for everything he or she has done so far during the year. If your culinary skills are more advanced, consider baking something more elaborate, making a confection like fudge, or even sending in a tasty homemade lunch for your child's teacher one day close to winter break. For just a few dollars, you'll make him or her very happy.
2. Put your knitting skills to work.
In many parts of the United States, the holiday season means a significant drop in temperatures. All the cold weather gear and accessories come out: boots, coats, hats, and more. If you're handy with needle and yarn, consider knitting a scarf or hat for your child's teacher, perhaps in school colors. It's a heartfelt gift that's also extremely practical, and all it will cost you is the price of a skein or two of yarn and a little bit of your time.
3. Add some plant life to the classroom.
Not only can a plant pick up the energy of your child's classroom, but watering it can turn into a job that students can take turns doing, and observing the plant change and grow can be part of a classroom science lesson. The plant you choose is up to you: succulents work well indoors, but flowers, ferns, and other varieties are also good. Visit a local greenhouse to choose a good plant; the amount you'll spend will depend greatly on the type and size you choose. To really personalize it, replant it in a tera cotta pot (these can be found at your local hardware store for a few dollars each) and have your child paint a design on it.
4. An ornament for the tree
If your child's teacher celebrates Christmas and you're looking for a thoughtful yet inexpensive holiday present, consider an ornament for his or her Christmas tree. There are teacher themed ornaments, or if you and your child are feeling particularly crafty, you can make one. Cost of this gift can vary, but you should be able to either make or purchase something nice for under ten bucks.
5. The gift of caffeine, part one.
If your child's teacher is a coffee fiend, then he or she would probably love a bag or two of specialty coffee beans. If you really want to go all out, you can add in a cool travel mug that can go from home to car to classroom. As for price, this could be as low as $6 for a single pound of coffee beans; add in a second bag and a mug, and your price goes up, though you could probably buy two pounds of beans and a mug for under $20.
6. The gift of caffeine, part two.
A gift card to Starbucks is always welcome! Coffee drinkers love the premium caffeinated beverages that the worldwide chain offers, while those who don't drink java can often find another drink or some baked goods to satisfy them. Plus, lattes are a luxury that most teachers won't splurge on, as teacher salaries are often low. When you give a Starbucks gift card, you allow them to indulge a few times. The cost of this gift is however much you'd like to spend; even ten dollars at Starbucks can buy a few drinks.
7. Blank notecards.
A box of attractive store bought cards is a great teacher gift, as teachers often have occasion to send a quick note to parents, colleagues, or administrators — or to students as a thank you card for a great holiday gift. If you're feeling particularly crafty or artsy, you can make your own cards. It's a relatively low cost present (usually about five or ten dollars) that will be highly appreciated.
8. Make a charitable donation in your child's teacher's name.
If you're of the mindset that most people don't need another thing in their lives, consider donating some money to a worthy cause. You'll usually get a card saying thanks, which you can pass along to the teacher. It usually won't say the dollar amount of the donation, so how much you spend is really up to you!
9. Take some initiative and solicit contributions for a larger gift.
Chances are, parents of other students in your child's class are in the same boat as you: they have just a little bit of money to spend on a holiday gift for the teacher. Imagine what you could get for the teacher if you pooled your resources! Think about it: ten families contributing ten dollars each is $100! That could be spent on a gift certificate to a spa or a high end restaurant — wonderful gifts indeed.
10. A handmade Gift and heartfelt card.
The best things in life are free, money can't buy happiness — you can choose your favorite proverb about how you don't have to spend anything to show someone you love them. A handmade card from your child to his or her teacher might just be the best present of all, and it won't cost you a thing. You may also consider giving your teacher a handcrafted sea life bottle art.