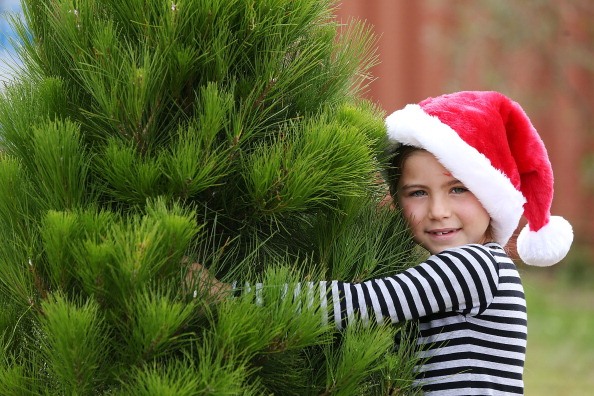 You might not think you need any Christmas decorating hacks, but you really do. I read somewhere recently that the average American spends $700 on Christmas. I spend more than that on just Christmas décor; so I'm not sure how accurate that figure really is to most people. It doesn't even come close to touching what we spend on Christmas in our household. However, there is no doubt at all that Christmas is expensive. That's why many people try to cut back wherever they can, and many people choose to cut back on décor before they cut back anywhere else.
Between gifts for your kids, your coworkers, your spouse, your families, your nieces and nephews and the family you will adopt from the Angel tree at church, dinner on Christmas evening, Santa gifts, new Christmas outfits for everyone, holiday photos, church donations and décor, you're going to spend thousands this Christmas. Maybe that's all right or maybe that stresses you out; I don't know. What I do know is that we have some pretty genius Christmas decorating hacks that are designed to make it easier for you to decorate your home for the holidays without actually spending a fortune. Read on to find out how you can save big bucks this holiday season using our favorite Christmas decorating hacks.
Skip the Store-Bought Tree
Anyone who knows me knows that I am 100% completely against fake Christmas trees (I mean, really???). That's why we buy a fresh tree every year and love it until it's dead and dying and probably about to burn to a crisp (usually right as Christmas approaches). I lovingly sweep up the pine needles and revel in the fact that it's a tedious and annoying job that I only have to do for a month every year, but the smell of that tree in my house is oh-so worth every irritating needle my kids will inevitably try to consume.
We buy a big tree. A very, very big tree; I'm not ashamed to admit this. We buy a 17-20 foot Christmas tree because we have a great room in our home with 24-foot ceilings and I like to have a tree so big that you can see it from the moon (well, okay, but you know what I'm saying). I love Christmas. Those trees, though; they're not cheap. We thought we'd have to pay $500+ for a tree like that down here in good old Florida, but we ended up finding that if you skip the chain stores and the little tents on the side of the road, you can find one that's really not all that expensive. Last year, we found this great little place near my husband's office that's small, family-owned and operated, and we bought the most beautiful, widest, thickest, lushest tree that stood 18 feet tall and cost $160. We win.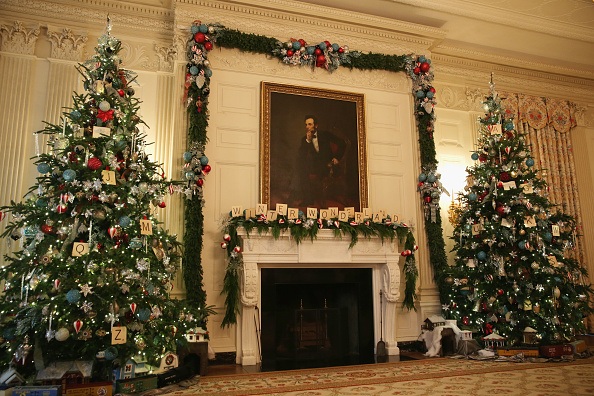 Buy Your Tree During the Week
Here is another fun tidbit of information I bet you did not previously know. Did you know that you can get a better deal on a Christmas tree when you buy during the week rather than on the weekends? It's a true story; skip the weekend sales and head out to buy your tree during the week. You will find that your tree is far more affordable, which is what you are looking for to begin with. You might not be able to do this everywhere (skip your local stores such as Lowes and Home Depot for these discounts, because they are not available here), but many of your on the side of the road Christmas tree stands will do this for you.
Head to the Dollar Store
If you don't peruse Pinterest every single morning while you drink your coffee, I'm sure your life is incomplete. I swear to you that you can turn anything from the Dollar Store into a holiday decoration (for multiple holidays) with this amazing Christmas decorating hack. One of my favorites is a plain glass vase. It's cheap, and it's functional. During Halloween, I fill them with faux spiders. At Thanksgiving, I fill them with pumpkins. At Christmas, I fill them with colorful round tree ornaments or with cranberries or other items that are Christmas-related. I then put them on tables in the living room, the entry way, the dining room, the bathroom vanities and even on my wine barrels that sit on the front porch between our rockers. It's simple; it's cheap, and you spend $1 to use these things for months on end. It's really genius.
Make your Own Décor
Sure, this is easy, right? Who has time to get all Martha Stewart this time of year when there are far too many other things that need your attention? Listen, I have four kids and I do not have spare time – ever. But, I can find 10 minutes after everyone goes to bed or before they get up in the morning to take our artwork off the walls and wrap it with fun, festive wrapping paper for the holiday season. It's creative and adorable, and it really is a great way to make the house feel more festive without actually spending much money. This is one Christmas decorating hack that will change your life for the better.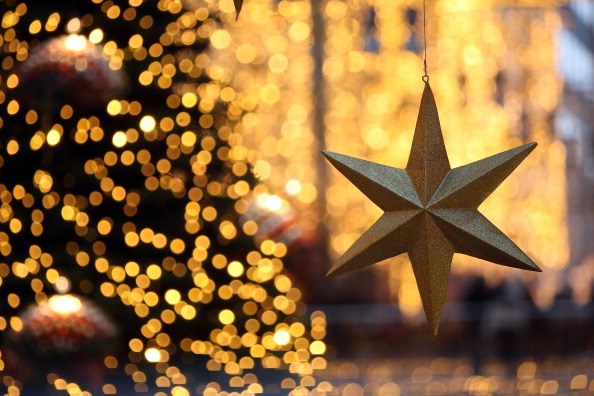 Shop Sales
This is a Christmas decorating hack I don't need to tell you, but I will. This year is really what I'm referring to for this one. You already know that the best Christmas decorating hack is to simply shop after the holiday is over when everything is really cheap. But, what about decorating this year? The day after Black Friday 2015 is Saturday, November 28. On that day, go to Target. If you spend $100 on holiday décor (anything in the holiday department), you will automatically receive a 50% discount on your purchase. There; I said it – go to Target and fight the crowds so that you can spend $100 in the holiday department and only pay $50 to do so. It's the best Christmas decorating hack of the year.
Photo by Getty Images