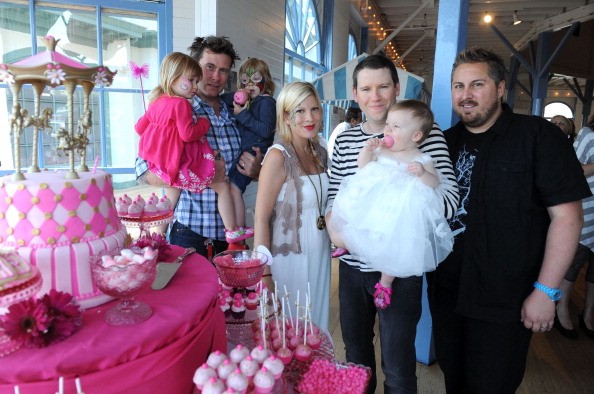 How To Save Money On A Kids Birthday Party
Children are the center of every parent's universe. The cute little humans bring some much joy and love that you want to do everything in your power to keep them happy at all costs. And this includes throwing them the best party they have ever seen. However, the failing economy does not always agree with you. All hope is not lost. You can still throw your kid a wonderful birthday party on a budget. This list comprises of 20 ways to cut out a lot of unnecessary costs for birthday parties so that your kid can be happy without you breaking bank:
1. Combine your kid's birthday party with a friend's
This is a great way to save money on your little one's special day (little ones in this case). Kids generally love having their friends around, so what better way to keep them happy than to allow them to share their party with a friend? This will be lighter on the pockets of both families as you can split the bill down the middle. Sharing the bill also means that you can get to spend a little more to give both your kids a great party. Find out of your kid has a friend who has a birthday within the same week or month and contact their parents to see if they can share a party.
2. Start saving early:
This is a no brainer. When you start saving early, you have enough money when the time rolls around for your kid's birthday. Also, you are less likely to overspend when you have saved a specific amount of money for the occasion. Just as most parents have a college fund for their children, start an events one for yours. Trust me, this will take the load off when his/ her birthday rolls by, especially when you have more than one children.
3. Make things yourself:
DIY is the best way to go when you want to cut costs for your kid's party. It will save you a lot of money, and your kid will have a blast helping you to make decorations for their own party. YouTube and Pinterest are great resources when you want to start making some decorations for your kid's birthday party. You get to enjoy quality time with your kid doing something fun, plus your pocket will thank you as well. It's a win- win!
4. Choose a free or affordable birthday party venue:
The most affordable location is your home because you will not be spending any extra money to host a party there. Another great option is a neighborhood park, the school's auditorium (if they will allow it), your church's basement, a community recreational space or a community park. You will be required to pay little to no money to host a fun event for your child in these places. This will save you tons of money as the venue is usually the most expensive part of planning an event. Ask around to see which free space you can utilize to throw your kid a wonderful birthday party for less.
5. Buy solid-colored paper products:
The Disney monogrammed products and other ones that have popular cartoon characters on them are usually priced higher than regular solid colored programs. Trust me, your child will not miss the Elsa cups much when he/ she is having a great time with friends. Extra solid colored products can also be saved and used for packed lunches for the rest of the school year. Paper products also tend to be less expensive than plastics and they are also disposable so cleaning up should be a breeze, Consider this tip when you plan your kid's next birthday party.
6. Use free birthday party printables:
If your kid insists on monogrammed products, you can use free party themed printables instead and stick them everywhere. It is still cheaper than buying them already monogrammed. Free printables also give you a wide range to choose from so that your kid is not limited to the selection at stores alone. This is a great tip for parents with picky children.
7. Buy from the Dollar Store:
You can get everything for a dollar or less at the dollar store. Do not be shy to visit it. Instead of spending tons of money in shops like Walmart or Target, visit your local dollar store to get all the cups and plates and party favors for your kid's birthday and you will end up spending much less than you imagined. You can spend just a dollar on a pack of 20 spoons, a pack of 20 paper plates, place mats, cups, plastic tiaras, toy cars and everything you can imagine. It is a great resource for getting some fair quality goods for cheap.
8. Utilize Michael's:
Michael's is your one stop shop for everything DIY for your kid's birthday. You can shop here for material for decorations and also for cheap goods for a themed birthday party. for instance, you can get clay pots for really cheap at Michael's if your theme is pot painting. You can get paintbrushes and paint at very low prices as well. They also have good deals like 40 to 50% off items in their ads and you can also find amazing coupons on their website. They also have dollar bins where you can pick up blank note cards to send out 'thank yous' after the party.
9. Seek help from friends and family:
They say that children are a blessing, but not just to parents alone. When they are born, they become the joy of the whole family at large. Do not be shy to ask grandparents, aunts and uncles to pitch in for a birthday party for your child. Godparents are also a good resource to ask for financial input for a birthday party for your child. Everyone will be willing to pitch in for their favorite child to receive the best party ever. When there are a lot of contributors, costs are low and everyone is happy.
10. Invest in reusable birthday party goods:
Let's face it. Your kid will want a party every year on their birthday. Why not recycle the decorations to save you money and also to save the planet? Try to buy party decorations that are not themed or customized to maximize their use. For example, instead of buying a 'Happy Birthday Clement' banner or a 'Happy 2nd Birthday' one, you can just buy one that says 'Happy Birthday' so that you can reuse it the next year and on the birthdays of your other children as well. This will save you a lot of money in the years that your children are young.
11. Print free birthday invitation cards online:
Instead of shelling out hundreds of dollars to have your kid's birthday party invitations professionally made, you can find a website online that allows you to print out free birthday cards. Then you can physically fill out the sections for name and venue and date. It will be way less stressful than finding a professional to do it. Plus it will be hundreds of dollars cheaper. Children will not remember the birthday invitation card, just the cake. So save your money to spend on what is most important and print the invitation cards from home.
12. Skip the printed birthday invitations and send Evites:
This is an even cheaper way of announcing the birthday party of your child. Nowadays, everything can be done online and announcements such as this one are no exceptions. Get the email addresses of parents that you want their kids to attend the event and send them an Evite. It is way easier to keep track of RSVPs and it will save you tons of time and money. Plus, your child will not have to feel awkward about not inviting everyone in their entire class to their party because it will be nestled discreetly in the inboxes of parents.
13. Do not invite everyone in your kid's class:
I know this sounds like a tough one, but it is a no brainer if your goal is to save money while giving your child a birthday party he/ she will enjoy. You know your child, and you know that they are not best friends with everyone in their entire class. Your child will really just want the people he/ she are close to to be present at this occasion. No need for strangers showing up. Keep it simple with close friends and family and the party will be much cheaper than you expected.
14. Skip the professional birthday cake:
Take the chance and bake your own cake. Do not be scared. Baking a cake may seem like a daunting experience but it can be a fun one to share with your child. If you think that you are totally incapable of baking and that your attempt will burn your whole house down, ask a grandparent, an uncle or an aunt who is a good baker to help out for free. A homemade cake can be made out of a box mix and can be extremely cheap. Want to save even more? You can have a baking themed birthday party for your kid where all the attendees bake their own cake and eat it. No pressure to make or buy a perfect cake if you follow this simple life hack.
15. Plan the birthday party outside meal times:
It's a very easy concept. When you plan the birthday party at lunch time, everyone will come hungry and be relying on you for food. You might as well hire an off Site Catering service to make the food because you will need lots of it. You may also want to Ship bake at home cinnamon rolls for a little extra for your guests.
When you plan your party in between breakfast and lunch or lunch and dinner, everyone would have already eaten before they come and no pressure will be on you to buy so much food. You can also be forward and specify on the invitation card that you will only serve cake and ice cream so that everyone already comes full.
16. Create your own birthday games:
Trust me, you can get creative with this step. Find alternatives to Pin the Tail on the Donkey or Tic Tac Toe and have them as entertainment at your child's birthday. If you're having the party outdoors, you can have a lot of fun outdoor games like Pin The Tail and Hopscotch that can be very easy to do. Your child will have a lot of fun with this portion of then planning.
17. Make your own birthday entertainment:
You do not have to spend a ton of money on a clown or a band for entertaining at your kid's party. You can be your own entertainment. Gather family members to make a makeshift band peform your child's favorite jams at his/ her party. Look through your attic to find Halloween costumes that you can reuse to entertain the kids. Go all out and provide entertainment yourself. If you have an iPhone or a laptop, music is covered. If you will rent a venue, you may also contact a company like Signal Solutions to setup audio visual system for the party.
18. Be creative with holidays:
If you have a kid whose birthday is close to a holiday, fuse the two celebrations so that you do not have to pay for two parties. For instance, if your kid has a birthday in December, have a joint birthday/Christmas/New Year's party. That's a 3-in-1 deal. You can hire christmas catering services to serve good food on this special occasion. Or, if your kid was born in March or April, fuse it in with Easter and have one big celebration instead of two.
19. Have your kid save for their birthday party:
Buy a cheap piggy bank and have your kid put in a fraction of their allowance to save up for a party. It might not be a lot of money, but it will at least cover cutlery costs and it will be less money for you to pay. This also teaches your kid important life lessons of saving up for big events that they will have forever.
20. Skip the birthday party altogether:
I know, this sounds a little crazy. But it will save you a lot of money. Have an alternative to a birthday party., Take the opportunity to teach your kid some charity and donate food at a homeless shelter on their birthday. If your kid has always wanted to go to the zoo or the aquarium, let that be a birthday treat. The only extra money you would have to spend is on a cone of ice cream.