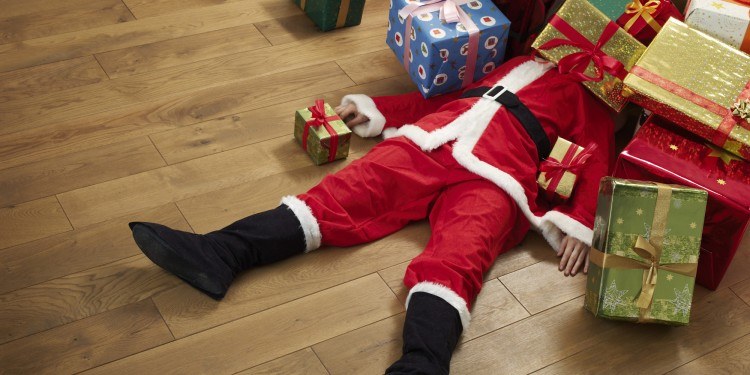 Stores don't put an end to their holiday sales as soon as Christmas is over. They understand that many people get cash and gift cards from friends and family members, that they are looking to spend. This is the reason that they have so many after Christmas sales. Most of these sales begin the day after Christmas, and the last through to the New Year. There are certain items that you should wait to buy until the after Christmas sales.
Wrapping Paper
Rather than buying your wrapping paper between Thanksgiving and Christmas, you should purchase it during the after Christmas sales for the following year. Since all the gifts have been opened and people no longer need wrapping paper, retailers will sell it at a discounted price. After the holidays, the retailers' main goal is to get rid of the inventory as quickly as possible.
Holiday Cards
If you have a tradition of sending out holiday cards to friends and family members, you should stock up during the after Christmas sales. Retailers' don't want to stores boxes and boxes of cards in their store room for an entire year. If you pick up your holiday cards after Christmas is over, you can end up saving up to 50 percent on the holiday cards that you will be sending out the next year.
Christmas Lights
If your Christmas lights were on the fritz throughout the entire holiday season, you will need to purchase new lights for the next year. Rather than waiting until the next holiday season, you should purchase the after Christmas. They will be on sale, most stores mark lights down to 30 to 70 percent off after the holidays. What is even better is that you will have a fresh set of light for the next year.
Artificial Christmas Trees
If your tree is starting to fall apart and you think that it has seen its last year on your living room floor, you shouldn't wait until next year to buy a new one. Most stores will have an overabundance of trees that they need to get rid of. Because artificial trees come in large boxes, retailers won't have space in their storeroom to keep the trees for an entire year. Also, they would rather make money on the trees rather than send them back. Because of this, the retailer will mark down the price of the trees. This is the best time to get a gorgeous tree for the next Christmas at a huge discount.
Winter Clothing
If your winter wardrobe is outdated or started to become sparse, you may be tempted to take advantage of the sales between Thanksgiving and Christmas to buy some new clothes. This is a mistake. Winter clothes are a very popular holiday gift, therefore, stores stock up on their supplies. If the retailer has a great deal of stock leftover, they will mark down these items to get them off the floor to make room for the new delivery of inventory. In most cases, you can get a much better deal on winter clothes after the holiday than you can before.
Tech Devices
Tech devices are very popular items during the gift giving season. Because of this, stores will order these items in huge quantities to make sure that they are prepared for the holiday shopping rush. After Christmas is over, many retailers will want to move out their overstocked items. If you want to replace your television, Blu-ray player, or your gaming system, you will be able to find these items at the cheapest prices after the holidays are over.
Gift Sets
There are several types of gift sets that appear on the shelves during the holiday season. Retailers sell beauty product gift sets, perfume and cologne gift sets, meat and cheese gift sets, and liquor gift sets. After the holidays, people are no longer looking for these items. Within a few weeks after Christmas, you will notice that these items are no longer available. To get rid of the leftover stock, many retailers will mark these items down drastically just to sell them off. You can buy these products at discounted prices and give them out as birthday gifts during the year or you can hold on to them and give them as gifts during the following holiday season.
Holiday Food Products
Holiday food products, such as Christmas cookies and pies will often be discounted up to 70 percent off after the holidays. Stores want to sell these items off before they go bad and the stores throw them away. This is a huge waste of the company's money. You can buy these products after Christmas at a discounted price. If you won't have time to eat as many treats as you would like to buy, you can freeze them to keep them, fresher, longer.
Christmas Clothing
Most stores sell Christmas sweaters, Christmas pajamas, and even Christmas socks and slippers. When the holidays are over, stores will sell these items at discounted prices before they take them off the store's floor altogether. This is a great time to buy the items for the next holiday season. You will be able to get a much better price during the after holiday sale than you would the next year.
Gift Cards
You cannot walk into a store and get a discount on a gift card after the holidays. Because stores sell these all the time, they never go on sale. You can, however, get gift cards at a discounted price from websites such as Cardpool.com and GiftCards.com. People get gift cards during the holiday season that they will never use, and they would rather have the cash. They can sell their gift cards on one of these sites, and then you can buy them at a discount. After the holidays is when these sites have their largest inventory of gift cards and it is the best time to buy.
While the sales can be great before the holidays, they can be even better after the holidays if you are looking for certain items. Waiting until after the holidays and before the next holiday to purchase these items can save you a great deal of money. Think about it, who doesn't want to save money?