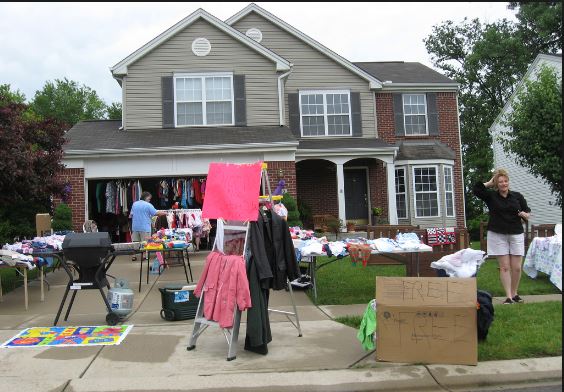 I adore my neighborhood. It's the place my husband and I dreamed of living from the time we were first dating almost 15 years ago. The houses are big and beautiful, the land is expansive, the community is just perfect all the time. What we love even more about it is that it's a neighborhood that is quickly welcoming younger families among the retired golfers that want to live and play in one of the most beautiful neighborhoods in our coastal Florida town. It's a dream neighborhood and because there are so many retired couples here, we frequently see estate sales and yard sales on the weekends. Once they're approved by the HOA, we see discreet signs and the more telltale line upon lines of vehicles parked along the streets that indicate someone is selling their gently used flat screens and pool furniture.
Our neighborhood is the one where people come to find yard sales. It's the one you know you're going to find quality items for sale and not just cheap, messy stuff that people want to get rid of to make a few bucks. It's here you're going to find $1000 grills for $50 and $2,500 patio table and chair sets for $100. Here is where you will find the good stuff. Every weekend as we drive through our neighborhood on our way to various gatherings and events, we discuss how much people probably make at their sales here and what makes them so successful compared to other yard sales in other areas. It's our understanding that it's almost impossible not to make at least $1,500 around here on any given weekend. That made me wonder what these people have that other people don't have – aside from nicer things.
If you are interested in learning how to make big bucks at your next yard sale, we've come up with a few simple tips and tricks that enable you to maximize your profit no matter what you have to sell. Obviously, the more nice things you have to sell, the better you will do. However, if you really want to maximize your profits, consider these professional yard sale tips from those who know how to make big bucks on the weekends.
It's all about location
My parents want to have a yard sale in the near future, and they've asked if they can host it at our home. Our home is on a corner lot in a beautiful neighborhood on the corner of two popular streets and just off the main street in our community. Their house is rural, they have no neighbors and they are far off everything. If they see two cars a week on their street, it's busy. You're never going to make money in a yard sale if you are not able to find a good location to have it. Don't hesitate to ask your friends and family for use of their much more populated location. Additionally, the more high-end and upscale the neighborhood, the more people you will see at your yard sale. Why? Because people want to shop 'junk' in upscale neighborhoods.
Advertise
If you can take out a local ad in a paper, put your sale on Facebook and Instagram and Twitter and other forms of social media, you will find that your yard sale is more popular. In our neighborhood, I'm shocked how many people show up for sales. Why? We live in a highly deed restricted community and the HOA allows basically nothing in yards (I love this) but tiny signs you cannot even read from the road – even when your home is for sale. However, people troll our streets on weekends for yard sales, and it really does work out well for everyone. If you can advertise, you can bring even more attention to your sale and make even bigger bucks than you originally imagined making.
Price everything
Some people are tempted to skip pricing items so that they can just allow their buyers to make an offer. The problem is that yard sale buyers want to get away with as much as possible for as little as possible. When you don't place a price tag on an item, you're asking to be low balled in a way that will not allow you to make sales. For example, placing a necklace on a table for $3 and accepting an offer of $2 means profit. Placing a necklace on a table with no price tag on it means you're going to get an offer of $.25 and when you try to talk them up to $2, you're going to find people walking away.
Additionally, not everyone is a haggler or extroverted enough to actually ask for a price on something. You're going to see that many people will see there are not prices on items and will turn around and leave. At least price them, accept negotiations and end the day pleasantly surprised how many people are willing to pay full asking price for items they see that they want.
Sell really nice things online
If you have designer clothing and expensive items that are for sale, put them online. Don't just think that you can put them on the table in the yard and find someone willing to pay $500 for a pair of Louboutins that have been worn twice. They're not. Yard salers don't want to spend big. People on the internet, however, are looking to spend big when it's for something that's usually for a lot more. You'll get that $500 online, but you will not get it in the yard.
Photo by Getty Images