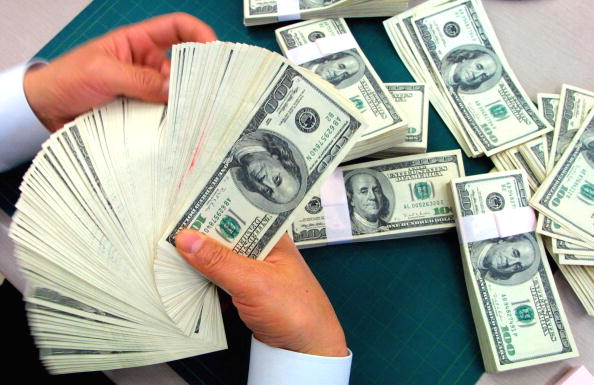 Free money; short of finding a wad of cash on the side of the road, it's not possible, right? Well, not entirely. We don't want you stealing or doing anything questionable (not that those things are free since you will pay in a way you don't even want to consider), but we do know that there are a few great ways you can earn a little bit of extra cash before you go to lunch this afternoon. Not all of these are instant cash-earning strategies, but they do provide you with free money and make it possible for you to earn a little bit of something extra without investing much time at all. You might even realize that you can double up your efforts and make even more money doing this if you have the time, abilities and desire to do so. If you're interested in making a little extra cash this afternoon, let us help you.
Keep in mind that not all of these concepts will allow you access to your funds this afternoon. But you will make them by this afternoon, and they'll be a great form of savings down the road when the funds are made available to you in the future. It's a great way to earn a little money to use for savings, to pay a bill down the road or even to add to a future vacation account.
MofitInvesting Account – $100
The fee for this trade is only $9.95, which is not a bad deal. You'll not make a huge investment into one stock, but rather several small investments into multiple stocks. You can choose to do this and cash out when you make some money, and you'll get a $100 bonus for doing it. We love the concept because it means you're going to make some serious cash and do very little actual work. Who doesn't love that kind of income?
Do Tasks at InboxDollars.com
This is a great site for those who want to earn some money by this afternoon. It's going to take you a couple of hours to do it, but you can do it. What you do is sign up for an account and then choose from the numerous tasks that the company offers to complete. You get a $5 bonus just for signing up, and you'll get to do things like register for emails with companies (takes about 30 seconds or less to do this and it really does pay very little, but it does add up) and earn money. The company sends a check when you request one after your account has earned at least $30, and it's a great way for you to earn a bit of additional money. It's simple, and it can be done.
TradeKing Account – $200
What you need to do is first understand if you can afford to go through with this venture. It requires a minimum deposit of $3000 and it could take up to 90 days. This means that you'll be without that cash for the time being, and that's not something everyone is comfortable with. But if you are, you will want to create an account here and deposit the funds. You have to make three trades to earn a $200 cash bonus deposited into your account by day 90. The trick here is to make trades that are not risky. You don't want to lose money, after all. So you're going to want to do a little math and make sure that you're doing the right thing, but once you make the transactions, you're going to earn $200. It takes only a few minutes time.
Apply for a New Credit Card – $100 – $400
The card company might change, but there is a great way for you to earn a little extra money. Let us provide you with a few important stipulations before you try this, however. You're going to want to make sure that you apply for credit cards only if you have excellent credit. You will want to put your everyday purchases on the card for a few months, and you will NEED to pay those card balances in full each month. Let's go ahead and add that you should be paying off those cards in full each month anyway, but you know what we mean.
Many card companies offer a cash bonus if you apply for a new card and spend a certain amount in a few month's time. Depending on the offers, you can earn several hundred dollars in cash bonuses and you can earn miles and other rewards, too, and that's always a nice way to earn a little extra cash.
If you're worried that you don't have the extra money to spend on your card, we have a suggestion. Pay your expenses with these cards for the month – your mortgage, your cable, electric, etc. Save the cash you would use to pay these bills so that you can send a check to your card company when it's due to pay it off in full.
Green Grants
This is a government funded program that does not have to be paid back, and it might just earn you more than a few hundred dollars by the end of the day. It's a bit of a process, and not everyone qualifies. However, the government is all about people looking to change their lives and make them a bit greener. So what they do is offer green grants. If you're in the process of making sure your home is greener and more environmentally friendly, these grants might be something that you qualify for. These will allow you to do things such as upgrade your home so that it's greener and more affordable. While they won't provide the money directly to you, they will provide you the money to use for the upgrades, sometimes as much as 50% of the total cost, so that you can keep your cash in your pocket. That might mean you earn more than $200.
Photo by Chung Sung-Jun/Getty Images