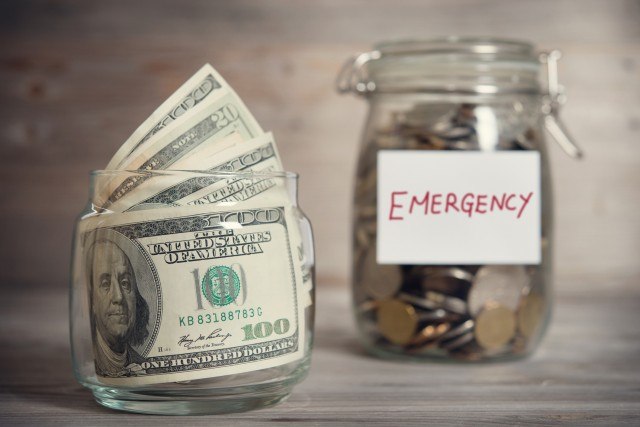 There will be times in all of our lives when we need to fall back on some security. You never know what is around the corner and if you have an emergency finance fund to fall back on it will make your life much much easier. What about if the heating stops working? What about if someone in the family has an accident? What if you lose your job? It's important to expect these things to happen (but to hope that they won't) and to plan accordingly.
You might want to set yourself a target to save towards. After all, we all have different ideas of what an emergency fund looks like or how much we might need. Perhaps start small and build it up gradually. Putting a bit of money away over a longer amount of time tends to work quite well. The key to success is being willing to accept that getting your finances in order will be well worth all of the effort. You will soon be debt free in no time!
This list takes a look at ten suggestions that you might want to consider to begin building up your emergency fund. Some might look more tempting than others but be sure to do at least one of them and you will soon be financially buoyant.
1. Get a second job
No matter how hard it might seem to get some jobs, there is always a job available for those who are willing to work hard for it. It might not be the job of your dreams. It is only going to be part time. However, it should give you some extra money to begin building your emergency fund. Keep your eyes on the goal. This is a great way of making it come about.
2. Sell some things
There are few things better than having a good clear out. Why not hold a garage sale? This is a good opportunity to put a bit of money away at the same time as clearing out your clutter. There are lots of ways that you could sell things online. This increases your market. Take a look at ebay, craigslist or gumtree. If you think something might be worth a bit more, get a professional auctioneer to take a look at it.
3. Do online tasks
Lots of people have given up their jobs and are full time freelancers, finding work online to complete. However, you can just as easily do some of this on the side of your regular work, to build up your emergency fund. Take a look at sites like freelancer or craigslist for tasks. You can build up some good sized cash in no time.
4. Cut your expenses
Take a good look at your weekly shopping bill. You will probably find that a lot of the groceries that you buy end up being wasted. You don't need to buy that much stuff. When you go shopping make a list and stick to it. The money that you have saved, that you would have usually spent, can be put in to your emergency fund.
5. Turn the heating down, don't use the phone so much etc – CUT YOUR UTILITIES!
For many people, their utility bills can be one of their biggest costs. Indeed, it usually is the biggest cost after rent. Try switching the heating off, or taking a slightly shorter shower, or use your phone less. You could even check out services such as BillCutterz, which help to get better deals on your behalf. A brilliant service that can only earn you money.
6. There's loads of free stuff out there!
This has more to do with saving money than it does to earning it to put it away, but it is the same idea. There is actually loads of free stuff out there that you could make the most of. Check out Freecycle.org or the free section on Craigslist. You could even consider swapping things with friends and neighbors instead of buying new things.
7. Cook Yourself and Don't eat out as often
Eating out can cost a lot, as nice as it is to do. If you currently eat out once a week, then eat out once fortnight. If you eat out twice a week, cut that in half again to just once a week. You will soon find the pennies being saved. By cooking yourself you are in greater control over the ingredients that you use. Experiment with cooking. You will often find that you can cook the same meals that you buy when you are eating out, for a fraction of the price.
8. Don't have quite as expensive a holiday as last year
Sometimes it is actually nicer having shorter breaks that don't involve stressful things like airports or grappling with a foreign language. Why not holiday closer to home for a change? If you think you don't need a holiday – then don't have one at all. Why not? Be radical. Staycations are often just as enjoyable, if not better. Alternatively, spend your week at home just relaxing and perhaps visiting places in your local area that you didn't know were there.
9. Do odd jobs for your friends and family – charge a small commission each time
You will be surprised if you ask quite how many things your friends and family need to get done and would rather that somebody else did them. Ask around and see if you can take odd jobs off their hands. Charge a bit of commission at the same time and you will begin to build up an amount of funds which can go into your emergency fund.
10. Invest!
Get some advice on bonds and shares and why not have a go at the stock exchange. You can lose money as well as earn but if you get some good advice then you will soon be able to build your portfolio. Depending on how much you have to spend, you may want to invest in other things like businesses on the ground. It is about judgement and if a company seems to be a sound bet then why not go for it.
It is a good idea to have your money spread across a range of different assets just in case anything happens. If you can invest your money in a way that gives you an income without having to work too much, you can rest sound in the knowledge that your emergency fund will see you through the hard times, if and when they come along. Many of the points on this list are about saving money, rather than earning it. However, it rests on the fact that you should put the money that you would otherwise be spending into a savings account instead of pouring it down the drain. Good luck with building your fund!