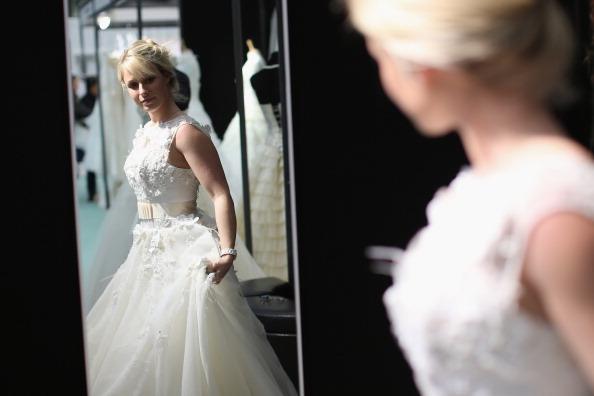 David's Bridal wants you to know that they offer a credit card to couples planning their wedding to make affording a dream wedding gown possible. Monetary disagreements and finances are one of the leading causes of divorce in the United States, and David's Bridal wants to ensure that couples about to tie the knot are entering into their marriage with peace of mind in terms of their finances. After all, you are also marrying your partner's credit worthiness. But, is the David's Bridal credit card all it's cracked up to be?
To sum it up on one phrase, the David's Bridal credit card is not worth the time, effort and expense it provides to women planning the most special day of their lives. Sure, it's nice to have options, and in theory it seems amazing that David's Bridal has partnered with Comenity Bank to offer their patrons a chance to purchase their dream wedding gown when cash is not an option and flexible payment plans are more in the budget. Since the average cost of a wedding these days is upwards of $30,000 and only getting higher, this option is one many brides consider.
Let's lay it out of the table for you to consider: You need a wedding dress, and you are a woman. This means that one of the most important aspects of your wedding day is your dress. Your dress probably also consists of a large portion of your budget. You have two options. You can pay for the dress in full using cash or you can finance the dress with a David's Bridal credit card and spend a few months paying it off in smaller installments. It does seem a lot more budget-friendly and affordable to use the latter method, but is it?
Here are five things imperative for you to know about the David's Bridal credit card before you sign an application.
The Interest Rate is not Determined Based on Credit Worthiness
Most people assume that high interest rates are reserved for those with less than stellar credit, but this is not the case when it comes to the David's Bridal credit card. It doesn't matter if your credit score is 600 or 800, you're paying a shocking 26.99% APR on your purchase. It's high; even for those who don't have perfect credit. The price is, in most every professional opinion, too high to pay. The only reason to consider this card is if you plan on paying off your purchase in the allotted timeframe in which interest does not accrue, which is only 6 months.
Be honest with yourself: If you are forced to apply for a credit card to pay for a wedding gown, is six months enough time to pay it off in full before you are paying one of the highest interest rates around on the remaining balance?
Other Fees
You know that there are always other fees associated with credit cards, and the David's Bridal card is no exception. In addition to paying a 26.99% APR with this card, you are also going to pay a $2 minimum interest charge each month. If your payment is late, you will be hit with a $35 late fee. If your check is returned, you will be hit with another $35 return check fee. On a good note, however, David's Bridal does not charge customers an annual fee to hold their credit card because they expect that most customers will pay off the balance of their card in six months or less, making it pointless to charge an annual fee.
David's Bridal Dresses are Not High-End Couture Gowns
What many people seem to forget is that David's Bridal is not a couture wedding gown boutique. This is a store known for selling primarily budget-friendly gowns that are only a few hundred dollars a piece. Sure, some of the gowns available here are more expensive and there is a special line of designer gowns offered by the store. However, it's more of a warehouse filled with very inexpensive gowns for brides on a budget, and that's why you might not even need to apply for a credit card with David's Bridal, forcing you to pay exorbitant interest rates.
Other Options are Available
Before you apply for this David's Bridal credit card, consider the other options. If you happen to find your dream dress in the store, you can order it and put it on layaway for 60 days. What this means is that the dress is yours, you get to have it, but you get two months to pay it off in full before any alterations can be made and the dress is officially yours. It's not six months, but it's a third of that, and it might be a much better option than applying for a credit card with such a high interest rate.
These Three Cards are all Better Options
To be completely honest, applying for a David's Bridal credit card is not worth the effort or the hit to your credit score. If you're going to use a credit card to pay for your wedding dress and accessories, you're far better off applying for a different card that has a lower interest rate, a longer 0% APR special financing offer and a sign-up bonus. Many cards, such as the Chase Freedom card, Discover it, and the Blue Cash Preferred card from American Express offer much lower interest rates, longer special financing offers and all offer cash back when you meet minimum spending requirements in the first three months of having the card in your wallet.
If you're going to purchase a wedding dress, one of these cards might be a better option considering spending between $500 and $1000 within 90 days means you'll receive between $100 and $150 cash back plush cash back on all purchases you make anytime you use the card, in addition to no interest for the first 12 months you have the card. It's a far better option for any bride and her new husband to take on this kind of beneficial credit card than one such as the David's Bridal credit card.
Photo by Getty Images