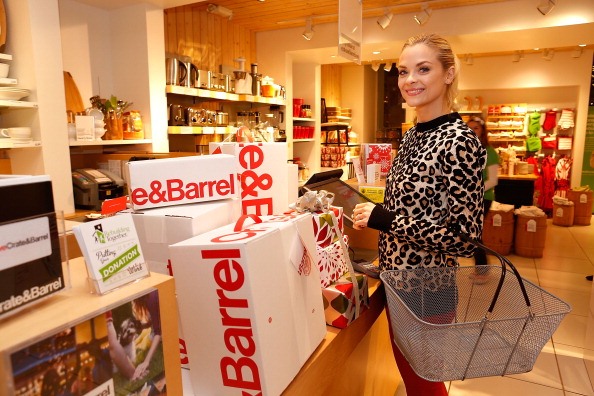 There are so many places you can go to shop for home accessories such as wine glasses, candles and décor. There's Pottery Barn, Z Gallerie, Pier 1 Imports and there's Crate and Barrel. They all have their pros and their cons, but if we had to pick just one – and this might come as a shocking surprise – we'd pick Crate and Barrel. Why? This brand has an amazing collection of accessories and furniture for just about every room of your house, and it's all chic and stylish. Did we mention that when they have sales, they have amazing sales? So the next time you're out looking for a home décor store credit card to apply for, apply for the Crate and Barrel credit card. Is our love of this adorable little shop not enough to convince you that this is where you should be shopping? Then please, let us elaborate. If you choose to apply for the Crate and Barrel credit card or at least shop at the store, you can buy really amazing products that will completely transform your home. Such as what, you ask? Let us give you a few ideas.
Olivia Pope's Wine Glasses
Those gorgeous wine glasses you wonder about each and every single time you watch and episode of Scandal and watch as Olivia sits in her living room chugging wine like water and waiting for Fitz to call her so she can steal a moment of his love? Yeah, they're available at Crate and Barrel. These long-stemmed red wine glasses hold 23-ounces of red wine, and you'll feel just a little bit like the most fashionable star on television.
All-Season Dinnerware
What we love about Crate and Barrel is the solid white dinner plate. It's just chic enough to dress up for a formal occasion and affordable enough to use all year. These plates are perfect for the hostess on a budget because you can buy a big set for very little. Additionally, if you love dinnerware but have nowhere to store patterns for every holiday, you can use these all year long and accessorize the table differently to add seasonal décor all while saving cabinet space.
Outdoor Living
One of the best reasons to shop Crate and Barrel is the amazing selection of outdoor living accessories. Whether you need to decorate your front porch, your back patio or find dinnerware and barware perfect for a backyard BBQ, you will find it here and it's utterly gorgeous. And the best part is that most of the bigger pieces of Crate and Barrel qualify for special financing when you use your store credit card. It's style and savings all in one.
Photo by Alexandra Wyman/Getty Images for Crate and Barrel