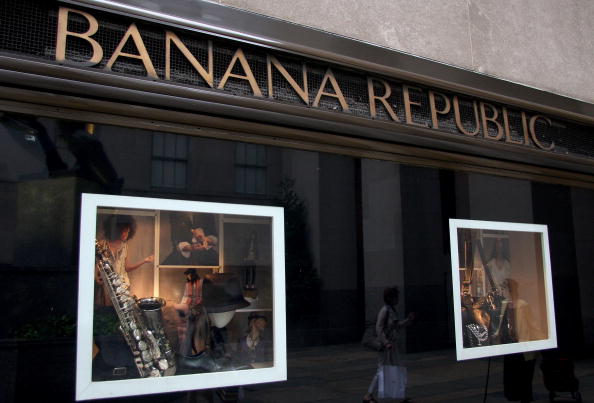 Banana Republic is one of the most popular stores in the world. It's a retailer that offers above-average clothing to young adults that's both stylish and timeless. The pieces here are far from trendy, which is what sets the store apart from other retailers that try and offer the same items. It's also a store that sells clothes that are designed and made with more quality, designed to last a long time and each piece is a lovely classic that will carry you through many seasons. This is just a small version of why people love this store so much.
Another reason people love this store so much is the great store credit card that comes with credit approval. The Banana Republic credit card is one of the better store cards, and the rewards points that the card has to offer are amazing. The issue is that there is a growing trend of cardholders complaining about their credit cards and making applicants think twice before submitting their applications. While most stories do derive a bit from the truth, you can't judge the Banana Republic credit card until you have the facts. We've decided to break down the best features of the card as well as the most common complaints and give you just a few things to think about before submitting your application.
Credit Card Features
The Banana Republic card has great features. For one, you get rewards; and everyone loves rewards. The first reward you will receive upon approval for this card is a 15% bonus deduction on your first card purchase. Spend $100 on your fist purchase? If so, you will get $15 off that purchase. The discount is unlimited based on your purchase. The second thing you'll get is the ability to literally earn points with every purchase you make. You will earn 2 points for every $1 you spend at any Banana Republic, Athleta, Piperlime, Gap or Old Navy (these are all sister stores). You will earn 1 point for every $1 you spend at any other store in the world.
During the year, Banana Republic will offer cardholders the chance to earn even more points on every purchase. There will be times you can spend money at Banana Republic and earn up to 5 points for every $1 you spend. Every time your reward point level reaches 200, you will receive a $10 gift card from the company. There are also several opportunities for cardholders to earn additional bonus points. You can earn 2000 bonus points when you sign up for the card when you make a minimum purchase. You can earn another 500 bonus points by merely signing up for paperless billing when you are approved for this credit card.
Finally, when you have this card, you can use it every Tuesday at Old Navy, Gap, Banana Republic, Piperlime or Athleta so that you get a shocking 10 percent off of every purchase. This is something that cardholders get to do every single week. That means you will always save 10% on your orders or purchases at any of these stores if you can wait until Tuesday. As a cardholder you also receive prior notice regarding sales and special offers that regular shoppers do not receive.
There is no annual fee associated with this card. Banana Republic cards are not eligible for balance transfers, and the annual percentage rate for all cardholders is 23.99%. At the end of the day, you will find that it's a high interest rate, much higher than other stores.
The Complaints
Many people have issued hundreds of complaints about this card, and they're all very similar. Common complaints are that the card company will not refund late fees that users deem accidental, such as mailed payments that were not received in time, late payments made because cardholders never received a statement in the mail or even late fees on partial payments. Other common complaints are in regards to the high interest rate. Some people claim at the high interest rate often takes them over their credit limit and their credit score suffers as a result. Yet another common complaint is that reward points do expire, which means you have to use them regularly or you will lose them.
Considering Complaints
Many times complaints are completely valid. Other times, they are complaints that come with a bit of a back story. Remember that with complaints regarding late fees and cards that have lower limits and increased percentage rates that there is usually a story that goes along with it. While it's true that many credit card companies, Banana Republic's included, will lower limits, issue late fees and refuse to help cardholders with fees of this nature, they tend not to do so just for fun.
Those who complain of lowered credit limits did not just have their limit lowered for no reason. The cardholder application terms state that the company retains the right to periodically review credit reports and make decisions about limits and cards based on that. Someone who has had trouble with their credit or has opened too many new accounts over the course of a year will likely experience their card limit being lowered. It's in the terms. Additionally, the card company does not hold themselves responsible for not receiving your payment. They believe that with paperless billing, mailed statements and a due date that does not change each month, you should have the ability to remember to pay.
The card company also recommends you mail payments at least 10 days prior to the due date to give them time to be received, deposited and recorded. If you fail to do this, you then become responsible for payments that do not post in time. Finally, the terms and conditions of the card clearly state that payments made even one minute past the due date will accrue interest charges. It then becomes your responsibility to make sure your payments are made on time and that you pay attention to the time zone listed on the issuing bank's site. As far as going over your credit limit due to high interest rates, pay the card off and don't max it out if this is a problem.
There is a consideration to be made with every complaint. Many are valid, but just as many are not. Take the time to really consider the complaints about any given card before you make your final decision regarding applications.
Photo by Janette Pellegrini/Getty Images for Banana Republic