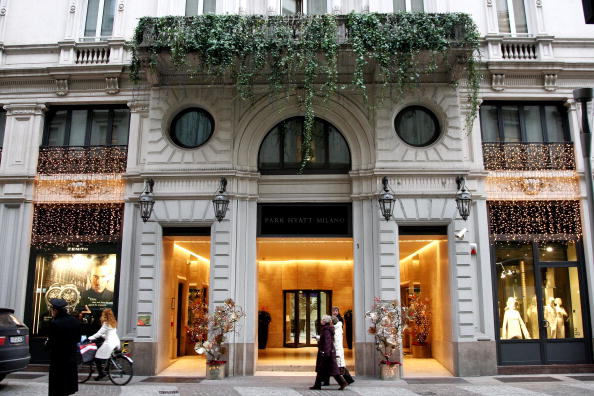 Free nights in hotels are often the best reward anyone can receive. Sure, a nice cash back bonus is nice, but a free hotel stay is nicer. Why? Because not every night in a hotel is inexpensive, and that goes for places you frequent, too. For example, my husband and I have a favorite hotel in Orlando that we like to bring our children to on a regular basis anytime we do an evening trip to Disney. The pool area is amazing, the staff friendly and the upgrade to a huge suite with two bedrooms and three bathrooms is something they give us every single time. That often makes the price worth it no matter how much it is. But their prices have been risings regularly, and are sometimes more than we care to pay for a night away.
We recently took our daughter for her 7th birthday to spend a night in Orlando, and we met friends and family down there. We were given our normal suite upgrade – which is so vital with two small babies that need a separate place to sleep so we don't all have to go to bed at 6:30 pm – but the one night stay for booking last minute was excessive. We paid triple what we usually pay, and that would have been a great opportunity to use a free night. Hotels change their prices regularly, and sometimes it makes more sense to use free nights on a specific evening and pay for others to save you money – and that's why we love credit cards that offer free hotel nights. It's one of the best ways to save money no matter where you go.
Marriott Rewards Premier Credit Card
Since Marriott has hotels in almost every price range, this is a good card consideration for just about anyone who wants to earn hotel stays. Right now all cardholders that spend $3000 in the first 90 days of owning the card will earn a very impressive 80,000 bonus points to use for free nights. Depending on the hotel category you choose to redeem your free nights, that's anywhere from one to 10 free nights just for opening the card. Additionally, you earn one free night at any Marriott property on your cardholder anniversary every single year. You also earn 5 points for every dollar you spend at any location throughout the world in the Marriott family, which adds up very quickly.
Starwood Preferred Card from American Express
This is the all around best hotel credit card on the market. The only issue with this card is that it is not for everyone. If you are not a frequent hotel traveler and/or you do not frequent Starwood hotels, then you will not find that this card is useful to you. Starwood eliminates itself from the wallets of many since the primary bulk of properties serviced by this company are higher-end hotels not in everyone's everyday budget. However, if you do prefer high-end travel, this is the card for you. At the moment, you can earn 30,000 free points when you sign up for this card and spend $3000 in the first 90 days you have the card. That's the equivalent of a few nights' stay depending on the property you choose when you redeem your points. Cardholders also get to bump up their cardholder status beginning at 20 stays and again at 45 stays per calendar year, which means big things. You also get credited for 5 nights and 2 stays each year toward the hotel loyalty program just for being a cardholder.
IHG Rewards Club Select Card
If you prefer to spend most of your time in budget-friendly hotels while traveling, this is a good card for you. It does offer some nicer, more expensive hotel options, too, so you're not completely left without anything a little more exciting with this particular card. Right now, all new members are eligible to receive 60,000 bonus points on their account when you spend at least $1000 on the card during the first 90 days of holding this card. This means up to 6 free nights for just owning the card and making a few small purchases right away. Additionally, members also earn a free night each year on the anniversary of their card approval, which adds up. Earning 5 points for every $1 spent at the hotels on the list, too, means free nights are easy to earn.
Hyatt Credit Card
The good news about this card is that it does not offer you points when you sign up; you are given nights. You get 2 free nights at any Hyatt hotel in the world, no matter the price, when you sign up for this card and then spend $1000 in the first 3 months of your account's activation. This is good news for all who want to spend their time somewhere unique. With points, you might be excluded from certain properties from the start, but not with Hyatt. Additionally, cardholders are eligible to receive one free night at any property in the 1-4 category list every year on the anniversary of your cardholder membership. While the points aren't as good here as they are elsewhere, you do get 3 points for every $1 you spend on hotel properties. These add up quickly since you can earn a free room with as few as 5000 points. Additionally, you can purchase points to earn free nights in different category hotels, and the price is actually quite right. My husband and I did this once when we were staying somewhere unexpectedly and the price was very high. We were just a thousand points shy of being able to save several hundred dollars on a one-night stay, so we spent under $100 to purchase the points we needed to earn the free night, which actually then saved us more than $300 on our total stay. It's all about how you use the card and the points when it comes to these cards.
Photo by Vittorio Zunino Celotto/Getty Images