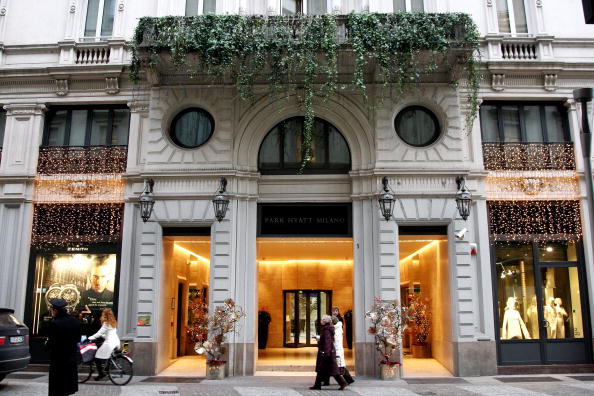 One size fits all is not overly realistic in the travel industry. I prefer high-end luxury travel and my parents prefer road trips to historical American destinations. My favorite hotel rewards program wouldn't work well with their travel pleasures, and vice versa. I prefer frequent airline miles to hotel rewards, but some much rather prefer free nights to free flights; it's all in the eye of the beholder. With that said, it's not easy to decipher the dozens of hotel rewards programs and choose one that's better than the rest. It's not even that simple to choose five that are better than the rest, since hotels are such a personal preference. But that doesn't change the fact that some hotels offer far better reward programs than others. It's my job to figure out which ones are the best so that I can share with you so you can sign up and begin enjoying the benefits and perks right away.
Additionally, many of the rewards programs on this list are also affiliated with a brand specific credit card that makes it even easier to earn travel points with purchases you make outside of specific hotels and airlines. This goes a long way to earning free nights, travel and airline miles. A large part of what makes a reward program successful is variety, and each of these has just that. The ability to earn free points, nights, upgrades and even airline miles in addition to free perks and benefits on hotel properties; these are what make travelers want to return to certain properties time and time again. There is a saying that a little bit goes a long way, and these programs prove that to be true. That said, here are my personal picks for the best reward programs hotels have to offer in 2015.
 Omni Select Guest
Omnis are not everywhere; but when you find one, choose it. It's not the most high-end hotel brand in the world, but it's one with which I have a special love. You will not go wrong with an Omni in terms of high-end amenities, features and amazing service. And their perks are the best (our favorite weekend getaway is the Omni Orlando Resort at ChampionsGate, about an hour from home; if you haven't been – GO) in the business.
With three levels, you will find that the more you stay, the more you earn. The program is free, but you get to earn free nights with every stay, you get free morning beverages each morning for every guest (coffee, milk, tea, water – whatever you want) as well as a little welcome gift, free bottled water, free upgrades and complimentary shoe shine and pressing. When we go to the Omni on the weekends, all we have to do is email our loyalty ambassador and ask for a free upgrade to a hospitality suite so that we have more room, a kitchen, dining room and living room (we have four kids so we need the additional space) and we have the most amazing time. And the staff always remembers us by name.
Hyatt Gold Passport
My second personal favorite hotel reward program is the Hyatt Gold Passport program. It's so easy to earn points and it's so simple to redeem them. You get points for every dollar you spend, you get bonus points, bonus nights and you can purchase points for a minimal cost and end up with a free room at will. It's a fantastic way to stay. You also get personalized service and preferences such as Hotel Oceanfront Balcony rooms, and that always makes a beach vacation quite more enjoyable.
Marriott Rewards
What we love about this program is that it's good at so many hotels especially if you want to book a downtown modern hotel, which include Marriotts, Ritz-Carlton and even my personal favorite, which is the Casa Monica in St. Augustine. You get to earn points with every dollar you spend. When you earn enough to book free rooms, you'll get a fourth night free. You get to redeem points for spa services, food and beverage credits, airline miles and so much more. It's a spectacular way to earn and use points for travel. It works well for a variety of travelers because you get a number of different options and choices from which you can select the rewards and points that you want, making it far easier for you to enjoy the amenities and benefits associated with this program.
Starwood Preferred Guest
This is one that we like very much, primarily because we can use it when we travel to places like Orlando with the kids at specific hotels and because my husband travels occasionally for business and we go with him. You can earn points with Delta flights, at nine different brands and all over the world. Shopping, dining, spa and stays all earn you points, which can be redeemed for free nights at the more luxurious St. Regis brand even if it is earned at a less than prestigious Sheraton brand hotel. The points are easily used and redeemed, and that makes it simple for you to earn what you want and use it how you please. The best news is that your points do not expire as long as there is activity on your account at least once every year.
IHG Rewards Club
IHG has more than 4,600 hotels in its brand, which makes it one of the most extensive hotel lists around. When you can earn points and rewards as this many properties, it fits just about every budget and need and requirement on your travel list. This makes it easier than ever to earn, which is what makes this program one of the best for the largest number of travelers. Additionally, this particular rewards program is not limited to only free nights or upgrades as redemption options. Program members are permitted to use their reward points for purchases, free rooms, upgrades, airline travel and several other options. This helps to make more travelers happy, which is what makes the rewards program one of the more popular ones.
Photo by Vittorio Zunino Celotto/Getty Images