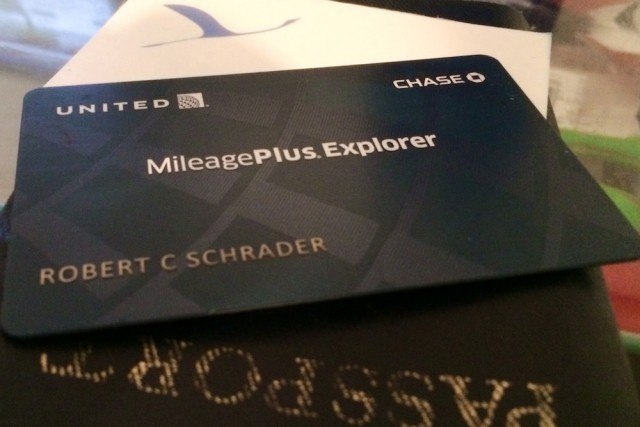 It is nice to be rewarded for using a card when making a purchase as people want to get the most out of their credit cards.   If you like airline credit cards then you should check out United.  Recently, The United Mileage Plus Explorer credit card will start a new subscriber off with 30,000 miles as a sign on bonus.  For people who like to travel, this is a great offer.  Essentially just for signing up for the card you're getting yourself a free flight.  Not bad.  In addition to this mileage rewards there are a number of other benefits to using the Mileage Plus card and here they are:
Travel Benefits
The cardholder and one of their guests gets to check their first bag free at the airport. This can save them up to $100 on a round trip flight just by using this credit card. That is before they even start traveling. This can be used on a United operated flight when the flight is purchased with this credit card. A person can also save money by booking the flight. They will also enjoy some benefits that others on the flight will not. Card members will get to board the flight before the general boarding opens up to passengers.
When the Explorer is used to make purchases outside of the United States the cardholder will not be changed a foreign transaction fee. This can save those that enjoy vacationing out of the country a lot of money. Before the flight a card member can enjoy two passes that can be used one time during the year on complimentary snacks, beverages, and other amenities. These amenities include free Wi-fi and a free workspace before the flight. This Explorer card has added security features so a person can travel with peace of mind.
There is an embedded chip for extra security when a person makes purchases . This chip will provide security when purchases are made with a chip enabled card readers in the United States as well as in foreign countries . This feature will help protect card information and prevent unauthorized charges.
Mileage Bonus
A cardholder can get a lot of free miles just be signing up for the Explorer card. After a person spends $1,000 in the first three months of opening an account with this card they will receive 30,000 travel miles. A person will get an additional 5,000 bonuses miles when they add someone as an authorized user of their credit card. This authorized user has to make a purchase in the first three months in order to receive the bonus miles. For those that make purchases often with their credit card an additional 10,000 miles can be earned.
To earn these miles the cardholder has to reach $25,000 in net purchases with this card within one calendar year. Purchasing plane tickets can help a person earn mileage rewards as well. For every $1 that a person spends on the Explorer card for plane tickets they can ever two miles. This will allow the mileage that a person earns to build up quickly. For every $1 that a cardholder spends on all of their other purchases using this credit card they can earn one mile. This is great for people that use their credit card often to make purchases. Not only will they get the items they need or pay their bills, they will be earning mileage rewards as well. One of the best features of this credit card is that the miles do not expire.
As long as a person keeps their Explorer account open and remain a card member they can use their miles. A person can even build up their miles to earn big discounts or possibly even a free flight when traveling. Unlike other credit cards the Explorer cardholder will have no limitations. They can book any seat on the plane that they want, any time of the year. They can use their mileage without any blackouts once they reach Mileage Plus Standard Award level. There are no restrictions and they can even use their miles during holiday travel. To do this a cardholder must provide their Mileage Plus number when booking the flight.
Security Benefits
This card has many features with added security especially when traveling. There is a purchase protection plan to ensure that all purchase information is confidential. There is also an Auto Rental Collision Damage Waiver. If a person uses their credit card to rent a car they will receive additional protection if the car is damaged. This can add up to hundreds of dollars in savings.
Hotels and Other Benefits
When using the Explorer card to pay for a hotel room the cardholder can see some additional benefits. They can receive a room upgrade free of charge. There is also the added bonus of a complimentary breakfast for two people, an earlier check in time, and a later check out time. This card will provide these benefits at over 700 top luxury hotels all over the world. This card will also allow cardholder the chance to attend some exclusive events.
When using this card to pay for their vacation and stay a cardholder will be granted access to special private events. This includes the once in a lifetime chance to see some unique experiences. The cardholder will get the chance to meet some celebrities in some special meet and greet sessions. The cardholder will also get the chance to attend cultural events all over the world. These once in a lifetime opportunities are only open to those that use the Explorer card. These opportunities are not available to other people that stay at the hotel that do not have the Explorer card. These activities are for cardholders only.
These are just some of the great benefits that Explorer card members can enjoy. This card is great for those that enjoy traveling and are frequent flyers. The 30,000 miles that a person can earn within the first couple of months after opening the card can go a long way. A person will have the miles to go just about anywhere they want in the world. With the free upgrades, card protection, and hotel features and accommodations the Explorer card is the card to have for people that enjoy traveling.